Just called a Psychiatrist...nightmare
Just called a Psychiatrist...nightmare
---
Ok..so I had a tough weekend feeling mighty unappreciated. Took me a few days to realize that gee...I may need a little help. So I call up a local Psych. office and this real B(&tch answers the phone. She never asked my name but immediately asks for an insurance card. What?? you have got to be kidding me. She treated me like total crap and I am just so sad that a person can do that. On top of that, there is not a psychiatrist for 100 miles from my house that will take my insurance. Go figure....
| | |
| --- | --- |
| The Following 3 Users Say Thank You to lovinmenow For This Useful Post: | |
bona fido dog-lover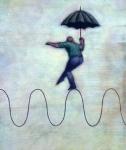 Join Date: Mar 2008
Location: eastern USA
Posts: 85,903
I'm sorry you had a bad experience. Are there any other psychiatrists in your area? Can you ask to have the psych call you back and talk directly to him/her? I hope you find help soon.

If it is medication you need then I would go to your normal doctor explain what is going on and that no one within 100 miles takes your insurance and that you cannot afford to pay out of pocket but you really need help.

While your regular doctor doesn't know all the ins and outs that a psychiatrist does, your regular doctor can still prescribe you an anti depressant. They usually don't like to, but if you explain your situation and that you are new to recovery you will be able to find a general practioner that will write it for you especially since prescribing an anti depressants for depression is not like trying to find a difficult medication combo for bipolar, schizophrenia, etc.

I am only speaking from experience from when I needed my family doctor to help me out.
I can vouch for the fact that it is an experience trying to find a decent shrink. The ones in my area, some of them anyway, are not even taking new patients, and yes, the first thing they want to know about is money.

I see a nurse practitioner of a shrink that is no longer taking new patients. It works well so far. I see a separate therapist too.
Are you looking for medication or therapy? In general, there are far more affordable psychologists than psychiatrists. There are also often places where you can see psychologists who are still completing their supervised hour (post degree, pre certification) for very reasonable prices.

In general, don't give up. I had to sift through quite a few offices before I found someone I liked.
I'm sorry that happened. It might be a good idea to talk to your regular dr and see if he can refer you to someone who would accept your insurance or maybe he could prescribe what you might need?
Currently Active Users Viewing this Thread: 1
(0 members and 1 guests)

Posting Rules
You may not post new threads
You may not post replies
You may not post attachments
You may not edit your posts
---
HTML code is Off
---