30 days today..baffled
30 days today..baffled
---
Hi everyone and thankyou for being here!
A little about my story..I have been a problem drinker/alcoholic? for about 30 years. I have had consequences from my drinking such as blackouts,(after just 1 bottle wine) shocking hangovers, driving under influence, depression/anxiety..all from a relatively small amount of alcohol..the max I have ever drunk in my life was 1 bottle with lunch then another with dinner about 1 year ago. I have never been a daily drinker except when away on hols when average 3 drinks per night. A couple of friends tell me that I can have personality changes after a few. It has taken me a year to finally reach my goal of 30 days but have drunk on average once a week sometimes up to 4 drinks with depression/brain fog as consequence. Not drinking for the rest of my life is a daunting prospect and I am obsessed with the question am I/arent I?
Have a strong family history of alcoholism.... but my usage has not progressed in fact it has decreased, but then again so has my tolerance and feel spacey & depressed after just 2 now.
I know it is not how much and when, but, what it does to you. I certainly can relate to the psyche's of the folk in AA but cant really identify with their hard drinking stories.
I would like to enjoy the occasional glass of vino with a meal & scared to, but also daunted by the prospect of never drinking again!!!.
Any thoughts where I might fit in?
| | |
| --- | --- |
| The Following User Says Thank You to autumn4 For This Useful Post: | |
Congrats on the 30 days!

For me, it is not even remotely possible for me to have 'one'. If you can, then you probably aren't an alcoholic. But you mention the family history and that is pretty risky.

A good friend of mine that is also an alcoholic told me about something called THIQ. Google it. Basically, if we are alcoholics, our bodies process alcohol differently and it is the THIQ that sets off the obsession or craving so we can't stop at one.
| | |
| --- | --- |
| The Following 4 Users Say Thank You to Elisabeth888 For This Useful Post: | |
I know many people who were no longer able to tolerate the amounts they once drank. That is part of how it works. Just a little, not a great buzz, personality changes, brain fog.

What's your plan now?

Glad you are here!
| | |
| --- | --- |
| The Following User Says Thank You to sugarbear1 For This Useful Post: | |
bona fido dog-lover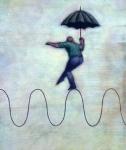 Join Date: Mar 2008
Location: SF Bay area, CA
Posts: 95,241
I tried so hard to control my drinking but to be honest, my drinking was controlling me.

Now, two years later, I don't ever want to drink again as my life is so much better without it.
I'm afraid to touch the stove again for fear
that it will still be hot
.

| | |
| --- | --- |
| The Following 4 Users Say Thank You to least For This Useful Post: | |
Administrator
Join Date: Apr 2007
Location: Australia
Posts: 202,310
Hi and welcome Autumn - and good going on one month

My first thought was - forget about labels for now if it's confusing you....
but if you've been a 'problem drinker' for 30 years and it's taken you a year to get 30 consecutive days, isn't that enough of a sign that you might have (at least) an unhealthy reliance on alcohol Autumn?
Factor in the blackouts and the drunk driving and the change in personality and whatever else - isn't all that a problem, and one that needs fixing?

D
Member
Join Date: Mar 2012
Posts: 139
Hi Autumn,

I just wanted to say thanks for posting, and I really can relate to you. I'm only finishing day 8, but I did a similar thing in committing to 30 days sober. I would drink every night, but usually it was two beers, or 3/4 of a bottle of wine. Occasionally 2-4 shots of liquor.

Over the last 8-10 days, I've had a lot of time to think about why I drink. I've definitely discovered that alcohol has been my way to cope with all of my emotions as of late. So I want to change that.

I have been, maybe still am a little hung up on the problem drinker vs alcoholic. I think what I realized in my case (and this may not be true for you, only you can know), is that I felt like if I was "just an alcohol abuser" instead of an alcoholic, I wasn't deserving of the help of trying to stop, and I was making a big deal out of nothing.

What I have realized is that it is bothering ME, and that is the only thing that matters.

There is a reason you are looking at this right now, and evaluating your drinking for yourself. Focus on that, instead of trying to put yourself into a classification.

Sorry if I sound like I'm trying to minimize or give advice, actually, I'm talking probably more to myself than I am to you!

Best wishes!
| | |
| --- | --- |
| The Following 3 Users Say Thank You to 12skiptomylue For This Useful Post: | |
thankyou so much for your comments everyone
I have realized over the course of the day that because I have reached this milestone the delusion and denial has kicked in as I feel so much better with no alcohol in my system and just looking to reward myself for getting to 30 days. The question I ask myself is why do I want to go there again when it has made me so sick?
I know in my heart of heart than I am an alcoholic as when I am not drinking I am obsessed with it!
Back to AA for me
Member
Join Date: Dec 2011
Location: Between Meetings
Posts: 8,997
I was a lot like you. I didn't drink that much usually but sometimes I would. I never remembered anything even after just a few glasses of wine and I gained a lot of weight and felt terrible all the time but never really had a hangover. At first, I was hung up on the word "alcoholic" but now I just ignore it. I also have fatty liver disease. So I've accepted the fact that I can't drink, it's poison to me. mentally and physically. Congratulations on 30 days!!
Currently Active Users Viewing this Thread: 1
(0 members and 1 guests)

Posting Rules
You may not post new threads
You may not post replies
You may not post attachments
You may not edit your posts
---
HTML code is Off
---