Day 5
Guest
Join Date: Feb 2011
Posts: 8

Day 5
---
I went three days and then drank. My anxiety, particularly at night, has been really bad. I had a mild panic attack, and I went and bought a six pack. I drank them all. I didn't even really want the last one, but it was like I was an angry teenager. Rebelling against myself? I dont' know. It was ridiculous, and I just felt stupid.

So, this is my second go at it, and I'm now on my fifth day. I feel okay. I have a terrible sweet tooth right now. I decided that for the first week, I wasn't going to worry too much about some ice cream.

I'm having a really hard time sleeping, and overall I just feel...weird. I really like waking up and not feeling like crap though. Until I'd felt better for a few days, I didn't realize how bad I'd really been feeling.

I don't really have a plan other than to just continue not to drink until...I don't know. It's seems really daunting when I think too far ahead. Like my friend's wedding coming up. The thought of enduring a wedding sober is just, well, you know. I'll be surrounded by some of my best friends, and I will be the only one not drinking. I think I can do it, it's just going to be really odd.
| | |
| --- | --- |
| The Following 3 Users Say Thank You to Charlotte75 For This Useful Post: | |
bona fido dog-lover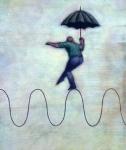 Join Date: Mar 2008
Location: SF Bay area, CA
Posts: 95,293
I was a home-alone-drinker and it took me a while to figure out what to do with myself home alone and stone cold sober.

But yes, waking up feeling good is a wonderful reward.

Keep on keepin' on, a day at a time. That makes it easier, to just stay sober
for today
.
It will get better, tho I can be up and down for a while, just stay sober and be good to your health and you'll start feeling more 'normal' with time.

| | |
| --- | --- |
| The Following User Says Thank You to least For This Useful Post: | |
Congratulations on 5 days. Don't look back and keep going forward.
I'm heading into four weeks and my sleep is still not what I would
like it to be. I'm trying not to fight it and roll with it. It seems the
more I worry about it, the less it comes.

Right now don't worry about your friends wedding. That day will come
soon enough. Just worry about the day right in front of you. I
don't think I ever really understood that before. I was always way in
the future or way in the past. Lot's of relapses to show for it too.
This time, I'm trying to stay in the present as much as I can.
It does seem to help.
| | |
| --- | --- |
| The Following User Says Thank You to mtnmagic For This Useful Post: | |
Currently Active Users Viewing this Thread: 1
(0 members and 1 guests)

Posting Rules
You may not post new threads
You may not post replies
You may not post attachments
You may not edit your posts
---
HTML code is Off
---