Help..in a relationship with an addict.....
Help..in a relationship with an addict.....
---

Hi..I'm new to this forum, but have been attending CODA. I have been in a two year relationship with a guy who has relapsed twice, both time on crack and/or heroine. He was taken to the hospital both times. I didnt know he had this problem before the first "relapse". I scared the sh*# out of me and I threw him out, etc. I took him back because he said it was a one time thing that happened because he was afraid of losing me...I bought it and felt sorry for him. He told me loved me more than anything in the world and will NEVER do anything like that again..if I just stand by him and love him. Well it happened again...without any warning and no real problems that I was aware of. He had just started working again. Started gambling as well....so my dilemma..He was in rehab and now is out. He has been mailing me letters first ones feeding me with all this sappy stuff about how he remembers all the good times, how great I am, and promises of how great everything will be...this time. I wrote back all these things about how the trust is gone and I dont think it will work. Now he is turning the tactics and trying to say that I am heartless and abandoning him in his time of need...questioning if I ever loved HIM! I am working on my recovery of co-dependency as well as working through my anger and resentment that he lied to me...too many lies to tell you. Am I selfish or am I simply taking care of me! How can he expect me to trust him??????????? If he really loved me which I really doubt he know what love is....wouldnt he want me to be happy and wouldnt he realize how he has hurt me? I just dont get his logic...he seems almost sociopathic or narcissistic!

I just dont understand him at all!!!
Administrator
Join Date: Apr 2007
Location: Australia
Posts: 203,994
Hi Stacecakes
I think you already now the answer to this - it's not at all selfish to safeguard yourself and your best interests IMO.
Have you read our Family and Friends forums here? I think you'll find a wealth of experience there

The Alcoholism and Addictions Help Forums- by SoberRecovery.com
Welcome to SR

D
bona fido dog-lover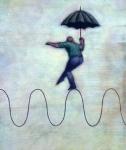 Join Date: Mar 2008
Location: SF Bay area, CA
Posts: 96,358
am I simply taking care of me!
You have the right and responsibility to take care of YOU first. Turning the tables and blaming you is what we addicts/alcoholics often do just so the light of truth is not shining on US. Please don't fall for any 'promises' until/unless he shows you with action that he's changing himself for the better. And only you can judge if he's making positive changes in himself.
We have a Friends and Families of Addicts forum. Lots of people in your situation that would be glad to share their knowledge and experience. Give it a look.
Welcome to SR!

| | |
| --- | --- |
| The Following User Says Thank You to least For This Useful Post: | |
Member
Join Date: Jun 2009
Location: Houston, Texas
Posts: 85
least is right... this is a very common thing for addicts to do. most likely it hold no truth to it at all.

stacecakes you will also probably hear that he knows he could get better if only you would help him. don't fall for it. you cannot save him. make sure he is going to meetings... if his sobriety seems to be a walk in the park, especially after having used heroin and crack, then something is wrong.
| | |
| --- | --- |
| The Following User Says Thank You to eureka For This Useful Post: | |
Yes that exactally what I think. He seems to bounce back so easily its wierd. I think he is so used to doing and saying what he needs to in order to get back into good graces with the people that always give him another chance. He seems like an excellent maniupulator. It is just hard sometimes for me to hear that i am selfish and that I have a problem...like I'm cold, selfish and may never find love if I cant stand by someone. I'm tired of standing by....really, really tired!!!!! Iv'e always been with someone with some sort of addiction so I know I have a problem, but i think it is more that I am becoming selfish because of this. any way thanks for the advice. I needed to release my frustration over this.

Welcome to SR!

I'm both an RA (recovering addict - crack) and someone who has loved ones who are addicts. I've had to work on recovery from both my addiction AND codependence at the same time.

I do hope you check out the Friends/Family forum. They have been an invaluable source of support for me. I was fortunate to have a family who let me fall on my face, with my addiction, and find my way back up. I will forever be grateful.

Hugs and prayers!

Amy
| | |
| --- | --- |
| The Following User Says Thank You to Impurrfect For This Useful Post: | |
Currently Active Users Viewing this Thread: 1
(0 members and 1 guests)

Posting Rules
You may not post new threads
You may not post replies
You may not post attachments
You may not edit your posts
---
HTML code is Off
---