6th day sober...need to meet deadlines...****
Member
Join Date: May 2008
Posts: 39
6th day sober...need to meet deadlines...****
---
I chose a hectic time to get sober. In less than a week I have to give a presentation for a research project...I'm actually still writing my research paper, which should've been started way earlier but this is part of the "unmanageability" of my life, ugh. The problem is, I'm terribly distracted because of all the emotional ups and downs (also restlessness, tendency to daydream, all the overthinking, etc.), making it very difficult to work, on top of the bad work habits I've been carrying around for a while. This project means a lot to me. I attempted to quit drinking at the very beginning of the month (with the rationale that I would have about 30 days before I had to give the presentation), but I had a couple slips and now it is only Day 6. I've been online a lot reading up on recovery stuff and also reading self-help books, but this seems to be taking up the time I need to be working. I knew this would be a concern when I quit drinking, but I decided to do it anyway because I figured that if it's not one thing, it'll always be another, and I'll probably be incredibly busy for a long time since I still have another year of college to go, and then grad school...There won't ever be a "perfect" time to quit I know, and especially if my creativity is in trouble I need to work on my relationship to my art now (that is, learning how to manage my life as a sober artist) before I take on more projects in the future.

But...I'm struggling a little bit. I also have to get through a couple performance art shows, and finals. I don't really have time to drink to be honest, but the distractibility is out of control.
bona fido dog-lover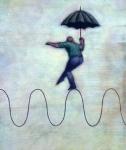 Join Date: Mar 2008
Location: eastern USA
Posts: 83,618
Dear EM, (auntie Em?)*
It's not "only" day six, it's Day Six!! The distracting thoughts and restlessness are probably Post Acute Withdrawal Syndrome. There's a 'stickie' about it, either here or in the Alcoholism forum at the top of the page. Lots of info for you there. I'm on day twelve right now and still riding the emotional roller coaster and having trouble sleeping, concentrating, etc. But this too shall pass! Please read the stickie on PAWS. If it gets too bad do you have a doctor you can see? Some doctors will prescribe a mild anti anxiety medicine to get you thru it if it gets really bad.
What I do when I get nervous and restless is walk my dogs! They love PAWS cause they get a lot more walks than usual. But you're in school, right? And I'm sure you have a lot more to do than I, as I'm unemployed right now. At any rate, come here to post how you're doing and vent those unpleasant feelings.
I'm proud of you for your six days!! Way to go!!

You'll get there, just take it one day at a time!
lots of love and encouragement,
least :ghug3
*auntie Em from the Wizard of Oz, that is

Currently Active Users Viewing this Thread: 1
(0 members and 1 guests)

Posting Rules
You may not post new threads
You may not post replies
You may not post attachments
You may not edit your posts
---
HTML code is Off
---