Remembering RobbyRobot
Remembering RobbyRobot
---
I'm not good at eulogizing, but he's gone & I miss him so here's
a link to his first thread (What is a friendship? What is a relationship?)
, about friendships, because he was all about humanity, tho a 'bot.
May other SR-ers remember him well.
And this:
a true friend. wow. that rocks. imagine the possibilites. hahaha. i so drool at true friends now.
RIP RobbyRobot Aug 4 2015
Administrator
Join Date: Apr 2007
Location: Australia
Posts: 185,603
I miss Robby too. He was a man of big heart and good humour giant brain and immense courage.
His prescence is still felt here.
I'm glad someone started this thread - thanks Courage

D
voices ca**y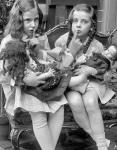 Join Date: Mar 2013
Location: St. Paul Minnesota
Posts: 3,568
Robby really helped me out when I was stuck in early sobriety. Once I was spinning and he was the kind of friend that would hit you right between the eyes rather than to let you spin. I really appreciated that because it meant he had enough confidence in me to know I could handle it. I decided he was right and started having confidence in myself. I owe some of where I am today to him. Very grateful I crossed paths with the man.
Currently Active Users Viewing this Thread: 1
(0 members and 1 guests)

Posting Rules
You may not post new threads
You may not post replies
You may not post attachments
You may not edit your posts
---
HTML code is Off
---