Night Terrors
Night Terrors
---
Hi, I just realized there was a board for sleep disorders and wanted to share. I have night terrors that I've had since I was 12 years old (I'm now 30). They are adult night terrors, in some ways similar to the ones kids get but adult night terrors are much less common- only 1% of the adult population has them- and are usually indicative of past trauma or a personality disorder rather than being normal and temporary like in kids. It's like having a bad dream except that it comes 45 minutes to an hour after falling asleep, before REM stage is reached, so it's not really a dream but fears that manifest themselves in the mind somewhere between consciousness and unconsciousness and then the body acts it out. This is sometimes sitting up or thrashing around in bed flailing, or other times I have ran out of the room or out of the house, I've even broken and climbed out of windows because I thought the room was on fire. I've drug people out of bed and covered them with my body to "protect" them or "save" them or get them out of harm's way.

The "dream" aspect is always something scary like the roof collapsing, ealier on fires but not anymore, someone shooting at me, an unknown person coming to kill or hurt me, etc. I'm always really hot, sweaty, my heartrate is really fast (I've read that it can triple and go faster than a person who is having a stroke), I'm disoriented and confused. I usually don't remember having them unless I wake up in the middle of one. Then I quickly fall back to sleep like nothing happens (but sometimes I have them again).

Nothing traumatic happened to me when I was young and it's not related to alcohol because they started when I was 12 and I didn't drink a sip until I was 18. However they seem to have always gotten worse so I'm sure alcohol doesn't help. Specialists tell me it's related to stress and anxiety. I do have bad anxiety issues and I think that is where alcohol comes in -- I drink not to feel anxious but it fuels my issues and creates a really bad cycle. So I am hoping that with my giving up drinking, combined with other positive lifestyle changes I've been making, I will have a reduction in night terrors or maybe somehow stop them all together. I just wanted to share in case anyone can relate and I will post my progress and see if I note any changes. Oh by the way alcohol is a trigger for them-- I am most certainly going to have a night terror if I drink alcohol before bed, but did that ever stop me? No. So now hopefully just the fact that I don't drink will mean I have less of them. Thanks for reading.
Hi Pigtails, I too also have night terrors. I'm still fairly young, only 20, but that's still an adult

I've had them since I was 15, though it is due to various traumatic events in my life. I do remember having frequent
nightmares
before I was 15, but those are different than night terrors.
I too share the unpleasant experience of waking up in a pool of sweat, your heart racing, feeling disoriented, confused, fearful, or even dizzy. I have also been woken up by my roommate or (when I lived with them) foster parents screaming at the top of my lungs or crying out in my sleep, thrashing and kicking at the invisible monsters.
Your docs are right, stress and anxiety have A LOT to do with the night terrors. Taking drugs and drinking put more stress on your body because they are essentially toxins and your body freaks out when they're in your system, hence why alcohol may be enough of a trigger for your night terrors. Drinking while you're already stressed or feeling anxious will only escalate the outcome if you think about it logically. I have found through cognitive therapy and getting my PTSD under control, that the night terrors have lessened, though they still have not gone away. If I am emotionally triggered by something that day, enough to lead to an increased level of anxiety, it often leads to a night terror within the next few days, unless I get it under control and manage to find a way to ease my stress level. I have found simple things like walking my dog or listening to music help, though for me personally, routine is VERY important. I like routine, it keeps me grounded, and when everything is on cue for me, I find I have less stress.
I hope the positive lifestyle changes you're making help your night terror problem. There's hope and help out there!
Thanks SpeedyJason for your reply. It's so nice to talk to someone who knows what it's like. Unfortunately I am so bad at having a routine. I have none to speak of except for going to work every day... and even that, I don't always stick to my routine.

I don't know why routine is so hard for me. I feel that would make a huge difference in my stress levels but I can never seem to get it down. Then again, I haven't tried very hard either.
Today is my tenth day of not drinking and I'm not sure if it's had an effect on my night terrors or not. I know that the first few days I definitely had them... and I had very weird realistic nightmare-type dreams about drinking or not drinking. But since then I haven't noticed one way or the other. I think I will set up a camera in my room to monitor when I have them or not.
I will always really try to work on a routine. I need to make myself go to bed at a certain time every night (so bad at that) and I would like to wake up early and go running. I often exercise and it seems to have little to no effect on my night terrors... except that if I exercise later at night I'm more likely to have one! So maybe if I incorporate running into an early morning routine and otherwise structure my life, my night terrors will get better.
I often wonder if anxiety meds would help... I've been told by therapists and sleep disorder specialists etc. that they might but I am afraid to go on meds. Have you had experience with them?
Thanks again.
| | |
| --- | --- |
| The Following User Says Thank You to Pigtails For This Useful Post: | |
Hey Pigtails.
I have to admit that it's been difficult for me to get a routine down as well. I started a new job a bit ago and I work odd hours, which switch every couple weeks from the night shift to the day shift and they are really LONG shifts (12 hours). Luckily I'll be leaving it in a couple more months but that doesn't mean I don't need a fix now. To me a routine doesn't have so much to do with the time frame as the actual ACTIONS I am taking. After work I always take my dog on a walk, no matter if it's 7 am or 7 pm, depending on when I get off. Then I will eat, then I will sleep, no matter the time.
Waking up and going to bed at a certain time has never worked for me, not because of my job or anything, but because I find it difficult to fall asleep in general. And when I do sleep, I get nightmares or night terrors, of course occasionally I'll sleep well

. I have found that prescription sleep meds work for me for a little bit...but eventually I build up a tolerance and they don't work anymore. I'm not sure that's what you're really looking for though since you can get to sleep. I haven't found a solution for it yet, my doc just keeps switching me around. As for anxiety meds though, they help a lot in my experience. It takes a bit to find the right one, but I was prescribed one for my PTSD/Depression and it's helped me immensely. That doesn't mean it'll work for you, but I'd say it's worth a shot. There's not much to lose unless you're a bit strapped for cash. If they don't work for you, you'll know it and will probably feel like a zombie for a few days. If so, tell your doc and they'll either taper you off or switch you to something else (if you want). If you do happen to go ahead and try medication, make sure your doc knows you're an addict so they won't prescribe you xanax or something addictive.
Before jumping into meds though I would really try and see if you can manage to nail down a routine. I think it would help. In my own opinion, I try to be on the least amount of medications as possible because 1) I save money, and 2) I feel more like myself when I don't have to take medications. That is not to say I feel like a zombie on my medications, but I would like the fact that I could thrive on my own without a medicinal boost, I guess. I still have a long ways to go in my therapy until I reach a point where I *may* be able to stop them, but I'm finding the meds are working for me right now and that's all I can ask for. For right now, I'm better with my meds than without.
Oh, way to go on your sober time too

. Keep it up!! A lot of people have using dreams for the first few weeks or even months after they quit. Power through them, they don't mean a damn thing. Just be aware that it's normal

.
I get these too

I sometimes break things or tear things apart so it's really nasty, I also get in dangerous situations (like tonight when I tried to break the window with my bare hands). I always feel as if I'm locked in somewhere and my life is in danger so I must escape (that's why I wanted to break the window - to escape). My heart beats so fast I can't breath normally for ten-fifteen minutes. Honestly I haven't figured out what causes these and what I can do to not have them anymore. It's so scary, I'm sometimes scared to go to sleep

| | |
| --- | --- |
| The Following User Says Thank You to SusieC For This Useful Post: | |
Susie I'm sorry to hear that. I know exactly what you mean. I did break out of a window once with my bare hands and climbed outside and it was a tiny high-up basement window to boot.

The escape theme is interesting. I was trying to write a memoir about my night terrors and my writing group thinks it's about a desire to escape my surroundings/upbringing.

It's interesting that there are three of us thus far who experience them. I wonder if there's a correlation to alcohol. I didn't drink when I first started having them (they started at age 12 and I didn't drink anything until I was about 18) so I think it's more of an anxiety issue which I suppose is common with alcoholism. They are more likely to happen after I drink, but not drinking doesn't seem to stop them.

Thanks Speedy for the helpful advice. I will try the routine first. I know what you mean about wanting to try other things before turning to meds.
I wouldn't say it has to do with the alcohol directly, I don't drink anymore, and was never really into drinking at all. My DOC is speed which is the totally opposite of alcohol as it is a stimulant, yet I still got them anyways. I really do believe that it's anxiety and stress driven. But certainly alcohol and other drugs put more stress on the body, so there's an indirect effect of it I bet.
| | |
| --- | --- |
| The Following User Says Thank You to JustAYak For This Useful Post: | |
I agree that it's not because of alcohol, it must be anxiety and stress. I'm here because of the Eating Disorders forum and the Adult Children of Alcoholics one, personally I've never drank. If it has to do with alcohol, it must be my Dad's alcoholism as I have many problems and past traumas from that.
I pretty much feel I ruined my life and I feel really lost, and now I have more night terrors than before. I've slept allright these last few days, I'm enjoying it while it lasts

Pigtails, that's horrible what you wrote about the window-breaking, that's exactly what I'm afraid I'll do one day...Still, let's be grateful nothing worse has happened to either of us.
"A desire to escape my surroundings/upbringing" - that's true, very true...Mine started at the age 12 too...That's interesting too!
The worst thing is that I'm always so tired next day and so angry or depressed (or both).
SpeedyJason, I'm trying to stick to a routine too but I find it very difficult. I'm REALLY disorganized and I find it very hard to be organized...I always do the routines for a few days and then I don't do it anymore because I get irritated and intolerable if I do. I'm trying though...
I started a new job too and it's very stressful, maybe that has something to do with this too.
Member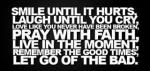 Join Date: Feb 2011
Location: Columbia MO
Posts: 1,127
So sorry that all of you are going through this, I had my first one I remember at age 4, after we had been in a tornado and things were torn up everywhere. Then in my dreams the tornado chased me and destroyed everything I loved. The got progressively worse as physical and verbal abuse were heaped into the mix, then I was molested by a stranger at age 7 and the running man dreams started. Things only got worse until the put me on Prozac, oh my god no dreams at all for over a year. But then they started creeping back in more and more often, finally I began treatment with a new psychiatrist this year and he put me on Probasin which they use at the VA for PTSD and nightmares, works great, no side effects, no hangover.
Currently Active Users Viewing this Thread: 1
(0 members and 1 guests)

Posting Rules
You may not post new threads
You may not post replies
You may not post attachments
You may not edit your posts
---
HTML code is Off
---