Spiraling out of control
Drug Addiction Has No Mercy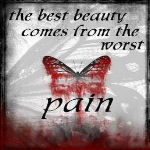 Join Date: Mar 2005
Location: Milwaukie Oregon
Posts: 875
Spiraling out of control
---
Sometimes we spend so much time trying to rescue someone else that we fail to realize that in the process we are losing or have lost ourselves.

One day you wake up totally defeated and depleted and wonder what the he!! happened. Your life is in shambles and you feel like you've been hit by a truck and left for dead. Every fiber, every cell literally screams out in pain. You thumb through the pages of your mind looking for the answers that will identify how you got where you are today.

You abandoned yourself years ago when you got caught up trying to help someone else. When you tired so hard to stop something bad from happening to them.

You got lost in loving, talking, believing, hoping, rationalizing, fixing. You plummeted in yelling, screaming, pleading, bargining. You decended deeper each time you rescued. You spiraled out of control thinking you could somehow save them from themselves. You believed each time they said, I am clean, I wan't to get clean, I need you to help me, I cant do this without you. You broke when you heard them say, this is all your fault, if it wasn't for you I wouldn't do drugs, you don't love me, you never cared about me, I hate you.

Still you continued to give all you got to prove them wrong and it was never enough. The more you gave the more that was required. The endless pit of destruction and despair. A place where you feel contempt at them for bringing you here. Yet you are the one who volunteered to come. You refused to let go. Even when you saw how dark and ugly it was you still hung on trying to control the outcome.

The battle isn't yours to fight. It never was nor will it ever be. The outcome is not in your hands.

If you find yourself sitting at the bottom of the abyss today. You have two choices. You can either pick yourself up, dust yourself off and save yourself or you can pick up a shovel and continue to dig, chasing after the addict, but I must warn you the pit goes as deep as you are willing to go. It is up to you to decide where the madness ends.

~Passion~
Recovering addict, codependent,enabler
The Following 15 Users Say Thank You to nytepassion For This Useful Post:

Ann

(04-05-2017),

Ariesagain

(04-05-2017),

atalose

(04-05-2017),

Chino

(04-07-2017),

ErzaLee

(04-12-2017),

hopeful4

(04-06-2017),

JimC60

(04-07-2017),

Maudcat

(04-05-2017),

myfreedom

(04-11-2017),

PhoenixJ

(04-08-2017),

PuzzledHeart

(04-08-2017),

SmallButMighty

(04-06-2017),

stress

(04-05-2017),

Vale

(04-07-2017),

Whitewingeddove

(04-10-2017)
| | |
| --- | --- |
| The Following 3 Users Say Thank You to Maudcat For This Useful Post: | |
If anyone here wants to know my story, just read what Passion wrote above. It describes absolutely how it was for me, I literally almost died trying to save my son. The madness of it all was everyday "normal" for me and I am diligent in my recovery so that I never ever have to go back to that dark hell of living with addiction.
The battle isn't yours to fight. It never was nor will it ever be. The outcome is not in your hands.
How very long it took for me to figure that out. People told me for years but I thought I was unique, that they just didn't know MY son.
When the day came that I reached my "enough" point...every word above became perfectly clear and I "knew" I was done, for once and for all I was done and what relief that surrender brought me.
Thank you, dear Passion, for bringing this here. I needed to read it today.
Hugs and much love

Member
Join Date: Jul 2015
Posts: 246
Sadly, so true...and embarrassingly I volunteered to come and allowed myself take things personally and get twisted up with his words and actions and dishonesty. I dug a beautiful hole for myself though. I finally put the shovel aside.
Member

Join Date: Feb 2008
Location: In a good place
Posts: 4,482
There's a line from the movie "Clean and Sober" about this, but much more brutal. I can't remember the quote verbatim but it's like this: a sponsor basically told Michael Keaton (main character) that his ego was out of control, for thinking he could stop a woman from drinking and killing herself.
Thank you for sharing.
| | |
| --- | --- |
| The Following 2 Users Say Thank You to Chino For This Useful Post: | |
Currently Active Users Viewing this Thread: 1
(0 members and 1 guests)

Posting Rules
You may not post new threads
You may not post replies
You may not post attachments
You may not edit your posts
---
HTML code is Off
---