Responding (or not) to critical, judgmental 'friends' of your addict...
Member
Join Date: Jul 2014
Location: Alaska
Posts: 276

Responding (or not) to critical, judgmental 'friends' of your addict...
---
Nutshell: I recently made the decision to give my AH an ultimatum after his most recent shady behavior: either leave the apartment voluntarily, or be forcibly removed.
This follows MONTHS of his not contributing to rent, insurance, groceries, gas, anything, and two YEARS of dealing with his drinking, clinging to 'friends' & habits borne of his previous heroin problem, & now his deciding to go off Suboxone cold turkey because "he thought he could handle it". We have a 5mo old whose father has largely been unable to care for him or help me out in any way because of all of the above.
One of his friends sent me the following after learning that I had kicked him out. (This does not mean, dumped his stuff in the yard, changed the locks & left him homeless. Actually, though it's probably doing more than I should be, I've been letting him shower over here & at least say hello to the baby once every couple of days...)
"yeah, how is kicking him to the curb helping him get a job and stay on his feet? I mean, I know how he can be and how he can just mope around and feel sorry for himself but I've also seen him excell and do awesome. Usually happens when he has the support of his family and friends. Yes, he's assed up a lot of things in his life and people hold that over his head and don't let him forget it. That's gotta weigh heavy on him and if I were in his shoes Id have no motivation or ambition to do much of anything either cause that's what people are expecting of me. Sorry if I'm coming off as a dick but I care about AH . I wish I could help him out. He needs to do something with himself yes.. He needs to be there for his wife and kid as a provider. But when times come that he can't be that provider he needs to have the love and reassurance that someone has his back and keep him motivated. I know I'm not there in the house and don't know the situation fully but I just don't understand how giving him the boot is being supportive. He doesn't get any support from his family that's for sure. I don't wanna try and get into a big ordeal or tell you guys how to run your marriage but you both need each other. Somehow someway it seems you all could Find a compromise and work with each other to get him back out there and working and providing. xxxxx and I have only been married for 4 years so I know I'm no expert but from the few times I haven't had a job or just had a ****** job she has supported me 100% in finding and or helping me stick with it until something comes along. it's all about being a team. Threw thick and thin and for better or worse. I know you've carries him a long the way and he can tend to ride that out as long as possible... I know... Ive basically supported him myself. But he came around. I don't know, I'm just rambling now. I just hope you guys can figure something positive out and get him back on his feet. If he's gotta live in a tent away from his family, I don't think that's a solution."
The most telling parts of this seem to me to be somewhat predictable from friends/family outside the situation: 1. I know I"m not there in the house so I don't know the situation, and 2. Myself & my spouse have done XYZ & that's what you're supposed to do no matter what.
My favorite is, "I've basically supported him myself", which implies that this friend has spent just as much time, energy, money, effort & resources on AH as I have. I could write a book on how much I've lost or had taken from me by AH, material and otherwise...but I won't.
Is it just me, or do these friends/family who are so judgmental lack a basic understanding of addict behavior? Of COURSE AH SEEMED to do better or excel with support-because compared to shooting up heroin in someone's bathroom, anything seems like excelling. And as most of us here at SR have experienced, just because the addict "seems to be" excelling on the surface does NOT mean that all isn't rotten below the surface of said Denmark.
Anyone else dealt with people like this? How would you or have you responded?
●▬๑۩۩๑▬●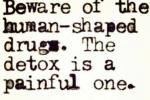 Join Date: Apr 2013
Posts: 1,405
Dear friend,

Thank you for your offer to allow my husband to move in with you so you can give him the support you think he needs. I'll get him a bus ticket myself. He should arrive on your doorstep Saturday morning.

Love,
mnh
The Following 13 Users Say Thank You to cynical one For This Useful Post:

allmirages

(03-27-2015),

biminiblue

(03-27-2015),

Carlotta

(03-27-2015),

Chino

(03-27-2015),

JOIE12

(03-28-2015),

ladyscribbler

(03-27-2015),

LeeJane

(03-27-2015),

Lily1918

(03-27-2015),

Miserable56

(03-27-2015),

mnh1982

(03-26-2015),

Vale

(03-27-2015),

waitingforhope

(03-28-2015),

zoso77

(03-27-2015)
mnh, the friend doesn't sound malignant, so I'd say something like 'you can't understand unless you've lived it' and leave it at that. You don't need to defend yourself; in fact you've put up with a lot more than many others would have.

Keep any responses you feel like making strictly neutral.
You're doing fine. Dont let some outsider dogooder tell you what's good for you. I dont think this person is coming from a bad place just a place of ignorance. I'm the addict in my relationship and when my wife finally stopped enabling me is when I stopped acting a fool. Maybe your relationship will work out maybe it wont only time will tell. Stick to your guns your doing fine.
Member
Join Date: Oct 2014
Posts: 412
Hi mnh1982,

When I found out my husband was using heroin his Father blamed me saying it was because I was not being a good wife! I had left for a month to travel for work (long story and when I left the relationship was fine). He was staying with his Father. When we reunited he had picked up, and his father said it was because I left.

So I think often people just don't understand addiction.

It's frustrating however no point in arguing.
Engineer, Guitarist, Golfer

Join Date: Jan 2012
Location: Where the mighty arms of Atlas hold the heavens from the Earth
Posts: 3,381
Personally, I'd ignore his friend. At this moment in time, to bring him to a place of knowledge and understanding would take an enormous amount of effort. And you have neither the time nor the emotional bandwidth to educate someone like that.

Focus on you, the baby, and protecting yourself. Everything else is noise.
Member
Join Date: Jul 2014
Location: Alaska
Posts: 276
I find it so intriguing that people like this 'friend' truly think they've experience a comparable hardship with their non-addicted spouse/loved one.

And that they seem to think I HAVEN'T tried every method of "support" under the sun before, painfully, reaching the conclusion that anything but cutting AH off is just enabling.

Thanks, guys.
Member
Join Date: May 2010
Posts: 1,157
Wow, for starters that should be an off the record informal conversation where one can respond.

Although appalled by this I am not surprised. I can tell by the way the alkie /addict here talks here he has been coached or his friends are yessing him to death. The alkie/addict will portray themselves as the victim. That's what this "friend" seems to feel or agree with.

I also find it ironic that when the alkie/addict doesn't get what they want they label you and others who have helped them as judgmental when you don't help them a lot or simply don't agree with them.

I've also found alkies/addicts tend to go out of their way to stay with similar thinking & acting friends. The turnover in the alkie/addict's friends here has increased as things have gotten worse for him. If he doesn't get the empathy he wants he out. If you don't listen or agree with him you are stupid, wrong and mean.

When it's at the point where his friend can't even talk to you and yet seem to be doing his bidding maybe it's time to severe relations.

Good Luck!
I did what cynical one wrote, they all failed too. It's not us, it's the addict. The manipulation spans every single relationship that an addict has. The drug destroyed their pleasure center when it was first used. I'd say run as fast as you can.
Member
Join Date: Nov 2014
Location: WI
Posts: 240
Please tell me you recognize you are too logical and too smart to fall for this right? The other enablers want you to magically be able to do what they could not and therefore they are going to attempt to relieve themselves of their own guilt in not being able to help AH and try to firmly plant it on your shoulders instead. It's passing the buck only they don't realize the only person responsible for AH and his poor choices is him. Don't acknowledge it. If they confront you directly in person, your only statement is "it's not up for discussion". Your trucking along just fine without their "friendly" advice.
Currently Active Users Viewing this Thread: 1
(0 members and 1 guests)

Posting Rules
You may not post new threads
You may not post replies
You may not post attachments
You may not edit your posts
---
HTML code is Off
---