Things can get so complicated
My weekend was going well. I have been cleaning and throwing out allot of things. Trying to get the house to feel more like a home and not just another pit stop. He has been gone 3 weeks and it has been calmer but very stressful with the kids constant questions about when he will come back. They are all in bed and I was winding down watching some tv when all of a sudden the tears started to fall. I don't know what trigered it but it took me a while to get myself together. I haven't joined a support group. I don't know wha is holding me back. I know I need the help just aving a difficult time doing it. All I can do now id the email meetings anyway but I still haven't signed up. Did anyone else go through this dance? I am just so tired. All I do is clean, go to work and take care of the kids alone with everything else that has to get done. I just would like to sleep, at least one night.
Member
Join Date: Nov 2011
Posts: 227
I did the same thing for longer than I care to admit. I got out of bed every morning, went to work, cleaned the house, made dinner and got to bed as soon as I could. I had a listing of every support group within a 30 mile radius but didn't go for at least a year. I even drove to a couple but didn't go in! Eventually I got to the point that I could no longer hold it together. I signed up for SR, got a therapist for myself, and finally got the courage to walk into a meeting-- it's the best thing I ever did! Now I will not miss a meeting for anything.

I know how hard it can be, but give it a shot. I don't think you'll regret it!

Good for you for doing the right thing by your kids. I know it's hard but you're doing the right thing.
| | |
| --- | --- |
| The Following 2 Users Say Thank You to Heartbroken0608 For This Useful Post: | |
Member
Join Date: Nov 2011
Posts: 227
I just re-read your post and wanted to add one more thing... Let yourself cry. The kids are asleep, it's ok to let it out. Tears are healthy, you're going through a lot and have a lot to mourn.

Something I'm struggling with right now is an inability to cry. I get close, get teary, but cannot get to the point where I just let it all out. I know this is because I've tried for so long to keep it all together, to always be strong. It's not healthy. Sure, you need to keep up a good face for your kids, but when you have some alone time let the tears fall if that's what you need right now. Trying to pull yourself together all the time is not good for you. Give youself permission to be human.

You're doing a great job!

((hugs))
| | |
| --- | --- |
| The Following User Says Thank You to Heartbroken0608 For This Useful Post: | |
Thank you Heartbroken. I am trying to take that step forward and do what I have to for my health and sanity. I want ot be more than okay for my kids because they deserve the best. I know in the end I will do what I need to, its just that I am just begining to see what a difficult road that is. But just looking at my babies faces gives me the courage I need to move forward.
Member

Join Date: Dec 2007
Location: The Jungle
Posts: 5,435
Sometimes it takes all of our strength to just keep putting one foot in front of the other. You're doing fine. You're moving through the pain, understanding your priorities.....that's good stuff.

I want to stress something someone else said in an earlier post. Please.....don't forget to take care of you. Sometimes we, as mothers, focus so much of our attention on taking care of our children that our needs come last......or are not met at all. Do something, even if it's a little something, for yourself each day. Something that you enjoy. Stay in touch with yourself.

What are you going to do today to nurture you?

gentle hugs
ke
| | |
| --- | --- |
| The Following 2 Users Say Thank You to Kindeyes For This Useful Post: | |
| | |
| --- | --- |
| The Following 2 Users Say Thank You to yez5 For This Useful Post: | |
I am cleaning the house and trying to make changes day by day. I was afraid to go into my AH office for fear of what I might find. I finally had the courage to go in and start cleaning. I found all these pens and lighters that I can only assume he used to take that poison. It just got me so angry again and sad because he did it at home, near our babies after he swore he wouldn't. But why am I surprised? I knew what I would find. It just hurts so much.
| | |
| --- | --- |
| The Following User Says Thank You to EnglishGarden For This Useful Post: | |
I AM CANADIAN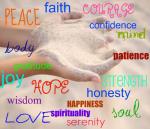 Join Date: Jun 2010
Location: Niagara Region, Canada
Posts: 2,578
Originally Posted by
outtolunch

Yet he has the $ to cross state lines for outpatient therapy?

He has a legal obligation to contribute to the support of his childen. Taking responsibility for his children is critical to recovery. Why deny him that opportunity? Take yourself out of this and let the court decide what he's capable of paying and when.
I soooo AGREE with this...i would go and see a lawyer...
| | |
| --- | --- |
| The Following User Says Thank You to fourmaggie For This Useful Post: | |
Currently Active Users Viewing this Thread: 1
(0 members and 1 guests)

Posting Rules
You may not post new threads
You may not post replies
You may not post attachments
You may not edit your posts
---
HTML code is Off
---