Need advice on the best way to handle this with dignity...
Member

Join Date: Dec 2007
Location: The Jungle
Posts: 5,435
Callie
Hmmmmmm.......a simple comment.

How about......

Your questions are causing me discomfort. Is there some reason that you need to know the details? (and smile)

or

I'm not comfortable answering your questions.....I hope you understand. (and smile then change the subject)

or

(chuckle and say) This too shall pass.

People are generally nosey about things that are really none of their business. I think it's ok to gently point that out to them. It does make you wonder how celebrities can live their lives in the spotlight. Sandra Bullock......she handled all of the publicity about her husband's affairs and the subsequent divorce with such grace. Her way of killing the rumors.......she looked FABULOUS.......and you never saw her sweat. She inspires me.

I have full faith that you will handle this matter with grace. You dealt with a terrifying and difficult situation. Breathe deep.......stay centered.......and you'll be ok. Believe it!

gentle hugs
Originally Posted by
cynical one

Technically he is not only an absconder, he is a fugitive from justice since he left the state. The legally correct thing for him to do would be to return to the state and turn himself in, serve his sentence and then seek recovery either by court order or on his own. The paper uses the most recent arrest picture…not a staged portrait of the defendants choosing. Stop making excuses for him, he's a junkie on the run whose back was against the wall and he chose the easiest option.
My AD is a convicted felon. This brought back the memories when her PO popped her on a dirty UA, and a warrant was issued for her arrest.
First thing she did was run off to a rehab, hoping that would look good. She soon found out it was not a bed and breakfast, and was kicked out.
I came home one afternoon to her and the grandkids on my doorstep. It was an awful position to be put in.
The day after the grandkids went back to their dad's house, I had the sheriff himself and a deputy at my door with arrest warrant in hand.
I was so humiliated, and was in tears when they put her in handcuffs, not for her, but because I felt ashamed I hadn't dropped the dime on her myself
as soon as
the grandkids left.
She had been listed on Wichita's 10 most wanted, and they were running her mug shot on tv, which I had not been watching. Someone local had recognized her and called the police.
I won't
ever
put myself in that position again, nor will I hang my head because of what she has done in her life.
I can also say as a recovering addict that our past does catch up with us, and it doesn't matter how good we smell, where we're living, or how nice we dress when we go to church.
We are responsible for wreckage of the past
.
| | |
| --- | --- |
| The Following 4 Users Say Thank You to Freedom1990 For This Useful Post: | |
| | |
| --- | --- |
| The Following 4 Users Say Thank You to wow1323 For This Useful Post: | |
I AM CANADIAN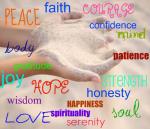 Join Date: Jun 2010
Location: Niagara Region, Canada
Posts: 2,578
Hate so much that you had to experience that nite - how frightful!!


I am a re-acter....I would be cursing at them at the door! telling them to get their facts straight and causing the chaos in the middle of the nite with my kids! (but that is the old me...LOL) let them do their JOB...LOL properly......
its hard, I see, but you never have to respond to anything...I would just say


Member
Join Date: May 2008
Posts: 1,906
I am a re-acter....I would be cursing at them at the door!
I guess you could say I'm a cooperating reactor. I'd have turned him over if he were here. But I felt so invaded, disrespected by what they did. Go after him if need be. I don't condone by any means what he did, but keep it off my turf. I've done NOTHING wrong. I applaud them for the other 31, but am pi$$ed that my kids went through what they did. All they had to do was an address check. His last known address was 1st his dad's, 2nd his mom's, 3rd here.
I'll respond to the rest later (CO you're going down... seriously.

) but just got done mowing, gotta spray out the garage, patio , get the kids to bed, pack lunches, bedtime etc.
I firmly believe in what they did, but just do a freaking address check. Just talk between the sheriff, police, courts. As if you couldn't tell, I live in a podunk down town. THAT is what makes me so mad. His name hasn't been on the streets for months. Why come to traumatize us.
| | |
| --- | --- |
| The Following User Says Thank You to Callie For This Useful Post: | |
Member

Join Date: Nov 2009
Location: Waterford MI
Posts: 4,202
Our county fair is next week, the kids have projects, the entire town goes. Just wanted to be able to have a simple comment without going into detail.
Well, if my kids had projects at the county fair (how exciting is that? animals?), i would be coldly furious if anyone had the nerve to bring that foolishness to me in front of my kids.
You could say,
"Today is about my children, they have worked hard on their projects. We are past that now."
and turn away.
| | |
| --- | --- |
| The Following User Says Thank You to wicked For This Useful Post: | |
Currently Active Users Viewing this Thread: 1
(0 members and 1 guests)

Posting Rules
You may not post new threads
You may not post replies
You may not post attachments
You may not edit your posts
---
HTML code is Off
---