visited AS in jail this morning
visited AS in jail this morning
---
I visited my son in jail this morning. The first time I've seen him in three weeks. He looks good. I shared with him some of the news I've read on SR recently. He talked for several minutes about his recovery. It was good to hear - of course, as always, I realize jail time is not official recovery time - but any time spent learning, planning, building toward that recovery is good - I just wanted to share the good feelings I brought away from that visit.
The Following 15 Users Say Thank You to litehorse For This Useful Post:

chicory

(08-29-2010),

Chino

(08-29-2010),

dollydo

(08-29-2010),

fourmaggie

(08-29-2010),

gotahavfaith

(08-29-2010),

HurtingDad

(08-30-2010),

Impurrfect

(08-29-2010),

JMFburns

(08-31-2010),

keepinon

(08-29-2010),

Kindeyes

(08-29-2010),

least

(08-29-2010),

Live

(08-29-2010),

sojourner

(08-30-2010),

tjp613

(08-30-2010),

wicked

(08-29-2010)
Member
Join Date: Jul 2008
Location: Ohio
Posts: 355
I am glad you had a good visit with your son today Litehorse. I believe any time they spend thinking about recovery, hopefully, brings them that much closer.
Gotahavfaith
| | |
| --- | --- |
| The Following 5 Users Say Thank You to gotahavfaith For This Useful Post: | |
(((Litehorse))) - I'm glad you had a good visit. Though I did relapse, after jail, it was a very short one and the thought of going to PRISON (I was on probation), ended it. Though jail didn't "cure" me, it most definitely got me started on my road to recovery. Something about being stuck with yourself, and having to face your demons without dope, can often bring about good change

I pray this is "it" for your son, but in the meantime, YOU sound great!!

Hugs and prayers,

Amy
To have a relationship, we have to stay open to whatever life-situation our adult child is living.
How great that you did visit your son today and it was positive.
Now matter the place, it is nice to have a conversation and experience when they are sober.
I AM CANADIAN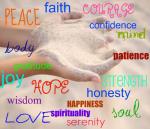 Join Date: Jun 2010
Location: Niagara Region, Canada
Posts: 2,578
I hear this alot...when the go to jail.
Alot of NA or AAs i hear say that it opened their eyes a bit...
| | |
| --- | --- |
| The Following User Says Thank You to fourmaggie For This Useful Post: | |
((Fourmaggie)) - not to hijack the thread, but I did want to point out that after jail, I spent the better part of a year being clean, working, getting back on my feet.

I was not in recovery, unfortunately. I just about wiped out an entire year of hard work, with a relapse that lasted less than 2 weeks, BUT I also knew that I could physically do it, I just had to get my heart, head and gut on the same path.

We never know when an A is going to say "enough", and for some, one time in jail is it. I do believe that, for me, the thought of going back has had a huge impact. It also hurt, more with the relapse, because I was home and I could SEE the pain in my family's eyes. I never, ever want to put them through that again.

One more thing...for those who don't know, had I not gotten IMMEDIATELY on the path to recovery, I would not have been allowed to come back home after my relapse. I'm just saying that as a reminder that we A's really do need to deal with our consequences - I got tired of all the bad consequences, and (((Litehorse))) - I'm praying your son feels the same way.

Hugs and prayers,

Amy
Currently Active Users Viewing this Thread: 1
(0 members and 1 guests)

Posting Rules
You may not post new threads
You may not post replies
You may not post attachments
You may not edit your posts
---
HTML code is Off
---