Visited daughter at rehab family day
(((marle)))
What a wonderful post, I got tears in my eyes reading it, seeing from your eyes, your girl coming back....

Bless you sweetie for sharing...

Hugs to you, and Megan...
I can't tell you how happy I am for you and Megan. One time while my son was going through a tough time in rehab he commented that "being a junkie doesn't mean your not a nice person just means you don't have the control to show people the real you."
It's got to a great feeling also to remember, aside from a bad choice she made, you taught her well.
Member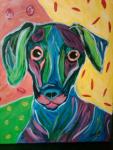 Join Date: May 2005
Posts: 1,688
I can't tell you how happy I am for you and for Megan. The miracles of recovery are amazing to watch. I'm not surprised that the people around her are recognizing what a wonderful person she is - kind and compassionate. She's your baby and she grew up around the best.

So glad that it went well!
Currently Active Users Viewing this Thread: 1
(0 members and 1 guests)

Posting Rules
You may not post new threads
You may not post replies
You may not post attachments
You may not edit your posts
---
HTML code is Off
---