So Sad
Member
Join Date: Sep 2006
Location: ontario, canada
Posts: 540
So Sad
---
My mother-in-law passed away on Thursday in her apartment. She was 74 years old. My AS was very close with her. She lived with us when he was a baby up until he was 12 years old. Once she got her own apartment he spent most of his time with her.He has been using for the past four years and it broke her heart. Still she was good to him and made excuses for him. Unfortunately he stole from her X2. After the second time last year he started avoiding her out of guilt. Still called her alot, but the relationship had changed because of him.
He has taken her death very hard. It was heart breaking to see. I was shocked he said" I ripped her off, and avoided her because of it" "He lost his best friend in the world" "He said he chose drugs over her" " that he would never forgive himself" Hours he cried. There was nothing I could say to him because it is guilt and something he will have to come to terms with.
I am very worried about him, he left our home yesterday I haven't heard from him. He probably has gone out to use again. I have never seen him so full of guilt or remorse before.
Katie,

I am so sorry for your loss. My father-in-law passed away a month ago and my AS was able to attend the funeral but since he is currently in prison, it was with a guard escorting him.

I am sure your son does feel guilt but try not to worry about him. His HP is with him and He is watching over him. Your son has to come to terms with this on his own and hopefully this will be a step towards sobriety for him. Our addicts don't follow a straight path but it is times like these that bring them closer to "their time". May your son's miracle be just around the corner.

Hugs and prayers from one Mom to another,
Katie, I am sorry for your loss and also for the pain your son feels.

What a blessing that your mother-in-law left such good memories, and your son will find them too once he processes the pain.

Hugs
(((((((((Katie))))))))))
(((((((((Katie's son)))))))))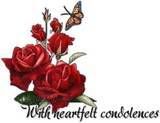 So sorry for your loss. I know how your son feels. My son lost his grandma (my mom) when he was 12. He misses her still. Said she was his best friend and understood him better than anyone else in the world. She was an alcoholic, so all that he knew of her, wasn't the "real" her. Just what he wanted to see. He claims that losing her is what molded him to be the way he is. It's been 13 years and he still talks about her all the time. It's heartbreaking. Sending prayers that your son can get past his grief and move on to live a better, more sober life.
Hugs,
Linda
katie44,
So sorry to hear about your MIL's passing.

We never can guess what kind of impact death has on someone. For your son, it may be a miracle event, perhaps this may help him view his world just a little different.

We can pray that it does.


Hugs, and prayers to you, and your family.
Member
Join Date: Sep 2006
Location: ontario, canada
Posts: 540
Thankyou for all your kind words. It has been a terrible year my mother passed away 12 months ago. I pray that a miracle will happen for my son, but at this point I feel like he is on a self destruction path. Last nite he drank and drank till he passed out, sure he was using too. I know he will have to come to terms with the loss of his grandmother ( best friend) and his guilt for stealing from her. I did tell him she forgave him a long time ago, he needs to forgive himself.
Member
Join Date: Nov 2007
Location: Hackettstown, NJ
Posts: 692
I am so sorry for your loss and your son's loss. I still believe it is good that he is able to admit and see his past behavior and using for what it was. The disease of addiction likes to twist that into an excuse to use more, but in the end, it is these kinds of realizations that helped me want to stop using drugs. I will pray for both of you.
Currently Active Users Viewing this Thread: 1
(0 members and 1 guests)

Posting Rules
You may not post new threads
You may not post replies
You may not post attachments
You may not edit your posts
---
HTML code is Off
---