_______ addiction is destroying me
Drug Addiction Has No Mercy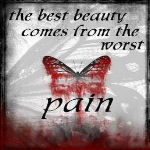 Join Date: Mar 2005
Location: Milwaukie Oregon
Posts: 875
_______ addiction is destroying me
---
(fill in the blank with your loved ones relationship to you or with his/her name where applicable)
Does the title discribe you?
If yes -
Then the burden of your ______ addiction is weighing on the wrong shoulders.
It is not yours to bare .. it doesn't belong to you. You didn't cause it. You can't control it anymore than you can cure it ...
Why take it on?
YOU DO NOT have to take on the responsiblities of the irresponsible addict .. the consequences of _______ addiction are NOT YOURS to pay NOR ARE THEY YOURS to sheild or protect the addict from having to pay ...
If you've been "helping", fixing, cleaning up, covering up, paying out -
STOP IT!
The addict isn't helpless - but can be rendered so in the name of love or by our good intentions
When you step in and up to take care of all your ________ problems .... You inadvertantly are sending a message that so and so is not capable of taking care of themselves and you are also setting yourself up to be a target "tool" for the addict to use and manipulate to the benefit of the addiction ...
When you step in and up for your ________ addiction ... You are taking the burden off of his/her shoulders
You feel like you've helped him/her, but truthfully our good intentions generally turn out to be more hurtful instead of helpful ... because in the long run what you come to find is that all your efforts have helped but not in the way you intended them .. they have helped to KEEP THE ADDICTION FED.
Now doesn't that pi$$ ya off?
It did me too once I realized the ugly truth of enabling.
Most everything done for the addict falls prey to the addiction and all your efforts, "good intentions" "helping" gets returned with contempt and hatred. And you are left sitting there flabbergasted and drained ... beyone belief you think, "after all I've done for you" or "if it hadn't been for me, YOU wouldn't" ...
If it hadn't been for YOU what?
Go deep into your heart to answer that question by reflecting on all the times that you stepped in and "helped", fixed, rescued, saved, bailed out your loved one from paying the consequences of their own choices/addiction.
If it hadn't been for you so and so
wouldn't have a car
would be in jail
wouldn't have a phone
would be out on the street
etc, so on and so forth .....
Does the above sound familar?
Time to change the view
No car = (Good .. makes it harder to get to the drug dealers house if he/she doesn't have a car - no driving under the influence)
in jail = (good at least you'll know where he/she is at and that their not using... Now you can get some "well needed rest")

no phone = (makes it inconvient for the addict cause it is harder to stay in contact with the dealer and the druggie friends without a phone) There is a downside to this one for YOU though = Bummer, now you'll have to drive over there to talk to him/her) Can we say killing two addictions with one stone

A homeless addict = (A perfect opertunity to plant seeds of thought towards rehab and having nowhere to go up's the chance that the addict actually might bite and go)
The negative turns to a positive = depending how you look at it
Gird up your faith ... let go of the fear of letting go ... place trust in God and the process .. Come to accept you are powerless over _______ and their addiction, but that doesn't mean you can't step back, bow out and raise the bottom
Place _______ on God's alter - Release him/her = Let go - Let God .. and think P O S I T I V E

Passion
Recovering addict/enabler/co-dependent
PS: I wanted to share a bit about where I said "all your efforts, "good intentions" "helping" gets returned with contempt and hatred."
First and foremost the addict hates him/herselve for being so weak .. and then you run around like a chicken with its head cut off jumping through hoops fixing, cleaning up, clearing/bailing out, paying for all the addicts needs it sends a signal to the addicts brain that you are weak .. and worse yet, weaker than the he or she is.. YOU are weak enough for the both of them .. therefore this triggers a lack of respect and breeds contempt and hatred towards you.
The addict doesn't need you to fix him/her
The addict needs you to be strong where he or she is weak. STAND FIRM! You will be the enemy at first and maybe for a while .. but the addict knows deep down in their heart whose love is real, true and in their best interest.
---
Last edited by nytepassion; 06-25-2007 at

10:32 AM

.
| | |
| --- | --- |
| The Following User Says Thank You to notsleepingwell For This Useful Post: | |
| | |
| --- | --- |
| The Following User Says Thank You to dollydo For This Useful Post: | |
| | |
| --- | --- |
| The Following User Says Thank You to Wascally Wabbit For This Useful Post: | |
| | |
| --- | --- |
| The Following 2 Users Say Thank You to nytepassion For This Useful Post: | |
Currently Active Users Viewing this Thread: 1
(0 members and 1 guests)

Posting Rules
You may not post new threads
You may not post replies
You may not post attachments
You may not edit your posts
---
HTML code is Off
---