Brat Camp son going to college and MamaGoose is back on her nest
Honk if you're a codie!
Join Date: Aug 2005
Location: State of Codependency
Posts: 121

Brat Camp son going to college and MamaGoose is back on her nest
---
Hello!

I've missed you all. I'm still going to my weekly Nar-Anon meetings but have been down and out for awhile. It's now 9 months since my Mom passed and I'm still in mourning.

My 18 year old addict son has almost completed his four semesters at a 12 Step boarding school and is now looking at colleges. What a change from the long haired 15 year old gun toting drug dealer. He did not go into the Eagle Scout program but has excelled in woodcarving and created some beautiful pieces. And is keeping his grades up and becoming more of a leader for the younger students.

And I finally figured out what I was supposed to be when I grew up:
A professional fundraiser! I'm working on a foundation which helps brain cancer patients.

It's so nice to be back. It may take me awhile to catch up on the posts but you are all in my prayers.
Member
Join Date: Oct 2006
Location: In
Posts: 561
Hello..My 21 yr old daughter is is a crack/heroin addict depends on who she's with. Anyway just wanted to let you know that reading your post about your son gives me some hope that one day she will recover. Thank You
Hi MamaGoose!

Good news on your son. Hopefully this is the time he continues on a path to recovery and success.

And I love your job. If I could make enough money doing fundraising or volunteer work, I'd do it in a heartbeat. I'm good at it and I love it!

Cats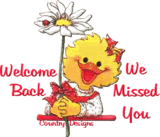 (((((MamaGoose))))))
What a sight for sore eyes, you are. So glad to hear your son is still on a good path.
College? Wow! What an accomplishment. You must be very proud of him.
Tell us everything.
With love and fond memories of you,
Linda
(((MamaGoose))) It's great to see you again and I am so happy for you and your son that he has worked hard and found a better way.
I know it's been a long road for both of you and it just warms my heart to hear how well he's doing.
And look at you, all smiling and looking pretty in your "fundraising" get up, what a wonderful way of giving others hope and opportunity.
I sure missed you and amglad you are sharing your light here again.
Hugs

it is so good to see you.it sounds as if everything is going great for you.i love news like this.i am so happy things are going good for your son.miracles do happen & i am glad your son found his. i hope soon you can come to terms with your moms death & can move on with that.((((mamagoose)))), prayers are being sent up for you & continued growth for your son.
hey mommagoose, glad to see you posting again too. i've missed you. it is so good to hear that your son is doing so well, i'm so proud for ya and i'm sure you are. thanks for sharing this good news, that lets one know that there is always hope. still praying for you and your son
Mamagoose, i'm so happy to see your post. I'm glad all is going well with you and your son. I'm sorry that the pain of your Mom's passing still lingers and hope in time you find comfort in the wonderful memories. What a wonderful way to be giving back to the world by helping raise funds for such a worthy cause. I lost my MIL to brain cancer...looking back i believe she was blessed to go quickly since the type of tumor she had at this point is untreatable and the battle is long and difficult. But there is such hope with the research and new ways of treating brain cancer...thank you for helping to make this possible.
Hi Mamagoose!
It's really nice to hear from you again.
The grieving process is never easy...I hope it will become easier with time. (((mamagoose)))
Thanks for sharing about your son's progress, it's great news about his success in his program.
You've been missed; I'm glad you're back to share your ESH with us!
Member
Join Date: Sep 2005
Location: tween Mich.and Fla
Posts: 74
Your post gives us all such great hope. It is nice to see someones son doing so well. Your devotion to him and support are giving me the life line I will hold on to. Every time someones loved ones do well, we all are happy.
Currently Active Users Viewing this Thread: 1
(0 members and 1 guests)

Posting Rules
You may not post new threads
You may not post replies
You may not post attachments
You may not edit your posts
---
HTML code is Off
---