Update
Member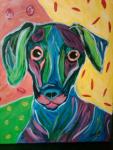 Join Date: May 2005
Posts: 1,688
Laura,

So glad that you at least have an answer! And I'm grateful that it is a benign condition. I just have faith that everything is going to work out for you - especially with the babies when they are ready to come. I believe that God and our children "choose us" and I just know that there are ones that have you in mind. Like I've told you before - I work in Charlotte at the major medical center. I see the OBGYN people all the time and this is a disorder that they work with all the time. Remember, if you can't get the help that you want in Hickory - come on down the road.

Anytime you get a new diagnosis there is a period of readjustment. As you learn you find out all of the ways to cope with it and begin to find peace. I'm just gald that it is something that you are live with.

Man - you've gone through the ringer over the last year.....but you've made it. You have a lot of courage and resiliance. That let's me know that you are going to be just fine. Thanks for keeping us posted.

Love, Donna
Laura, my mother recently was diagnosed with type 2 diabetes and had to be put on the metphormin. You would not believe the weight she has lost. It happened really fast too. And once you start to lose the weight you could very well end up pregnant. I have always heard that its harder for overweight women to get pregnant. You will be fine. I love you and I am thinking about you!
Member
Join Date: May 2005
Location: Jersey
Posts: 229
jwife...

Just wanted to send you a hug and some HOPE...

I have POD as well. Had one ovary removed due to this condition already.

I was told that I would probably not be able to conceive without IFV...

I have 2 beautiful healthy children ages 10 and 5!! WITHOUT IVF... My 10y/o was conceived without even fertility drugs... My 5y/o I had to have shots to stimulate production, but I only had two shots!

So just sending lots of hugs and hope to you for when you feel you are ready!!
Member
Join Date: Feb 2006
Location: SC
Posts: 1,027
(((Marle))) Thank you. I'm hoping that when we do start trying it won't be so hard. I am also hoping that by the time we start trying, more advance medicines will be out there. With the polycystic ovarian syndrome (or disorder, or whatever it is), the probability of having miscarriages goes up. I'm hoping I don't have to go through that.

((((hope))) Thank you.

(((greet))) There are meds for it luckily. I started my Provera over the weekend and am anxiously waiting to see what happens.....

(((out))) Thanks. I am telling you, redoing that bathroom has been more work than I ever, ever expected.....we didn't even get it tiled. First, we had to put down a new floor because the wax ring under the toilet broke its seal and leaked water under the floor (our Crappy builders fault), so we rip up all the linoleum (SP) and take up that portion of the floor, then we put the new floor down. This weekend, RAH and I were spackling and painting the walls with primer so I can cover this dark green thats on there. Between waiting on the primer to dry and waiting on the spackle to dry, we didn't get the wall painted or the tile down....sheesh this is hard work.

(((diane))) Thank you. I know its only a percentage of women that have trouble conceiving and I may not be in that percentage. I believe that with prayers and when the time is right, we will be able to conceive. We aren't trying right now because I want RAH to have PLENTY of clean time behind him before we ever do. I don't want to bring a child into an environment where RAH is actively using.....

(((Helpus))) Thank you. I have already started researching it. I've printed out a lot of info and been reading it. Its not a rare disorder or anything, some women just don't know what it is and don't get checked for it. Its kinda something that the docs figure out when they've tested you for everything else.....

(((Donna))) Actually, I go to Ashley in Gastonia for my OBGYN. I love it there but will be switching to one that's located on Carmel Commons Parkway so when I do have a baby, I can have it in Charlotte. I want to have my baby at Mercy South. I just love the way they took care of my mom and its about the same distance there as it would be for me to go to Gaston Memorial. I refuse to have a child at my local hospital. Once when I was really sick, I went to the emergency room and I was in a hall bed right near central desk and they rolled a dead guy up beside me and left him there and started talking to the nurse. They were taking him from his emergency room to somewhere else......I thought that had other ways to do that then in front of other people........I'm sorry but seeing dead people gives me the heebie jeebies.

After reading a lot about it, I know I'll be okay. I think having something thats life long diagnosed to you is hard to accept at first. This diagnosis however explains ALOT about how I've been feeling and what has being going on with my body that I had originally just written off as stress, like losing a ton of hair in the shower everyday.

(((Wendy))) Thanks. That's what the doc said. I told her, I've been eating better, switched from mostly soft drinks everyday to having one soft drink a day and drinking water for the rest of the day. I started drinking a protein shake for breakfast every morning, started taking my vitamins, walking at least 3-4 days a week etc......BUT I STILL COULDN'T LOSE ANY WEIGHT......she said that insulin resistance doesn't allow your body to breakdown food like a normal persons would. Hopefully, when I get started on the Metformin, I'll be able to lose it. I can't start it until I am done with the 10 days of Provera though. It is harder for heavier women to get pregnant. The more weight you have on you, the harder it is. Its also harder on your body when you do get pregnant. It raises your risk of gestational diabetes among other things. With PCOS, I already have a higher risk of getting gestational diabetes and high blood pressure than a person with a normal pregnancy would. I sure don't need that additional risk on top of that.

((((Eagle))) Thank you. I'm hoping that when I do decide to have kids that I won't need IVF or any fertility meds......hubby's so funny. He thinks if I have to have any fertility treatments that we will end up with 6 kids at once. I try to tell him thats the extreme. He doesn't listen.
hi jwife,
i also have pcos, and as the others mentioned, i'm so glad for you that you found out what you're dealing with. just my personal experience here, i'm not ttc and wasn't when i was diagnosed, but the best i've ever felt was when i was watching sugars/carbs and taking metformin...also is the only time in my life i've ever been able to lose weight, lol...there are a lot of great books and websites out there, i'm sure you've found most of them, but one that i found really helpful was
http://soulcysters.com/
...best wishes!!!
Currently Active Users Viewing this Thread: 1
(0 members and 1 guests)

Posting Rules
You may not post new threads
You may not post replies
You may not post attachments
You may not edit your posts
---
HTML code is Off
---