Driving home tonight...
Member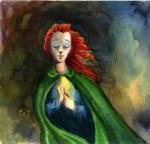 Join Date: Mar 2014
Location: My mind wanders a lot, but I try to stay in the present.
Posts: 1,009
Originally Posted by ShootingStar1
I think that often they DO want to be who they idealize themselves to be, and just can't make it. I think many of them WANT to be there, and if and when they can be honest with themselves, they hate themselves for their failure. I think that's where some of their denial comes from.

If they had to acknowledge the truth of the devastation they have wrought upon their loved ones, they would hate themselves so deeply that they just can't bear the truth.
I know this is true. Probably not for everyone, but definitely in the case of my XAH. Unfortunately acknowledging the devastation is one of the steps needed for recovery. No matter how much they want to be better, without that acknowledgement they're stuck in limbo. Instead of facing his demons straight on, acknowledging them, and doing the hard work needed to make amends. My XAH found it easier to just align himself with a brand new group of friends with lower expectations of him.
SeriousKarma, your comments about feeling like being a widow are so moving. I am so sorry that life has brought you this grief without even the ability to have it acknowledged as the death it truly is.
You know, after I posted that it occurred to me that I haven't been feeling that grief quite to the extent that I used to. Interestingly, I think the feeling started lessening only
after
I filed for divorce.
My XAH and I get along fine now. His drinking is no longer my problem or business. He does his thing and I do mine, and every week or so we shoot an email to each other about our daughter, or finances, or whatever. It's a good place to be, and so much healthier for me.
But I had to divorce him to get here. I had to let go of my expectations of him and our life together. Hard as it was to unclench my hands, I had to let him go in order to move through this grief.
| | |
| --- | --- |
| The Following 3 Users Say Thank You to SeriousKarma For This Useful Post: | |
Currently Active Users Viewing this Thread: 1
(0 members and 1 guests)

Posting Rules
You may not post new threads
You may not post replies
You may not post attachments
You may not edit your posts
---
HTML code is Off
---