Anonymity & Trust Issues
Member
Join Date: Aug 2014
Posts: 130
Anonymity & Trust Issues
---
I was planning to attend a local f2f Alanon meeting.
Haven't been in a while due to health issues. There are only a couple of them around here. I feel the need to go, as my sponsor has passed away and I have lost the phone list.
I had lunch yesterday with a couple of lady friends. (Relatively new friends; I have lived here for about 4 years.)
Anyways, over lunch one of the ladies mentioned "__________", who is another mutual acquaintance/neighbor. She said "She is having big problems with her alcoholic husband." And added a few details.
I asked how did she know?
She said, "Oh ___________, (another mutual acquaintance) told her, and said she sees her at her Alanon meetings all of the time.

I kept quiet - VERY quiet. And then changed the subject.
Holy Cow!
First of all, I am glad I had/have not mentioned my sister's issues at lunch, or any other time, to these ladies.
Second, I am pissed that an "Alanon member" is spreading the word about another Alanon's problems.
Third, I am royally pissed because I had seen this woman (the gossiper) at a meeting quite a while ago. (I didn't talk specifics at the meeting.) Thank God.
Fourth, I am now reluctant to go to a f2f Alanon meeting. This woman is a regular at both meetings, according to my friend.
We all live in a small community.
What about anonymity??????
I feel like saying some of the very worst profanity I can think of.
I feel sad for the broken anonymity, really sad for the poor lady with the active alkie seeking help at the meeting.
And I don't feel like I can go to the local meeting, because I can't trust that what I say will be kept in confidence.
Oh #%(@ !!

I think my answer is to find an on-line meeting, (because I am unable to drive further than a few blocks, or get transportation to a meeting that is out of the area).
And to keep posting here and to read the Alanon books and literature I have.
I am letting go of my anger here, by writing this post.
Not sure what to do with my trust issues.
Thanks for listening.
| | |
| --- | --- |
| The Following 11 Users Say Thank You to AlcSis For This Useful Post: | |
Member
Join Date: Apr 2015
Location: SoCal
Posts: 73
Wow! That is really inappropriate ... and a little scary.

I grew up in a very small town (most of my family are still there), so I know how this kind of thing goes. And unfortunately, I know too, too many people who would be the one(s) gossiping ...

If it were me, I would speak to the "leader" of the meeting (or maybe the group/district rep? depending on how it is set up). And maybe not mention names but let them decide how to handle it. This goes beyond the possible embarrassment of someone who may not want their situation known. For some, the possibility of their A finding out they are even at such a meeting could endanger their safety.

Just my .02
bona fido dog-lover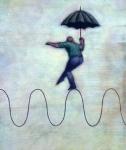 Join Date: Mar 2008
Location: eastern USA
Posts: 88,806
I would express my concerns to the leader of the AlAnon meeting. These women need to be talked to and told not to break anonymity of any other members. That's a big no no.
Al-Anon meetings don't have "meeting leaders," each group has a representative, but it's not a leadership position (I am GR for my home group, you're really just a conduit for information).
This sounds like a matter for district. You can go online and find phone numbers and email addresses to contact the district representative in that area. She or he can take the matter to the group. I agree that this needs to be addressed. How horrible that someone would break anonymity that way, compounded by the fact that people who need Al- Anon might avoid meetings because of it. So sorry. And this is not at all typical in Al- Anon. Sounds like this particular member (maybe more than one) needs a reminder about anonymity being the spiritual foundation of all our traditions.
I'm sorry that happened. I agree with LS, it isn't common, in my experience. People are human, and some people's character defects include gossip, though I don't find that it happens too often outside the group. Anonymity is usually pretty carefully respected. If you know any of the "old timers" at the meeting, you might confide in him/her and chances are someone will have a word with her about the seriousness of anonymity breaches. Ultimately, nobody gets "disciplined" or kicked out of Al-Anon for that kind of behavior (impossible due to the absence of "rules" or "bosses," but it's a real shame when something like this happens.
| | |
| --- | --- |
| The Following 3 Users Say Thank You to LexieCat For This Useful Post: | |
| | |
| --- | --- |
| The Following 2 Users Say Thank You to greens For This Useful Post: | |
This is one of the biggest reasons I do not go to alanon meetings. It is a shame because I read on here how it helps so many people. But, I went two or three times and will not do that again. People look down on me for being married to an abusive alcoholic.
| | |
| --- | --- |
| The Following 3 Users Say Thank You to searching peace For This Useful Post: | |
Member
Join Date: Aug 2014
Posts: 130
Thanks everyone for your comments.

And.....searching peace - I am so very sorry you feel this way. How dare people look down on you! We all deal with this disease in different ways and some stay for a million different reasons. I know, I stayed with my abusive AH for much too long. Hugs to you.

Again, I was royally shocked when I heard about this blabbermouth's betrayal.

Crap, I could have jeopardized my sister's anonymity. I know she will be visiting me someday; I don't want her integrity nor our relationship - completely shot to HeLL. She has enough to deal with.

The person who told me about the blabbermouth, I am sure, (obviously) does not understand the sacredness of anonymity within 12 step rooms. She was speaking compassionately about the woman with the alkie husband.

The meetings I go to have a secretary, treasurer, group rep, literature person.
Meeting leaders are different every week.

Thinking I might go to both of the meetings, (early) and ask to speak to whomever is the secretary or group rep.

And ask that they please remind EVERYONE about anonymity.

And mention that it has become apparent that someone in the room is not respecting that very important part of the 12 Steps.

And then, I will cling to the slogan "Listen and Learn" for a while.
Until I feel safe again.

Tonight I am just very very sad and wishing that there was no such thing as alcohol.

It is just so dammmmm harmful to everyone. To alcoholics and everyone around them.

Stupid wishful thinking, I know. I can use a little denial tonight. Won't stay in it; but sure is a good escape for right now.

Thanks again everyone for your insight and comments.
Member
Join Date: May 2015
Location: New York
Posts: 165
Greens- if people have to be careful about what they say in meetings, then the meetings have no point. I've heard lots about this breaking anonymity. It's very common because some people just don't think before they speak about others or they think that gossiping within the circle is bad, but outsiders don't count. Either way, online seems to be the best bet.
Hens pecking....but

I assume the ladies aren't judging because the gossip herself attends meetings? Obviously the gossip has an A on her hands correct?

Why not talk to the gossip yourself. Maybe she doesn't get it since she is apparently open to tell people she goes to Al Anon that it could be harmful, and others do have the right to privacy.
Currently Active Users Viewing this Thread: 1
(0 members and 1 guests)

Posting Rules
You may not post new threads
You may not post replies
You may not post attachments
You may not edit your posts
---
HTML code is Off
---