Dating a alcoholic
Peace, Love, Sobriety
Join Date: Jan 2012
Location: Wilmington, DE
Posts: 1,549
Originally Posted by
visch1

Personally as a male, sober in AA for 30+ years I say that many of us are difficult to live with period. We think differently in many ways not badly just different. Next is the drinking person has a very raw emotional level that is difficult to understand by a "normal" person and might last too long even if sobering up. I feel that 2 "normal" people s relationship are difficult enough. JMHO. BE WELL
Well said. I got in a relationship with my current boyfriend while I was actively drinking and getting worse. When I went into recovery we almost broke up because we just clashed non stop but thanks to AA and the grace of God we have managed to work things out and life is pretty darn good today. Don't get me wrong we still have little tiffs and once in a while a big argument over something ridiculous, but so does everyone else in the world so that's alright. Lol.
I AM CANADIAN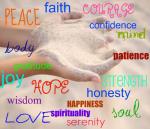 Join Date: Jun 2010
Location: Niagara Region, Canada
Posts: 2,578
i so agree with this...
good luck
Currently Active Users Viewing this Thread: 1
(0 members and 1 guests)

Posting Rules
You may not post new threads
You may not post replies
You may not post attachments
You may not edit your posts
---
HTML code is Off
---