Wanna get a laugh?
I AM CANADIAN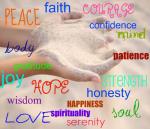 Join Date: Jun 2010
Location: Niagara Region, Canada
Posts: 2,578
DENIAL is a big thing here....
I still believe you are in denial when it comes to him being an alcoholic and it is a
disease
...
Liz...this is what they do...and also...it is, what it is...
I am so sorry you are finding this so hard...but your life IS unmanageable due to alcohol
(and the alcohol is your husband)...
you dont need to wait around for him to admit ANYTHING...until you become aware of this, maybe in your time, things will become CLEARER...
| | |
| --- | --- |
| The Following 2 Users Say Thank You to fourmaggie For This Useful Post: | |
What I'm hoping for is to find a therapist who helps us get to the root of the problems for AH and for me, as well. If we can both have our shortcomings revealed to us and decide what we can and can't(or aren't willing to) change, then I'll have a clearer picture over what our future might look like and what direction I want to take.
I am not ready to walk away, not yet. I am willing to put in effort to get myself healthy and, in doing so, I'm hoping to gain a healthy marriage,too. Maybe I'm living in fantasy land again, but I still believe this can be fixed. Call me crazy, but I get great practice in living with him and I can easily see my part in how things got out of hand. I wasn't responsible for his drinking, his depression, his DUI, etc but I am responsible for being a doormat and for accepting the unacceptable behavior in the past. Learning how to do what's right me is key and being in the marriage actively gives me practice.
The serenity prayer "Accept the things I cannot change and courage to change the things I can" helps me to focus on myself and not hope for things that entail my RAH to change.
It takes courage to stop being a doormat, for some that is the first step and we don't know where that leads to.
After our first steps we may need more courage to take another step or to keep from going back to where we were.
Do you go to Alanon Liz?
Currently Active Users Viewing this Thread: 1
(0 members and 1 guests)

Posting Rules
You may not post new threads
You may not post replies
You may not post attachments
You may not edit your posts
---
HTML code is Off
---