Examples of boundaries(in writing)
Member
Join Date: Aug 2011
Location: California
Posts: 693
Definition of boundary:

bound·a·ry (bound-r, -dr)
n. pl. bound·a·ries
1. Something that indicates a border or limit.
2. The border or limit so indicated.

For me, setting my boundary with my AH meant figuring out the limit of what I would accept in our marriage. I communicated this boundary clearly to him in May 2011, ie, "The drinking has become a deal breaker in our marriage. I can no longer live with active drinking and am asking for you to enter a sobriety program. Today is Monday. I will wait one week for you to decide how you want to move ahead. If you are not willing to pursue a recovery program, then I will ask you to leave our home."

I said nothing that week. AH did not drink at home and he said nothing else. But he kept drinking at his office. He did not take me seriously (based on my previous misguided attempts at control and manipulation). The following Sunday morning, with 6 brand new bottles of vodka under my arm, I confronted AH and told him "The week is up. You have made no effort toward getting help for your alcoholism. Please pack your bag."

The week after, we met. I again stated my boundary clearly with him, which was: "I will wait for one year while we live apart. Drinking is a deal breaker in our marriage. I can no longer live with active alcoholism. If you are serious about keeping our marriage/family together, you can work a recovery program and be sober. In one year, I will reassess our situation. If you are not seriously working a recovery program in one year, I will seek a divorce/legal separation."

One year to the day, May 1, 2012, I sat down with AH and again stated my boundary. Nothing had changed. He feigned surprise. At that point I let him know that I would like to go ahead with legal separation. Which we are now doing.

Setting these 'limits' was hard, but it was all I had left of my dignity. I am very glad I did what I did. The boundaries were to serve me and my kids and protect us. Like a fence. My AH continues to drink and live in denial of the problem. I will always love and miss him, but my kids and I deserve a peaceful home filled with love and communication, not a toxic place where we never knew whether Dr. Jekyl or Mr Hyde would show up.
Originally Posted by
dancingnow

I started realizing I needed to set boundaries when other people's behavior was causing me to react in ways I did not want to react. I look at boundaries as ways to help me RESPOND rather than react.

For example, in my family (my teenagers and my RAH) sometimes don't get back to me with information about their schedules so I can plan a family outing. What I have started doing is giving them some time to respond and then if I don't hear anything back, I make the decision, let them know the outcome and then proceed whether or not it is convenient for them. This has resulted in me doing a few activities by myself but once I plan it, I look forward to it and enjoy my time.

I also used boundaries to stop conversations short when they are leading into blame games or manipulation. I simply repeat what I said, indicate that the person is not responding to what I just said and let them know I am not interested in engaging in the conversation if they continue to blame and/or argue around in circles with me. I let them know that we can pick it up later when they are ready to respond to me or share a thought about the topic using an I statement (ie. I feel..., I want..., I don't want...) and not a you statement (ie. you think..., you did ...., you made me....).

Of course this boundary works best when I became more aware of what I was bringing up in conversation and when I make sure I stay on my side of the street.

I believe boundaries are not barriers but they are there to protect us from other people's out of control behavior or inappropriate reactions to who we are.

Just realized you are thinking in terms of your AH and not wanting to live with his drinking. It is truly action but maybe a first step for you might be the behaviors associated with his drinking. Like not riding in the car or letting your son ride in the car. Or not discussing topics or changing your schedule because things got out of whack because of the drinking. Just some thoughts.
When my AH started using the 'you' statements I told him that I would appreciate it if he phrased it differently and told me how HE felt by using I statements. He then changed it to, "Well, when my WIFE does ______, I feel _____". Umm, filling in the blank with WIFE instead of YOU doesn't really change the blame game around, LOL!
Let Go or Be Dragged
Join Date: Jul 2012
Location: USA
Posts: 44
something i learned from a councellor long ago that really helped me define my boundaries without coming across as "controlling"(and i did voice these outloud to my now ExAH) was to never use the word "you" or "your". for instance...instead of "I will not let your drinking ruin another holiday for me" I would say "I choose to not let alcohol destroy any more holidays for me." i dont know if it was the correct thing to do or not, but it somehow made me feel more in control of my life by saying them outloud, to him. (so long as i realized that yes, he will continue to get drunk at family holidays, and it would be up to me to follow thru and remove myself from the situation) maybe thats silly, but it worked for me
| | |
| --- | --- |
| The Following 2 Users Say Thank You to SoBroken For This Useful Post: | |
| | |
| --- | --- |
| The Following User Says Thank You to Katiekate For This Useful Post: | |
When my AH started using the 'you' statements I told him that I would appreciate it if he phrased it differently and told me how HE felt by using I statements. He then changed it to, "Well, when my WIFE does ______, I feel _____". Umm, filling in the blank with WIFE instead of YOU doesn't really change the blame game around, LOL!
LOL, so true, although I stopped LOL about that and stopped being with my AH before he was in recovery.
Active alcoholics will always play the "blame game". Even when there is a period of sobriety it takes lots of recovery before the blame game stops.
Even as a codie I had to be honest with myself and not blame some of my actions on other's behavior.
So if someone tells me that I did something that makes them feel a certain way, I take a look at it and if they are right I change it and apologize if relevant. If it is something I don't want or need to change or it is total BS, I let them know they have the choice to not be with me.
I love my H of 26 years but I now know that no one in active addiction is worth wasting any more of my life/time with. Took me two years to get to this point and it is so worth it. (actually 10 years, 2 of which I was aware and actively working on recovery)
Member
Join Date: Jun 2011
Location: Right here, right now!
Posts: 3,387
Lizatola-

I continue to struggle with boundaries, but agree with everything that has been posted above, and have learned a lot from this forum about boundaries.

I am learning though that if I don't know what I need (and want), the reason for a boundary is non-existant, and as a result a boundary is not able to be created.

I can sometimes touch on what I don't want/need....then a boundary is easier. It does not happen often, but when it does I have found my boundaries are appropriate and I can carry through on them easily in that case.

I might be off on this, but I sense something similar from you. Do you know what you want and need (for you only, not for your husband or son)?

If anyone has advice on that part of the boundary I am all ears. I have been working on the don't want/needs (as Lillamy suggested) a little bit but am really stuck in the muddled mess of wants and needs right now. I am not tackling boundaries in full until I have a better handle on this.
Member
Join Date: Jul 2012
Location: Eastern U.S.
Posts: 64
Lizatola

I have asked the same question...what words to express boundaries. Over the past few weeks I have come to realize (because I can't stand it any more) I simply state, "Please do not call past 9 p.m." That is our boundary to our married ASon. He has become pretty nasty lately (late alcoholism) and I emailed him saying, "We love you and hope some day you want to join the family again and participate with your dad, me, your brother, your cousins, aunts and all the friends who love and care about you." Well, he (ASon) became pretty angry. Well, I am pretty annoyed, angry, the whole works. I need piece of mind. One of the other boundaries I have stated clearly is, "I am not going to take any more of your nastiness." PERIOD. I didn't say period...but I mean it. He then tried to call here (because his kids are visiting) and I picked up/hung up. I don't need to interact with an alcoholic. My son is somewhere in there, but right now... I don't know...maybe he has died. I just don't know.

I imagine when a person has had ENOUGH of an alcoholic, they state their boundaries. That does not mean you say to your alcoholic, "This is my boundarie......" What it means is "Do not call past 9 p.m."

My alcoholic (use to be a wonderful son) has had DUI 3. I don't know what is going to happen now. I know I can't change the outcome. I feel i have lost a son, but am told he is there somewhere. But, if he doesn't stop drinking, he may die. I can't do anything about it. What am I going to do??? Lock him in handcuffs??? I feel sad. He could drink himself to death and he has two children who abolsutely adore him. Tell me everything daddy tells them, teaches them. He is calmer than their mom...they love him. When they are old enough to realize what he is doing, has done... they may be angry with him before they learn about alcoholism.

My best to you. I keep trying to understand this. I need to work at understanding life is short and living life with my husband of over 40 years...and BTW our marriage has been challenged over the past 5 months because of our alcoholic son who we both love and adore ( like his children). He is the son any mother would want...would give, give, give the shirt of off his back.

Life is what it is.
Member
Join Date: Jul 2012
Location: Eastern U.S.
Posts: 64
When one says I don't want to live with you if you are drinking, that person needs to have the ability to 'move out' or get 'him/her' out. If that is not the case...then saying that doesn't mean anything.

Say what you mean, mean what you say...but also be able to make sure you can make tht come true... by moving out or making sure the Alcoholic moves out.
This is the absolute key to boundaries. If you have a boundary that you won't live with X, but you are unwilling to do (for yourself) what it takes to get X out of your life, then your boundary is nothing more than an attempt at manipulation. (I know because that is what I did for a long time.)
L
I just remembered this thread after posting a very concrete example of a boundary I put in place.
http://www.soberrecovery.com/forums/...ml#post3545025
My husband didn't want to go through detox in a hospital before rehab, and his family doctor seemed to think he could do it at home. I told my husband that I was not going to be his 24/7 nurse while he detoxed.
If AH decided to detox at home, then I was going to take the dogs and go away for a week.
That was my boundary, and I was fully prepared and able to go through with it.
AH has ended up hospital and is now going through a medically supervised detox. But there was absolutely no doubt that I was going to do it.
I AM CANADIAN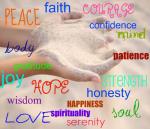 Join Date: Jun 2010
Location: Niagara Region, Canada
Posts: 2,578

aaah, i remember my High School days all so well...
i never knew the words to explain why i avoided "them"...you answered that!! and
THANK YOU
!!!
to me: it was a GUT or a SENSE that i had to stay away.....
Currently Active Users Viewing this Thread: 1
(0 members and 1 guests)

Posting Rules
You may not post new threads
You may not post replies
You may not post attachments
You may not edit your posts
---
HTML code is Off
---