Sadly it's come to this with his mother
Member
Join Date: Mar 2011
Posts: 283
Sadly it's come to this with his mother
---
So exabf cannot contact me. He has been found guilty of violating the DVP and is now on probation. It has been quiet. This week's local newspaper will have his conviction in it.

I have posted before about the relationship I have with his mother that I don't want to lose. We have been able to chat (we are both teachers, she updates me about her grandson, who I raised as my son, and I trully do love her like an extra mom). We had a policy not to speak of him.

I get this text from her yesterday

"hope you had a great weekend. Congrats on the new job. J. wants me to ask if you think you would EVER want to have anything to do with him again. Not tomorrow not next month, but EVER!"

I was perplexed. First thought was that it wasn't really from her, and that he had gotten her phone, I left it alone for an hour, and then I called. She answered. It was definately from her since she is visiting her daughter in another state.

She apologized for sending the text. She said that he had badgered her and wouldn't stop asking her to send it. She realized that she had been manipulated to do it. I told her that I had answered that question 100 times when he asked it, and that the answer remains the same. He is still drinking, and I he cannot be part of my life in any way. I have a new home, starting a new job on Wednesday (my last day is tuesday here).

I told her to let him know that asking her to ask me questions violates the order. It is so unfair to manipulate her and put her in the middle. It's very triggering to me because I know how much he still manipulates her. She is financially supporting him, he is living in her house. She is spending several months with her daughter and I'm actually thinking it's because she can't stand to be in the house with him, so essentially she has been squeezed out of her own house. I realize it's not my burden to bear or save her. She goes to alanon, she's an adult.

So is it fair to vocalize and enforce the boundry that having a relationship with me means there will be no talking about him, and especially no communicating with him about me.

Would you cut ties? It's painful to think about. She's also my link to her grandson. Need some thoughts, experience please.
| | |
| --- | --- |
| The Following 2 Users Say Thank You to XXXXXXXXXX For This Useful Post: | |
I can't say what you should do about severing the ties.

I can encourage you to stick to your boundary of not discussing the ex. You have the option of responding or not responding.

She did apologize for sending the text. To me that means I can expect that behavior not to be repeated.
| | |
| --- | --- |
| The Following 4 Users Say Thank You to Pelican For This Useful Post: | |
Forum Leader

Join Date: Dec 2008
Posts: 10,614
I think it is a perfectly valid boundary to say that you will not discuss him AT ALL. You have that right, and if you maintain contact with her, you can just see how it goes.

Please also bear in mind that asking her to tell him something also violates the order. If he reports this communication, the validity of the order might be questioned. Please, please be careful with such a dangerous and unhinged man.
Member

Join Date: Jan 2011
Location: Anchorage, Alaska
Posts: 4,719
Its really up to you to decide about severing ties. And it really boils down to how much you want to be shed of this situation.

She made a mistake and acknowledged it - that's the best you can expect from her. And this is her son, so she has a completely different perspective than you do.

More to be revealed, 10X. I'd wait and see what happens next, and enjoy your quiet week and new job!
| | |
| --- | --- |
| The Following 2 Users Say Thank You to Tuffgirl For This Useful Post: | |
Member
Join Date: Apr 2012
Posts: 253
In my experiences with the system from the court side.....everyone here gave you excellent insight. In my opinion, if you enjoy the company of your ex-MIL and it's mutual, then do what works for both of you.

Hydrogirl is very correct that passing a message to him is just as illegal as him passing a message to you. Just inform your MIL that the terms of the Protection Order means he cannot contact you by any means. This will most likely give your MIL a way to tell her son herself that she doesn't want to be a party to any illegal action. By that, I mean, you could have had him charged for violation of the PO and also violation of probation for using a third party to communicate with you and your MIL would have had to go to court to testify as much. I'm sure niether you nor your MIL wants that to happen.

In my professional opinion, almost all those with a Protection Order violate it just to test the victims resolve and to test the system. Even on probation, they will test the system. You are doing great by holding firm to your boundaries. Just keep in mind the PO works both ways and sometimes they will push you to the point of trying to charge you. Those jailhouse lawyers (cellmates) are a devious bunch.

You have the right to live in peace and that DVP and his probation rules give you recourse if that peace is infringed upon.
I AM CANADIAN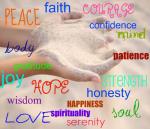 Join Date: Jun 2010
Location: Niagara Region, Canada
Posts: 2,578
I dont know how you can do it WITHOUT cutting ties...there would be no growth when it comes to you...(and she may get this...)

IMHO, i would be all in gut ties if i where to hear that text go off again, and knowing its her, she has already crossed your boundary once already...what happens for the next and the next and the next....?

it is a hard choice..but that is part of it too...
| | |
| --- | --- |
| The Following User Says Thank You to fourmaggie For This Useful Post: | |
Survivor
Join Date: Apr 2004
Location: Proud Upstate New Yorker
Posts: 869
I feel as though this protection order is very fresh. He just had that court date. I know you do not want to cut ties with his mom and her grandson, whom you helped raise.
It has been my experience before that I needed to take a break from certain relationships in the midst of chaos and when getting myself together. For me, personally, I would consider taking a break from the relationship with my ex-boyfriend mom. I believe in my higher power to help sort things out, protect me, and cycle people I really loved, but had to leave temporarily, back into my life...if that is my higher power's will.
I try not to look at severing ties with people as permanent. It could be something I need to do for a little while.
I tried not to give direct advice. This is just an option I believe I would consider, given the circumstances. I'm still proud of you for doing what you need to do to protect yourself from him.
I wish you peace, joy, and a wondrous transition into your new job Wednesday.

| | |
| --- | --- |
| The Following User Says Thank You to DefofLov For This Useful Post: | |
Currently Active Users Viewing this Thread: 1
(0 members and 1 guests)

Posting Rules
You may not post new threads
You may not post replies
You may not post attachments
You may not edit your posts
---
HTML code is Off
---