At the end of my rope
Member
Join Date: Jan 2011
Posts: 50

At the end of my rope
---
My ABF and I have known each other for over 20 years, dated for the last two. He truly is my best friend and the love of my life. He says the same about me. But lately, after a stint in rehab and falling off the wagon, he says "you should move on, forget about me." He says he's a trainwreck, and I deserve better.
While I know that he is the best man in the world, I also know that his alcoholism and depression are influencing what he says to me.
For the record, he's never been an angry, mean, or abusive drunk. Just someone who drinks his troubles away.
We sort of split up six months ago, but have been in regular contact. A few weeks ago, he said he still had hope that things would work out between us. But now, he's telling me he's a lost cause and that I should find other men.
Problem is: I don't want to. I love him, and he is my best friend. (And I have a lot of amazing friends, so that is no small compliment). He says the same about me.
I am wondering if anyone else has been in this position, and would love to hear any words of advice/experience/etc. I know that, for the most part, a relationship with an alcoholic is, by default, dysfunctional, but I really do love the man. I hear stories of folks who stuck it out with their partners and lived happily ever after. (Though I know there are lots and lots more that didn't work out that way.)
Thank you for reading and thank you for sharing your thoughts.
cc

Have you attended Alanon?

I ask that because there are members in my group that have stayed with their alcoholic. Some of their spouses are still drinking, some sober for many years.

Here at SR there is a small, active membership that has found serenity while still married to their alcoholic.

However, most of the members that come here are hurting and reaching out for support during addictive crisis. They are caught up in the drama of active addiction and they are looking for answers. After regaining some stability in their lives through support and time, they move on. Some check back in, and some don't. We hope they all have found lasting serenity.

My personal experience is this:
I am divorced from my alcoholic husband of 14 years.
I do still love him, but as person that has shared significant life experiences with me - with fondness and thanks for the life experiences.
He and I have moved on to live seperate lives. Lives that include different partners.
I don't know if my AXH is sober.
I know that he will have a place in my heart as someone whom I shared life with, but he can no longer be an active part of my life today.
I second what Pelican said. Some people have stayed with their alcoholic and have developed tools for living with that reality.

I thought I would die when I broke up with my alcoholic. My exA was not mean, angry or abusive either--I kept hearing "you would drink too if you had been through what I've been through," and I agreed though that meant I was not the focus in the relationship, the alcohol was. I thought that I had found the love of my life and was letting that go. I feared I would never find love again. It felt like a devastating choice: my happiness, or my love. I spent over a year single, nursing my broken heart, attending Alanon, posting here, grieving, and learning to tend to myself.

I am in a very happy (non-alcoholic) relationship now, both with myself and my significant other. The wise words and shared experience of SR members and Alanon group members made the whole experience SO much easier, as I had hope and friendship in my greatest despair.

I don't know what my exA is up to. And though I am filled with gratitude I also have a desire to stay away. There is nothing else for us to do together--we already did it. And I am grateful for having loved and moved on.

Wishing you peace no matter your path,
posie
| | |
| --- | --- |
| The Following 4 Users Say Thank You to posiesperson For This Useful Post: | |
Member

Join Date: Jan 2011
Location: Anchorage, Alaska
Posts: 4,719
I came here searching for success stories. It was disheartening to find most folks do not sustain a marriage with active alcoholism, and even more through recovery. After a few months of trying to hang onto my dream, I finally let it go. Hurt like heck, but turns out to be the smartest thing I have ever done.

Today we are still married but live separately, he is almost 18 months sober, I have been in Al-Anon for two years and here at SR for over a year now, and we seem to be doing good. I use the word *seem* because it truly is one day at a time.

The original dream of what my life would look like still floats around in the back of my mind...and I try my hardest to leave it there. My life is what it is right now, and when I fixate on what it coulda, shoulda, mighta been I can dig up all those old resentments instantly. Al-Anon and SR taught me that in order to remain in any kind of relationship with him, I need to accept him on his terms, not mine. And in turn, I needed to live my own life on my terms, not based on him.

If you want to hang in there (and there is nothing wrong with that) be prepared for the bumps in the road as this is a journey like no other. Al-Anon can help you learn those coping mechanisms. My favorite one I've learned so far is to have a life regardless of what is going on. Its my right and in many ways my responsibility to have my own life.

Take good care,
~T
Your description of the BF reminds me of what I was like before I quit drinking 20 years ago -- Self involved, self centered, self destructive and self hating. Also extremely immature and needy. Most drunks don't get that pouring alcohol -- a depressant -- down their throats daily takes them further down, down, down. The American Medical Association classifies alcoholism as a mental illness and for a very good reason: our thinking is delusional when we drink.

I wish the very best for you and hope you get great tools for coping no matter what you decided to do.
I AM CANADIAN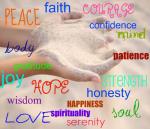 Join Date: Jun 2010
Location: Niagara Region, Canada
Posts: 2,578
you should move on, forget about me

aaah, he is very smart! you know why? he does not want to take you DOWN with him or as us AL ANONers say "take you as a HOSTAGE"....

my A/NA left me a Dear John letter saying the same thing...he left 2 years ago...no contact...and i am glad he saw it...i was just seeing the red flags (...slowly)..today, i am doing great and healthy...dunno what he is doing today, but i wish him well in his recovery....
He is a master manipulator in his disease for sure.

"You should move on, forget about me" translates to:

"You are killing my high. You are in my way. I'd like you to get out of my way. I am going to accomplish that by looking like a saint. I am going to inflate myself by pretending that I am releasing you for your own good. But the truth is, I just want to stretch out and have a drink."

If he is an alcoholic, alcohol is what he wants. Not you.

This is the truth of addiction.
| | |
| --- | --- |
| The Following 2 Users Say Thank You to EnglishGarden For This Useful Post: | |
Currently Active Users Viewing this Thread: 1
(0 members and 1 guests)

Posting Rules
You may not post new threads
You may not post replies
You may not post attachments
You may not edit your posts
---
HTML code is Off
---