I am terrified.
Member
Join Date: Dec 2010
Posts: 33
I am terrified.
---
Just some background. I am an adult and I live on my own.

My mom is going to get out of jail soon. She got 3 months for a DUI. I feel selfish saying this, but those were the happiest three months I've had in a long time. Now I have to worry about her relapsing again, and it terrifies me. As much as I try to distance myself from the situation, I still break down and bawl like a baby every time she relapses. It hurts me to see that she hasn't made an effort to get better on her own. As much as I want to believe things are going to be better or different this time, I don't have any reason to believe that she has developed the skills to deal with it. I know I don't have any control over what she does, but I just don't want to lose my mom.

Has any body else dealt with anxiety related to a loved one getting out of jail or prison? I would love to hear your stories so I don't feel like I am the only one going through this.
| | |
| --- | --- |
| The Following 3 Users Say Thank You to SoberClean For This Useful Post: | |
Member
Join Date: Jul 2007
Location: Eastern Time Zone
Posts: 1,011
SoberClean: You are definitely not the only one going through this. Spend some time reading other's posts and responses and you will see that.

There is a great help available out there for you (besides this wonderful website). And that is Alanon which is a program for the family and friends of alcoholics.

I myself have experienced my son in jail for three months. At that time I was very entrenched in his life with worry, anxiety, fear, any negative emotion that can be named. But slowly I have been able to re-gain the good around me and yet continue to love my son who has not yet embraced recovery for his own life. That is truly, for me, the pearl of great price. But that kind of serenity is available to you and anyone else who wants it. I'm praying for you today that you will want it and that you will seek it regardless of what your mother decides to do with her life.

The best way to help your mom and be the influence you would like to be is to get help for yourself. Alanon and Naranon are free programs - throw a dollar in the basket if you have it but that's it. They also have books and literature for sale if you would like but, again, not mandatory.

Again, welcome to SR and keep coming back!!
Member
Join Date: Feb 2009
Location: Leominster, Ma
Posts: 119
Dear Sober/clean, I can truly identify with what you are saying. my husband went to jail a couple of times all alcohol (DUI) related a few years back. It was the ONLY time I didn't worry about him, I knew he was being taken care of by someone else. What you are feeling is exactly what I felt, no kidding. I felt it all over again when I read your post. The WORST and HARDEST thing about loving someone that is an alcoholic is BELIEVING and ACCEPTING that there is no power on earth, no amount of love/support or any amount of money or whatever that can keep that first drink from the drunk. They will do what they have to do for themselves with no worry about how we feel, please, it sounds so simple but yet so hard to understand, take care of YOU. Put your needs first, that seems to be get away from the situation, let her do what she has to do and God willing she'll get sober on her own. it's a very hard thing to watch and it goes on and on and on...as does your life and I know for myself I wasted many years caring FOR and ABOUT an alcoholic that I loved dearly. Let go and Let God hon, there is nothing you can do for that person. Read about enabling, get armed with knowledge. all the best, m
Member

Join Date: Jan 2011
Location: Anchorage, Alaska
Posts: 4,719
Yes, I have and I understand the anxiety. I choose to focus on today instead, which helps to put things in perspective and greatly reduces the need to "future-trip" with the what-ifs.

I also recognize I have no control over anyone else's behavior, choices, or relapses. I am ready with my own plan of action to protect myself, and everyone else is a grown up who can manage their own lives without my intervention. That sounded harsh at first...uncaring...but in reality its the truth anyway so accepting this and embracing it wasn't terribly difficult once I gave up that sense of control.
| | |
| --- | --- |
| The Following 2 Users Say Thank You to Tuffgirl For This Useful Post: | |
| | |
| --- | --- |
| The Following User Says Thank You to Cyranoak For This Useful Post: | |
Member
Join Date: Dec 2010
Posts: 33
I will try to focus on my life, my goals, and my obligations for the day. In spite of my best efforts, I won't be able to give my own life the attention and concentration it deserves because; the very real possibility that my mom may die soon will cloud all of my thoughts and actions. I will think deeply about the last conversation we had. Did I tell her I loved her? Did I use an angry tone last time I talked to her?

If by chance my mom and I make contact, which we usually don't when she relapses, I will pretend I have no idea that she has relapsed.

In a spare moment, when I am alone, I will break down and cry, this may be when I am alone in my car, driving from one obligation to the next. This will probably happen several times throughout the day.

Somehow I will manage to get through the day, just going through the motions. I won't have any recollection of what happened that day, or what I learned in school. I will be relieved that I survived my obligations that day. When I get home whether it be at 8 at night or two in the afternoon, I will cry myself to sleep and plea with God, telling him how unfair my life is, and how unfair it is that I have watch my mom do this to herself. I will tell Him that my unborn children deserve to have my mother in their lives, because she really is an awesome grandmother. Tearfully, I will tell Him that I also deserve to have my mother in my life.

And then I will realize that my unborn children deserve so much better than the reality my mother's addiction has created. And really, honestly, I deserve more from my mother than this living hell she is putting me through. As much as I want to cling to the images and memories of my sober mom, the fact is, more often she is the drunk mother I would like to think only appeared in my worst night terrors. On this thought, I hope it will end, that she will hit rock bottom, and finally be motivated to seek help for herself or if her rock bottom is too deep for her to handle, that He will ease her suffering, and if that means He takes her from this earth, at least I will know that she is no longer hurting.

And then I will start crying again.

Fall asleep, repeat each day until the relapse is over

Maybe this isn't so much of a plan, as much as how I usually handle it.
| | |
| --- | --- |
| The Following User Says Thank You to lillamy For This Useful Post: | |
| | |
| --- | --- |
| The Following 2 Users Say Thank You to naive For This Useful Post: | |
Forum Leader

Join Date: Dec 2008
Posts: 10,614
Hi SoberClean, I'm so sorry to hear about your mother's struggles. I know how much anxiety it can cause.

My immediate and extended family members have/do struggle with addiction. Maternal grandparents and stepgrandfather all alcoholics, maternal aunt and cousin are alcoholics, my sister is a recovering addict, my stepson is an active alcoholic and polysubstance abuser.

I can tell you from personal experience that it is possible to be happy again regardless of whether or not our loved ones are drinking/drugging.

Keep coming here and reading everything you can about alcoholism. Keep venting away. We really do understand exactly what you are going through, and we are here to walk with you.

HG
| | |
| --- | --- |
| The Following User Says Thank You to Seren For This Useful Post: | |
Member
Join Date: Dec 2010
Posts: 33
As far as therapy is concerned, my church offers Alanon-type meetings twice a week. I have cleared my schedule so that I will be able to make it to one of those meetings every week. Last semester I wasn't able to attend because I had classes on both those nights. This semester, I specifically have one of those nights cleared so I can go to a meeting, but I haven't made it yet, probably because with my mom in jail I haven't felt the need to go.
Member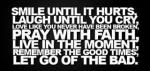 Join Date: Feb 2011
Location: Columbia MO
Posts: 1,127
Soberclean,

I have walked in your shoes for many years, my mother has been an alocholic for over 40 years, she has never hit bottom because my father refuses to let her do so.

I gave up crying for her years ago, therapy is helping learn to detach and deal with the hate I feel for her and her nasty, acid tongued, self-absorbed disposition. If she died tomorrow it would not bother me in the least, I would finally be free of the chains she placed on me.

Detachment feels really good, the more I realize athat none of this is my fault or my responsibility, the lighter my soul feels.

I hope you can find your way thorugh this, please know that you are not walking on this road alone, I will hold your hand and have you back.

Big hugs,

Bill
| | |
| --- | --- |
| The Following User Says Thank You to Willybluedog For This Useful Post: | |
Member
Join Date: Dec 2010
Posts: 33
Willy, Thank you for that post. It really made me think. As much as I pride myself in being detached because I no longer waste my time babysitting or trying to control her when she is drinking, I really have a long journey to go before I am fully detached. It isn't fair that in order for me to have a happy productive life, I need to fully come to terms with the potentially fatal consequences of her actions before they actually happen. It is difficult because I still want to enjoy the good times, but with the good times come the bad and the bitter times. I have too much going good for me right now, and too much I need to focus on, to ignore my own life every time she decides to drown her sorrows. I have a wonderful husband who loves me and I need to nurture that positive relationship. My program of study is intense and requires a lot of productive study time and many classroom and clinical hours. I really can't check out for a day or two and still expect to succeed in my program. Anyway, I am rambling but again thank you for the paradigm shift you just gave me.
| | |
| --- | --- |
| The Following User Says Thank You to SoberClean For This Useful Post: | |
Currently Active Users Viewing this Thread: 1
(0 members and 1 guests)

Posting Rules
You may not post new threads
You may not post replies
You may not post attachments
You may not edit your posts
---
HTML code is Off
---