And just when I thought it couldn't get worse.....
And just when I thought it couldn't get worse.....
---
He ran out of gas with the kids in the car. REALLY....After not even 3 weeks ago I had to give him money and then he ran out of gas. He swears something must be wrong with the gas gauge. Yeah, it called its on E meaning EMPTY. I am so frusterated but I was good. I did not give him the satisfaction of seeing me mad.
Member

Join Date: Jan 2011
Location: Anchorage, Alaska
Posts: 4,719
I am always amazed at how people can run out of gas. Or maybe I am just anal about keeping the tank at least on fumes while I roll into the station.

But...it happens. And good job on keeping your cool. This one is what I refer to as a white sock issue...defined as my daughters never have matching socks on...don't ask me why that is so darn hard to manage...but after many months of harping, I finally decided it was not worth the trouble. If they have socks on at all, given its very cold here in the winter, who cares if they don't match?

Now the white sock issue has become my mantra for letting the little things go and saving my energy for the big things.

Running out of gas with kids in the car = white sock issue
Running out of gas while thoroughly intoxicated with kids in the car = Big thing!

Good job!
~T
Yeah, I am in Michigan and he is lucky it is so warm. I do not think I could of been calm if it was below zero. I have no idea why he runs out of gas. He wastes more money on gas going to the gas station than if he would just fill up! But, not my problem or money anymore.

thanks!!!!
Member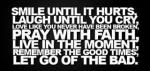 Join Date: Feb 2011
Location: Columbia MO
Posts: 1,127
Tuffgirl,
I know what you mean about the socks, I was driving myself crazy trying to match socks.
Finally I asked my daughter, how come I can never find your other sock, she says "oh I never wear matching socks, it's to much trouble in the morning"

That was the end of that, no more sock matching, my life is better!
I am so anal about things like that, maybe it was because my dad was a platoon sargeant and we just never did things like wearing mismatched socks.
Anyway, you are absolutely right, my wife always says "it is what it is" and "the sooner you quit trying to change things you cannot change the better you will feel"
I don't know how she got to be so much smarter than me, but I am really grateful for it.
Big hugs,
Bill
Member
Join Date: Jun 2011
Location: Ireland
Posts: 222
MY ah used to use the excuse that he was going to get gas for the car for work next morning...but it used to take him hours !!!
He would come home wasted and what so you know...he needed gas again the next day.
Good for you for not allowing him to see you get mad....
| | |
| --- | --- |
| The Following 2 Users Say Thank You to brownhorse For This Useful Post: | |
Member
Join Date: Jun 2011
Location: Ireland
Posts: 222
I have to laugh sometimes - they think they are so clever with the things they do to hide the fact that they are going out drinking...but I used to always find out in the end....and now its none of my business - he can do what he likes, when he likes and I don't have to foot the bill anymore.
| | |
| --- | --- |
| The Following 3 Users Say Thank You to Milly39 For This Useful Post: | |
OP: Great job of detaching!

My xah would get gas in $5 increments (which barely gets a person across town in his gas guzzler) because each stop at the station was a reason to buy another 6-pack. So he'd run out of gas and being the raging enabler I was I'd give him money so he could get the kids after school or get to work - which he'd spend on two gallons of gas and a beer and so being the FLAMING RAGING enabler I was I would drive his truck to the station and fill it up to avoid buying beer but then he'd have every dime he earned to buy beer. I'm am so so so so so so so so so glad I am not living that crazy life anymore.

And boys are easy - there is nothing in my house but white socks. No need to worry overly much about matching, lol.
| | |
| --- | --- |
| The Following 3 Users Say Thank You to Thumper For This Useful Post: | |
Member
Join Date: Nov 2010
Posts: 2,047
If only they'd make cars that ran on the fumes emitting from an alcoholics mouth. It would have saved me a ton of money when carpooling with AW.

Oh, wait. Nevermind. I guess I didn't think that all the way through.

Cyranoak
You guys are way too funny! Turned a completely BAD situation into something funny. I am so glad I found this place. Now, if he runs out of gas and it is really cold someone is going to have to give me a new calming technique! I don't think I will be as patient again!
Currently Active Users Viewing this Thread: 1
(0 members and 1 guests)

Posting Rules
You may not post new threads
You may not post replies
You may not post attachments
You may not edit your posts
---
HTML code is Off
---