exhaustion
exhaustion
---
Has anyone else experience total exhaustion (to the point that I feel like I need to hold my eyelids open) after a period of calm followed by a short period of returning to chaos?

Last week's ridiculousness with my "friends" and then my MIL didn't feel all that dramatic at the time, and I felt really good about how I handled both.

But yesterday I felt like I'd been run over by a MAC truck. Just bone tired. I had a terrible time sleeping last night (lots of anxiety that I have not felt in a while) and today struggled to get out of bed bc I was so worn out and I am feeling surprisingly down and exhausted.

All I can assume is that I am not used to being stressed anymore on a regular basis and the shot of adrenaline from the drama of last week ran through me and right back out and I'm left feeling like a mess.

I feel very uncomfortable with how out of it I feel right now and caffeine is doing nothing at all to help.

I don't even know what I am asking for per se... Just wondering if others have felt like this too? Maybe I was so accustomed for so long to running on adrenaline constantly that my system took it as a shock to deal with last week?

Whatever it is, I hope it passes soon bc I am ready to crawl under my desk and take a nap. I can't even begin to describe how tired I am. It's unnerving.
How about taking that nap you're craving? Just 20 minutes might help you feel a bit more centered.

I've been through periods of exhaustion, especially after going to court for custody and then for my divorce. I'd distanced myself from XAH but then suddenly, I had to deal with issues pertaining to him, and my body reacted a lot.

My only advice to you is to listen to your body. Sleep more, eat well, and give yourself a big old break.
Member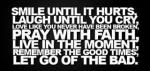 Join Date: Feb 2011
Location: Columbia MO
Posts: 1,127
During my divorce I would find a conference room or go out and nap in my car, sometimes I could not sleep, but at least I could lean my seat back and close my eyes, recharge my batteries for a little while.

Certain foods promote sleep, do a google for them, yoga really helped my when I was bad stressed, we had a catholic shrine nearby, I am not catholic but I would just go and sit in the outdoor shrine, look up on the Virgin Mary and enjoy the quiet. The peace of the place, the squirrels, deer, rabbits, and birds just washed all my pain and anxiety away for awhile.
| | |
| --- | --- |
| The Following 2 Users Say Thank You to Willybluedog For This Useful Post: | |
Thanks guys... I am at work, so a nap, not so much an option! I think I have gotten so unaccustomed to dealing with AH and the ensuing drama, that the drama of the past week really threw me. I can't imagine how I functioned day in and day out under chronic stress when I was living with him for so many years. Crazy.

One thing I have struggled to make time for with 2 young kids that I am almost solely responsible for, is finding time for exercise. I may need to beg some friends/neighbors or even ask AH to take a little more responsibility so that I can have time more than once a week to go for a run or something.
| | |
| --- | --- |
| The Following 2 Users Say Thank You to lillamy For This Useful Post: | |
I could never find a way to exercise either. I asked a friend if she was willing to exercise WITH me.....one day at my house, the next at hers...our kids play together while we exercise. There is a lot of yoga, Biggest Loser cardio DVD's and wii dancing. It's actually very fun and we are getting in the exercise time! I also work, so we do this in the evening....sometimes I make dinner for us all, sometimes she does, sometimes we just eat on our own and then get together for exercise. We do this 3-4 times per week. It's been great!
| | |
| --- | --- |
| The Following User Says Thank You to MyBetterWorld For This Useful Post: | |
I have been there before myself. At night sometimes I just could not go to sleep no matter what. I would go a couple of days with no sleep and get up and go to work. After a couple of days of this my body would just shut down and I would fall asleep. It does not seen to happen much anymore. I think this is a time thing. The first year or two was when I had sleep isues. As time went on it got much better. Hang in there it will get better. Logo
This has happened to me many times, so it's normal to feel drained. I usually spend a couple of days taking extra care of myself, and napping if I can.
My mind straightens out once I've gotten rest, am eating good, and recharged spiritually.
Sending lots of gentle hugs and prayers that you feel better soon, dear!

Member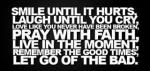 Join Date: Feb 2011
Location: Columbia MO
Posts: 1,127
I tried Ambien and Trazadone, some nights it works some nights it does not, my daughter likes melatonin and my wife occasionally uses sleep-eze when she has gotten home from a unusually bad evening shift at the hospital and is too wired to sleep.

Something we all have used and is actually quite nice is to soak your feet in Johnsons Foot Soap, it relaxes you and really helps tired feet.
Member
Join Date: Jun 2011
Location: Right here, right now!
Posts: 3,383
WTBH-

I work four 10 hr days and then three off.

I got good night sleep all my days off last week and still took a considerable nap each day and was able to fall asleep easily each night.

It is really not physical exhaustion for me at this time. Overall I am in a pretty good place in my life. My solution to this has been that healing takes energy. Sure our situations were tough last week but for me it did not create a new wound it just allowed some more junk to be dumped and the wound to come a little closer together, and to closure.

In addition I learned at a trauma workshop a couple of weeks ago that "activation" of trauma can get our sympathetic and parasympathetic systems all goofy and can contribute to the feelings you describe. I am sticking with my solution though....
| | |
| --- | --- |
| The Following User Says Thank You to LifeRecovery For This Useful Post: | |
Currently Active Users Viewing this Thread: 1
(0 members and 1 guests)

Posting Rules
You may not post new threads
You may not post replies
You may not post attachments
You may not edit your posts
---
HTML code is Off
---