Need some advice
Member
Join Date: Jan 2012
Posts: 1
Need some advice
---
Hello everyone

I just joined because I am desperate for some advice, I'll try to keep this short but it probably wont be haha..
I'll get straight to the point, I have been with my boyfriend for almost 4 years now and he has been drinking about 10-18+ beers every day. When I met him he was addicted to drugs but stopped this because I told him I wouldnt be with a drug addict and then he just progressively started drinking more and more. These last 4 years have honestly been the worst in my life and I regret meeting him, I was in a vulnerable state when I met him and didnt think I deserved a lot so I just sort of accepted his addiction and didnt really 'care' I guess.
He has been very violent to me and he has done a lot of things that I cant even think about. He is a very jealous person and has a problem with me meeting friends at a cafè or at their house but I've kinda gotten used to it. I'm so ashamed ive been with him for this long because I have thought throughout this relationship that I wouldnt stay with him very long but I just have and I dunno why. I used to be a happy, fun and confident person but now I have so much anxiety and I dont do anything without him anymore because I just end up getting yelled at or he gets really drunk to punish me etc.
2 months ago my bf went to jail and had to stay sober, I've tried to convince him to try and stop drinking before of course but he has never wanted to because he thinks he doesnt have a problem. So in jail he was so amazing and so motivated to stay sober and he said he felt so ashamed of the things he had done and he wanted to make it up to me. Then he came home 4 days ago and today he bought 6 beers and I told him that I wont be there for him to go down this road again if he decides to drink again but he just said "I'll make you proud and show you I can quit after two or three beers and I'll only drink once in a while". Of course I know this is nearly impossible for someone who has been addicted to alcohol, and still is so I told him your a grown man and if you decide to drink again thats your decision but I wont be here for you.
He took three sips and then threw the beer out because he said he didnt want me to be in a bad mood. Now I know that I'm not able to see how bad this situation I'm in is and I keep giving him excuses for what he is doing and has done and I'm so confused right now what to do. I didnt use to be a weak person but I guess thats what I've become. I want to leave him because I KNOW this isnt the kind of life I want but I just cant. I'm so worried of what will happen to him if I leave, I'm scared he will end up dead. Also I live in his house, he is the one who works so I've got no money and I know he will make my life so difficult if I leave him. Ahhh.. anyone have any advice what i should do? Should I stay and see if he can actually control his drinking?
Thanks for reading this long post

Present

Join Date: Apr 2011
Location: "Happy Rock" (Gladstone) Oregon
Posts: 1,360
welcome to the group Lecata.

first - go to all of those "stickies" up top of Friends and Families of Alcoholics and there is a wealth of information for you there.

Something in addition that is good to remember is:

The Three C's

You didn't CAUSE it
You can't CONTROL it.
You can't CURE it.
| | |
| --- | --- |
| The Following User Says Thank You to MeredithD1 For This Useful Post: | |
Member
Join Date: Jun 2011
Posts: 2,163
Welcome Lecata,

it's nice to meet you. You will find alot of support here. Please feel free to read the stickies at the top of the forum. The best advice I can offer is; educate yourself regarding alcoholism. Until I truly understood what this terrible disease does, I too was living in complete hell.

You will never be able to control, monitor, or curb his drinking. It would be a complete waste of your time. He is an alkie, and he is doing what alkie's do. Ultimatiums will not work either.

May I ask exactly what are you getting out of this relationship? Abuse is a deal breaker in my book. What can we do to help you get to a better place ?

I would also like to add that you are living with an adult man. You are not responsible for him in any way. To stay with someone out of fear of what they will do to themself is called being a "hostage". He is manipulating you, he is trying to control an out of control situation.
This is not my definition of being in a "relationship". You are in a toxic situation.

If it were me I would be job hunting, reaching out to family and friends, and making a plan to secure my future. You are with an active alkie and I am sorry to say he cannot offer you any security at this time.

Please continue to post. I really am concerned for you. Also, please know you are not alone. There are really great people here, that will be along shortly, to offer more support.
| | |
| --- | --- |
| The Following User Says Thank You to marie1960 For This Useful Post: | |
Member
Join Date: Nov 2011
Posts: 25
It does not sound like you should or can handle this alone. Alanon, supportive friends, family, therapy....

I worry about previous violence in your case, and I pray you are safe.

You cannot control this and it is not your fault.

Best to you.
L.
| | |
| --- | --- |
| The Following User Says Thank You to worried72 For This Useful Post: | |
| | |
| --- | --- |
| The Following User Says Thank You to steelmagnolia For This Useful Post: | |
Member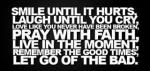 Join Date: Feb 2011
Location: Columbia MO
Posts: 1,127
lecata, welcome to you, so glad you are here.

The only thing that matters is your health (mental and physical) and your safety.

If you cannot make yourself leave now then please make an escape plan, find the nearest shelter, get to know your neighbors, squirrel enough away for cab fare, stash a "go bag" with a change of clothes, money, spare set of keys for home and all cars, a cell phone, (deactivated cell phones still allow you to call 911), do you have pepper spray to protect yourself with?

Please think about counseling and al-anon, come back here often, let us know you are ok.

I will say a prayer for you, best of luck to you,

Bill
Forum Leader

Join Date: Dec 2008
Posts: 10,806
Welcome, might be time to get your life in order. Seek a job, get on your feet or move in with a relative until you can fully support yourself.

He is an addict, there is no cure for his disease, he will be an addict all his life, it is just a matter of whether he is clean and sober or not.

Physical abuse is another matter, to me, it is a deal breaker, it, like addiction will continue to esculate unless a strong recovery program is embraced. Physical abuse is a totally different bird than the bird of addiction is, there are many who physically abuse and do not drink or do drugs.

You have taught him how to treat you, what you will accept, is this how you want to spend the rest of your life?

Read the stickies at the top of this forum and the Family & Friends of Substance Abusers, get a copy of Codependent No More, and, if you can start attending Naranon or Alanon meetings, all will help you.

Keep posting, we are here for you.
Currently Active Users Viewing this Thread: 1
(0 members and 1 guests)

Posting Rules
You may not post new threads
You may not post replies
You may not post attachments
You may not edit your posts
---
HTML code is Off
---