first
first
---
Hi everyone. This is my first post although I've been lurking here for almost a year. I can't even tell you how much help I've received from y'all just by reading the threads and replies. I'm in a better place than I was a year ago, but living with an A is still tough.
Hiya akalacha!
Welcome

Glad you've stepped out of the shadows to post....if you've been lurking around this forum then you know you're not alone - collectively here on SR we've seen everything!
Peace-
B
| | |
| --- | --- |
| The Following User Says Thank You to Bernadette For This Useful Post: | |
Member
Join Date: Jan 2012
Posts: 9
Hi akalacha!
I too have lurked here for quite some time before joining and dipping my toe in the water. This really is an amazing place. I'm glad you decided to post, and that I decided to post too. We are both deserving of good things in our life and of receiving SUPPORT.
| | |
| --- | --- |
| The Following User Says Thank You to protocol53 For This Useful Post: | |
| | |
| --- | --- |
| The Following User Says Thank You to dollydo For This Useful Post: | |
Member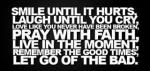 Join Date: Feb 2011
Location: Columbia MO
Posts: 1,127
Welcome, glad you are here, please share when you are ready, if you are having a bad day you can just ask for hugs and words of support, it makes a big difference for me when I am down.

Best of luck to you,

Bill
| | |
| --- | --- |
| The Following User Says Thank You to Willybluedog For This Useful Post: | |
I guess I feel like some people feel when they first go to a meeting. (I've never been as there are none around where I live) I've been ´listening´ and soaking up knowledge and ESH. Not ready to share yet, but wanted to make myself known. Thanks for the welcome
Currently Active Users Viewing this Thread: 1
(0 members and 1 guests)

Posting Rules
You may not post new threads
You may not post replies
You may not post attachments
You may not edit your posts
---
HTML code is Off
---