Having one of those days
Having one of those days
---
When I can see the full fallout on all my kids of growing up with an alcoholic father who openly favors one child.

It is exhausting. Middle Child is completely out of control. It has gotten better, but the last two days, we've been back in behavior I haven't seen for a year. The detachment skills I've learned serve me well, but I'm furious at AXH. Because he doesn't need to deal with the children's pain. He gets to ignore it and keep drinking himself into oblivion.

And days like today, compassion for his disease is difficult for me to find.
Member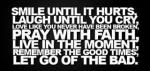 Join Date: Feb 2011
Location: Columbia MO
Posts: 1,127
IMO you don't have to have compassion for his disease 110% of the time, all you have to do is the best you can. Please hang in there, I will say a prayer for you all.

Best of luck,

Bill
| | |
| --- | --- |
| The Following 2 Users Say Thank You to Willybluedog For This Useful Post: | |
I'm sorry, but I don't remember ....................... is middle child the one that doesn't want to go to Alateen????

Maybe see if he will try that or a private therapist/counselor?

I honest to goodness do not know what else to do and that makes me very sad because I hate to see what this disease can do the the wife, and/or s.o.,and the child(rens) of the A.

But, please know I am sending good feelings and prayers, and have added you and your family.

Remember we are walking with you in spirit.

Love and hugs,
Currently Active Users Viewing this Thread: 1
(0 members and 1 guests)

Posting Rules
You may not post new threads
You may not post replies
You may not post attachments
You may not edit your posts
---
HTML code is Off
---