Being Lost and In Survival Mode
Member
Join Date: Sep 2010
Posts: 187
Being Lost and In Survival Mode
---
Something my therapist said really stuck. She said, "you've been in survival mode since childhood and never had the proper environment in which to find yourself. You've been lost at sea for so long and programmed to survive...it's OK to grow up, to come back to land."
Then, she drew a timeline of my life. She marked from 7 years-old to 17 in red because these were the darkest and most traumatizing times, riddled with my bipolar mother's rampant alcoholism that resulted in us being thrown into the foster care system and/or bounced around between other relative's. She also marked from age 30 to 32 for the past 2 painful years I've spent with XABF. The red spanned 10 years, or 1/3 of my life. She extended the timeline to age 65+ and used a yellow marker to highlight all of the remaining years not marked in red. The happy years in the past, and the rest of the future in which the choice is mine: red or yellow? Without recovery and NC with active A's that future will be red.
The truth is I am afraid to recover, to "grow up." I don't think I've ever stopped being that scared little girl who just wants to fix everything and be normal like everyone else. I've always felt different, wrong. Good is never good enough. I do not love myself, I loathe myself. In fact, my ultimate goal seems to be to destroy me.
I am an addict. XABF provided an escape from reality. A distraction from the utter mess of my life. From my responsibilities and the sense of being lost and not knowing who I am or what I want. From the self-sabotaging behaviors I'd developed in childhood that hold me back in life. From not dealing properly with the trauma and abuse that was my childhood, just stuffing it down with relationships and addict behaviors.
XABF led me further and further out to sea, where I feel right at home. I don't know how to get to land, let alone adapt to its environment. Land is for normal people.
It's comforting to know that there are others stranded out at sea too, although I don't wish such harsh conditions on anyone. It's even nicer to know that many of you found land as well as peace on that land. Gives a girl hope!

The Following 15 Users Say Thank You to nicam For This Useful Post:

aztchr

(12-26-2011),

ColetteTocca

(12-24-2011),

Cyranoak

(12-26-2011),

dbh

(12-24-2011),

desertgirl

(12-24-2011),

enid

(12-26-2011),

fedup3

(12-26-2011),

MsGrace

(12-24-2011),

NYCDoglvr

(12-26-2011),

PurpleWilder

(12-23-2011),

Seren

(12-24-2011),

Sotiredofitall

(12-24-2011),

TakingCharge999

(12-24-2011),

vujade

(12-24-2011),

Willybluedog

(12-24-2011)
Member
Join Date: Jun 2011
Location: Right here, right now!
Posts: 3,381
Surviving is important. Thriving is elegant. Maya Angelou

I think our coping mechanisms kept us alive at the time. I am learning that I need to unlearn them, and find some other mechanisms to get to the thriving stage. Goodness thought looking at the stuff can be such a challenge.

What a neat exercise the therapist did with you though.
Guess who will be drawing a similar timeline...

I also struggle with self worth, self image, self sabotage.

Nowadays it is about friendships, I give a thought to some of them and feel I am self sabotaging again, as I am single I do not have a toxic person next to me but I got several toxic people as "friends" and I feel I am letting myself down....

Our life matters too, keep taking care of yourself, one day at a time
Hugs!
There was a thread on ACOA forum with some excercises to help your inner child heal. I' sorry but I don't have time to look it up now, so maybe you can try.
I did it few years ago and I found it very helpful.
I don't remember it well but it was about imagining your inner child with you all the times, and treating it as you'd treat some other child.
Maybe someone else knows more about it, and can give you more details.
It helped me a lot.
Ok I found it

http://www.soberrecovery.com/forums/...-now-what.html
it is in DesertEyes post
Maybe you'd like to give it a try
Take care
Member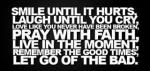 Join Date: Feb 2011
Location: Columbia MO
Posts: 1,127
Nicam,

Thank you for sharing your therapists insights, they really hit home for me.

I spent most of my first 35 years being a sarcastic, belittling jerk, always as a cover for my insecurities.

Finally therapy and prozac helped me find that place of safety for the first time in my life.

Now at 49 I have a great life, I still have bad spells, the Penn State sex abuse scandal really set me back, but with the help of friends here at Sober Recovery I am back on track to that place of safety.

I hope you find your place of safety, I will pray that you do.

Merry Christmas and God bless you.

Bill
| | |
| --- | --- |
| The Following 2 Users Say Thank You to Willybluedog For This Useful Post: | |
| | |
| --- | --- |
| The Following 2 Users Say Thank You to vujade For This Useful Post: | |
Guest
Join Date: Apr 2011
Location: henderson nevada
Posts: 5
Self sabotage...toxic friends..
---
When I think back to my dysfunctional childhood...I was always trying to fix things, and look for approval from everyone to try and make everything okay, and never really had a "Normal" relationship with any boyfriend or husband. There was always turmoil, violence, addiction, verbal abuse. Keeping "friends" who were toxic, because I was afraid of ending the relationships for fear of hurting their feelings, and wanting to make everything okay. Listening to their endless trashing of other people..(even though I knew the stuff they said not to be true) . I believe I actually developed "STOCKHOLM SYNDROME" with some of the relationships. Feeling the person had such power over me, that I could not detach myself from them. I recently , permanently, "cut off" a "friend" I work with...who was so emotionally poisoning, that I actually began to become depressed when I was around her. It was after she bragged about beating her dog on several occasions, that I decided to end the " friendship" ...she made me sick! Literally! I simply stopped speaking to her...very quietly, and unemotionally...I detached. I felt such self-loathing whenever I listened to her...or walked with her, or shared a lunch with her. I found myself looking for approval, even after she infuriated me with her condescending, sanctimonious crap. Then, I guess that day, I had just had enough. I actually feel stronger, and more assertive now. I sometimes think about having a "normal" relationship with a man, after I divorce my husband...but I'm afraid I'll hook up with another addict. I'll just float with the tide for now.

This "friend" asked me to sign a financial program for HER to get a car before the end of the year
And I actually said Yes

I havenīt gone yet then this weekend I had time to think and went "wait a minute, this is not OK" so I am not going to actually do it. She canīt get one because she is divorcing but HOW IS THAT MY PROBLEM?
My Chinese sign is Dog and true or not, I feel often like the needy pathetic dog looking for approval as if others were more important for some reason. I am so sick of behaving this way.
I also learned this "friend" had talked about me behind my back.. made up so many things, I donīt know why she does it.. she has done me some favors but that does not mean she owns my soul does it... sheesh
Glad to know others get it and am in the same boat, codependency shows up in every aspect of life.. just noticing this now..

| | |
| --- | --- |
| The Following User Says Thank You to TakingCharge999 For This Useful Post: | |
I think I'd keep that therapist, and keep working with her.

Change isn't easy, and doesn't come quickly - it's a daily, sometimes hourly plodding through.

But you can do it!

And there is happiness and joy on the other side, for you, if you do the work!

Sending encouragment,

CLMI
| | |
| --- | --- |
| The Following User Says Thank You to catlovermi For This Useful Post: | |
I also struggle with self worth, self image, self sabotage.
Me too...
I relate to you completely and I know how painful it is to be in this place. I am both a recovering alcoholic and co-dependent. What has helped me the most was the healing energy of AA with some cognitive therapy. There's a saying: "let us love you until you can love yourself". It has been a 20 year battle but at least today when I hear "the voices" in my head I know what to do to change my thinking and I don't hurt myself any longer. Just because we think something doesn't mean it's true. So there is hope ... the hard part (for me) was reaching out and asking for help.
| | |
| --- | --- |
| The Following 2 Users Say Thank You to NYCDoglvr For This Useful Post: | |
Member
Join Date: Feb 2008
Posts: 837
nicam, I can so relate to you and I'm sure there are a lot of us on this forum who can as well. It's like looking through a window at the world and thinking you're not a part of it you're just an observer and never knowing who you are, where you fit or what you are feeling other than that which is expected of you to feel, I've been there. I've also asked myself the question how did I let myself come to this point, why did I choose this from the beginning? Give yourself some time away from the madness, work on yourself, seek help, Al-Anon, counseling and you'll find there is a rainbow at the end of this maybe not a bright one but one nonetheless.
| | |
| --- | --- |
| The Following 2 Users Say Thank You to fedup3 For This Useful Post: | |
Currently Active Users Viewing this Thread: 1
(0 members and 1 guests)

Posting Rules
You may not post new threads
You may not post replies
You may not post attachments
You may not edit your posts
---
HTML code is Off
---