Comparison
Comparison
---
D6 is learning about never talking to strangers/taking candy from strangers etc... kind of stuff in Health class at school. She's been wanting to "practice" at home at dinner time. So I pretend to be the stranger and tempt she and D3 with all sorts of promises that sound too good to be true or dangle things that they really want in front of them to see how they'll respond. They think it's great fun to shout no and it struck me this morning after playing this game that this is a great analogy for what it's like to try and say no to an A's promises.

I was posting on Yellow Birdy's thread about the promises A's make us and how so many of us time and time again choose to believe them bc we so desperately want what is being promised that we're willing to throw caution aside for the words that are being spoken/promised.

So, it struck me that the promises A's make to us aren't really all that different than the stranger trying to lure the kid to the car (I'm not comparing A's to child predators in case there's any confusion). I'm comparing kids who are supposed to resist the strangers' lures (candy, new puppy, trip to disney world-- these have been my creative tests to my girls) to those of us in r/s with A's who know better than to run toward the "car" (A's promises) but continue to do so anyway.

Emphasizing to my D's how important it is to always stay safe, no matter how hard it is to say no or how tempting the treat being offered is made me realize that if I expect my kids to being able say no, obviously I need to apply this to my own life too.

I've run toward my AH's promises so many times, knowing better each time, that I can't keep track. I haven't done so recently but am just reflecting on the past AND aware, with my anniversary approaching, that AH may well be full of fake remorse and promises and I am trying to prepare myself mentally to be able to say no and stick to it no matter how hard it is.

Anyway, for me this analogy made it a lot clearer to me that regardless of how much I WANT to believe the promises or how REAL they sound THIS TIME, I need to be like my kids with the stranger in a car and say no every single time to protect myself.

So, if this is useful to anyone else I'm glad-- Just wanted to share...
The Following 18 Users Say Thank You to wanttobehealthy For This Useful Post:

amy55

(09-25-2011),

bookwyrm

(09-25-2011),

bruingirl

(09-26-2011),

chicory

(09-25-2011),

dollydo

(09-25-2011),

fulloffaith

(09-25-2011),

jackien41

(09-26-2011),

Jadmack25

(09-26-2011),

Kittyboo

(09-25-2011),

LifeRecovery

(09-25-2011),

lillamy

(09-26-2011),

m1k3

(09-25-2011),

marie1960

(09-25-2011),

MTSlideAddict

(09-25-2011),

painterman

(09-26-2011),

StarCat

(09-25-2011),

wellnowwhat

(09-25-2011),

Willybluedog

(09-25-2011)
| | |
| --- | --- |
| The Following 2 Users Say Thank You to dollydo For This Useful Post: | |
| | |
| --- | --- |
| The Following 2 Users Say Thank You to m1k3 For This Useful Post: | |
Member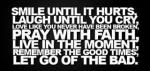 Join Date: Feb 2011
Location: Columbia MO
Posts: 1,127
Great job linking the similar emotions, I had not thought of it that way but it makes perfect sense.

I want to suggest you read Gavin Debecker's "The Gift of Fear" it is a great handbook for helping kids in preventing abuse and abduction. They almost always have it on the shelf at Dollar Tree.
| | |
| --- | --- |
| The Following 2 Users Say Thank You to Willybluedog For This Useful Post: | |
| | |
| --- | --- |
| The Following 2 Users Say Thank You to Kittyboo For This Useful Post: | |
This was a very good post. I hadn't thought of it that way. Thank you for sharing this analogy. It truly places a visual to emphasize the emotions and the act of deciding to or not to engage in the manipulation traps. Most of us have heard the "do not accept candy from strangers" lesson that is taught to the kids, but most us are guilty of falling into that same type of trap where we accept that "promise" to be lured right back into the chaos and pain.

We should take a lesson from these kids that are so strong in yelling "no." Maybe not do the physical yelling, but rather display the strength behind the word that these kids so greatly animate.
| | |
| --- | --- |
| The Following 2 Users Say Thank You to MTSlideAddict For This Useful Post: | |
| | |
| --- | --- |
| The Following 2 Users Say Thank You to YellowBirdy For This Useful Post: | |
| | |
| --- | --- |
| The Following User Says Thank You to Jadmack25 For This Useful Post: | |
Glad others think this is of use... I actually had a chance to put it to practice last night and it really helped me stay detached thinking of my tendency to go toward danger (AH) being similar to that of a kid wanting candy from a stranger.... Nothing like putting something to practice right off the bat.

I'd love it if a stranger would abduct AH right about now... Maybe someone could drive by and dangle a 30 pack of Bud in front of him and he'd just disappear... Wishful thinking!
| | |
| --- | --- |
| The Following 2 Users Say Thank You to wanttobehealthy For This Useful Post: | |
Member

Join Date: Jan 2011
Location: Anchorage, Alaska
Posts: 4,719
My Mom gave me a ring last week - its a coiled snake with tiny little diamonds on its body and ruby eyes - very old and goth looking - to remind me that every time I feel like reaching out to pet one...snakes bite and it hurts.
D3 impressed me today... we went to the grocery store and were waiting in line and this nice older man who's a pseudo bagger but mostly just hangs out and talks to people and is very nice, came up to D3 and apparently asked if she'd like some stickers (the paid stickers they put on large objects-- the girls always get them when we go there). Next thing I know (I didn't realize he was talking to her or offering stickers) D3 SCREAMS (she's my little pitbull) "no, no strangers, no!!!". Everyone turns to look and I had to pause a second to realize that she was putting the don't take things from strangers lesson really seriously. I told her since I was there with her it was okay but told her she did a super job of remembering what D6 had brought up and what we'd been talking about re: not taking things from strangers.

Not sure if this is coming across as cute as it actually was, but I just wanted to share- It's really quite off topic but oh well!

I am fairly sure that no stranger would ever try to snatch my D3 bc she'd fight them tooth and nail and probably win. I don't know where her feisty spirit comes from (maybe from me, deep down buried that I am slowly finding again) but I feel pretty confident that even at age 3 she's pretty well equipped to tell someone to buzz off. D6 on the other hand trusts everyone and is all too willing to believe everyone is good and wonderful... Unfortunately that's much more like me and I certainly hope she continues to be optimistic but does a better job of taking care of herself than her mother has.
| | |
| --- | --- |
| The Following 2 Users Say Thank You to wanttobehealthy For This Useful Post: | |
Currently Active Users Viewing this Thread: 1
(0 members and 1 guests)

Posting Rules
You may not post new threads
You may not post replies
You may not post attachments
You may not edit your posts
---
HTML code is Off
---