The Good, the Bad and the Ugly
Member
Join Date: Jan 2011
Posts: 111
The Good, the Bad and the Ugly
---
The Good: I am moving forward with my life in many ways. My STBXAH has been out of the house for 5 months and my children are happy, laughing and reengaged in their social lives. Sleepovers, cooking in the kitchen and on our own schedule. I am working part time to help pay the bills and the divorce papers are almost final. All three children receiving weekly counseling.

The Bad: After going virtually no contact I responded finally to a text he sent me Friday telling me had a new job and was starting Monday. I called him back to congratulate him and wish him well. He started badgering me about when we are going to finalize the paperwork, he wants to see his daughters and we should just split everything 50/50 - including custody and visitation. He was on a rampage and all my defenses were down (a little dramatic I know but hey- ) which leads me to the next -

The Ugly - I couldnt keep my mouth shut and I told him I was asking for sole custody, no visitation based on his suicide attempt in April and recent relapse that ended in handcuffs and a trip to a mental hospital in the backseat of a cop car. After a 72 hold, he stayed for 5 more days (this was 4 weeks ago). He got in a fistfight with his dad two weeks ago. I know all this from his brother.

I know I should have never called him. I know I should not have told him the conditions of the settlement. I know I can only do what is best for me and my girls and let him react however he is going to react. He claims he will not start the new job and will now hire a lawyer (with what money I wonder but not my problem) and now I feel like I took two steps forward and three steps back.

Not sure what I am looking for in writing this, it does help to get it out and after reading it I realize I need to just refocus on me myself and the three children and let him do whatever it is he is going to do.
| | |
| --- | --- |
| The Following User Says Thank You to Leaping For This Useful Post: | |
Member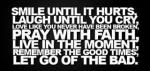 Join Date: Feb 2011
Location: Columbia MO
Posts: 1,127
Please don't beat yourself up for being human, you tried to do something nice and it turned to crap, happens to all us at one time or another. Beleive me, I was married to a psycho for 7 years, I look back every day and wonder why I stayed.

This is a great place to vent, come back anytime you feel the need.

Take care,
I'm glad you posted if only to know someone else is traveling same road as me. We are not alone! I am also divorcing, am separated now, all within past year. We have 5 daughters.

I know just how you feel. We have been nc, because I want that for my own health & sanity. We need to communicate regarding kids. It's so hard. I also (just today) sort of got sucked into email exchange where I let myself get upset, reveal too many feelings, etc. Please don't beat yourself up. After emails I felt so sad, angry and just drained. It sort of ruined my day- just sucked the joy right out. Please take care of u and don't let the communications steal your peace and joy.

It stinks b/c they actually think it's like a normal divorce and there will be normal, healthy co-parenting. That is sort of impossible if there is still active alcoholism. Of course they will still be manipulative, dishonest, denying and possibly unsafe with kids. I just try to take care of me and girls. Whenever I get involved in talks or thinking of him it just gets me upset. Having said all that and it sounding angry, the reason it hurts is b/c I love him. It's very hard to love someone, want a life with them and not be able to have it.

It's so hard to remain fully no contact with kids. Its too bad because I feel so much better just not talking, texting, emailing. Maybe today happened for you so you could learn the lesson again?! You thought calling him was good idea. It ended up hurting you. What is the lesson??? When we know better, we do better. Thank you so much for your post. I was feeling so down for same exact reason. Wishing I communicated less! It makes me feel better, reminds me we are all a work in progress.
Currently Active Users Viewing this Thread: 1
(0 members and 1 guests)

Posting Rules
You may not post new threads
You may not post replies
You may not post attachments
You may not edit your posts
---
HTML code is Off
---