OT: When do you know you need antidepressants?
Member
Join Date: Nov 2010
Location: RI
Posts: 177
oh dear god, i am all these things.... i have a dr appt in november and i plan on talkig to her about depression and what i can do to help myself. what jumped out at me here was how empying the dishwasher was like climbing mount everrest.... some days i lay in bed and think of all the things i want to accomplish that day....and then don't do any of them.
| | |
| --- | --- |
| The Following 2 Users Say Thank You to breakingglass For This Useful Post: | |
Member
Join Date: Aug 2011
Location: Saltburn UK
Posts: 278
If I could take a pill that would lighten my mood at present I probably would, although I can't say that I'm depressed. Fed up that things have been tough lately, lonely in that my partner is not speaking (I cut off the drink) and feeling angry too about all the disruption she has caused. But I'm still motivated to work and carry on life as normal so perhaps the medication isn't the answer.
Member

Join Date: Jan 2011
Location: Anchorage, Alaska
Posts: 4,719
I started on anti-depressants because I knew I wasn't coping well - I was tired, irritable, morose. But I also took care of my kids, held a job, maintained relationships...I just knew I wasn't functioning at my best and had a hard road ahead of me so what the heck...I too consider it taking care of myself.

Now, I can manage much better, the future looks brighter, my moods are more stable, and my focus is far clearer than before. And it is the mildest dose available!

But the pills take care of the physical symptoms, not the emotional symptoms. That's the key, as others here have said. I also have a great therapist, Al-Anon, SR, and family for that side of my life.
Member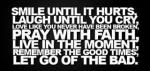 Join Date: Feb 2011
Location: Columbia MO
Posts: 1,127
I knew I need them when I could not get up and function anymore, I would work 1/2 the day and be so down I just went home and went to bed.

Prozac gave me a new lease on life, prior to taking it I had a very very bad temper, I would go from fine to ready to come to blows in 30 seconds.

I joke that prozac was "fuse cord" for me took me alot longer to get mad and alot longer to get sad also.

Please know there is no shame in taking anti-depressants, when I see people who I have not seen for awhile and they remark about the change in my personality I brag on counseling and prozac!
Member
Join Date: Jun 2011
Posts: 86
I started takng anti-anxiety meds about 3 months ago and am glad i did. I was feeling overwhelmed, always anxious, not able to focus or concentrate at work, sad, frustrated at my RAH's slips, worried about work, and it all got too much. I went to my PCP, we had a good talk, he gave me a written test to see if I was depressed (I'm not clinically depressed), so he prescribed an anti-anxiety med. Since them, I'm calmer, things roll off my back, I feel like my old self, and when a slip happens, I go to the tools I learn in Al-Anon. As part of my RAH's program, we do a family session once a week, I can vent there. My RAH is somewhat dedicated to his recovery, but he slips. They work with him on his triggers and prescribe meds that deal with the triggers. I used to take OTC sleep aids, since these meds, I've never slept better in my life.

Good luck with whatever you decide to do and God Bless!
Currently Active Users Viewing this Thread: 1
(0 members and 1 guests)

Posting Rules
You may not post new threads
You may not post replies
You may not post attachments
You may not edit your posts
---
HTML code is Off
---