Sad
Member
Join Date: Feb 2011
Location: CA
Posts: 317
Sad
---
Its a roller coaster of emotions and I am drained. My head hurts from crying. Separated RAH just takes and takes and blames and is emotionally and verbally abusive. I know I dont desrve this so why do I engage? Why do I reason with him, when he is n.ot logical? Why do I continue to look for a glimpse of what he was instead of the reality of what he is? Giving up and letting go is the hardest thing Ive ever had to do. He treats me like I am nothing and this is the man who was supposed to love me and protect me and our daughter.
Trudging that road.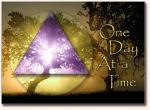 Join Date: Nov 2010
Location: Seattle Wa
Posts: 6,840
You do it cause you love him but this disease doesn't give a rats *** about that.

He can't love or take care of himself right now so doing it for you guys is way out of the question.

The good news is you seem to have a great knowledge of this from what you wrote and at least your not in denial.

Maybe try Alanon there you will find tons of people experiencing some of the same situations and feelings.

Does he want to get help? Does he even think he has a problem? If the answer is yes then that's good but he if it isn't there is nothing you can ay or do that will change his mind.

Now its up to you to keep you and your daughter out of the drama and chaos of active alcoholism.

Peace and blessings
Member
Join Date: Jul 2007
Location: ashamed ville
Posts: 311
I just had to reply. I have posted awhile ago. But here I am again.

I have been through those roller coaster emotions many times when my AH has left a few times. The most recently in June.

Now he is living in the basement and I borrowed the money for a divorce lawyer finally. I spoke with her. Now it's just to go actually through it.

I've come to the point where I know that there is no rationalizing with him. I've looked up verbal/emotional abuse online and see alot of similiarities with him and what i read. I know he is not capable of loving himself so how can he love me, his wife, or his children? I have finally "detached" i guess is the word that I just want him out of our lives.

I no longer engage in his blame game or whatever else he has to say. He tries to sucker me in and the next breath I'm to blame for whatever. I am just not playing into anymore.

I know it's easier said than done. It's been up and down for over 4 years. I'm no perfect angel but I was basically reacting to whatever he was doing and maybe what I did wasn't right but I know why I did those things.

I pray that you will find the happiness you deserve and not the sadness. You are a good person. This is a disease. A progressive one. In my case the alcohol just makes his verbal abuse worse. He was always a verbal abuser. Just didn't get it until recently.

I don't know how old your daughter is, but my kids are 16 and I should have left years ago. I know my kids have been affected by all this. Now is my time to help my children and make them my first priority. My dd made me really open my eyes and it was just so sad to hear her say it.

Please, do what's best for your daughter. She needs you the most.

<<<Hugs>>>
Member
Join Date: Mar 2011
Location: CA
Posts: 428
Hi Sweets,

I found when I got mad and just had enough I found the ability to start to love me and want to take care of me. I wanted to be there for my kids and not let his illness pull me down anymore. My kids deserved a parent who was happy and healthy, not someone who was so tangled up in what was going on with my AH that I just couldn't really be there for my kids the way I wanted to be.

When I finally understood that all of the negative, ugly talk my AH said really had nothing to do with me and everything to do with his illness it helped me. Now when he says something that is hurtful I try my best to see it as his illness, and not me. I disengage and get away from him. I detach the best I can.

The best thing I did was to love me and not look to my AH for validation that I am lovable. I am a good, kind, giving, and lovable person.
| | |
| --- | --- |
| The Following User Says Thank You to Alone22 For This Useful Post: | |
Member
Join Date: Jul 2007
Location: ashamed ville
Posts: 311
alone wrote what i really wanted to say. I'm not the greatest with words. I am beginning to love myself and see my children reacting in a positive direction. I'm more positive.
He can't hurt you anymore. He's already hurt you enough. That's what I keep telling myself. He can't hurt me anymore than he's already hurt me. All I hear now is quack, quack, quack.

Member
Join Date: Feb 2011
Location: CA
Posts: 317
I guess I struggle most with just giving up and letting go. Our daughter is 3 so I am thankful she wont remember this (hopefully). I guess its hard to give up on the person you fell in love wit, the one that didnt treat me this way. Its hard to look at the same face knowing he is not the same person. I know what I need to do, just a matter of following through.
Currently Active Users Viewing this Thread: 1
(0 members and 1 guests)

Posting Rules
You may not post new threads
You may not post replies
You may not post attachments
You may not edit your posts
---
HTML code is Off
---