Welcome to the pity party
Member
Join Date: Jan 2011
Posts: 152
Welcome to the pity party
---
I have a big problem. And it goes by the name of jealousy. Jealousy not of others' riches or materialistic items, but of their happiness.

Earlier I stumbled across a picture of one of my best friends. In it was my friend, her mother, her sister, and their corresponding fiance and boyfriend. The six of them were just sitting next to each other, in their pajamas, laughing, talking, and playing a game (I'm assuming her dad took the picture and was there as well).

It hit me really hard. I always yearned for a sibling, I don't have one. I yearned for a good (even just tolerable) relationship with my mother, I don't have that, not even close. I yearn for my father, he passed away when I was 19. I yearn for a rock of support in my life, XABF cheated on me and left me overnight basically.

Why it is so hard to be happy? And to just have a stable and content life? That is something that every SINGLE one of us deserves but all we keep getting is this stupid crap! I know everyone has their own set of problems to deal with (whether others see them or not), including the friend in the seemingly fairytale picture.

I just feel like I'm never going to have that type of happiness. And trying to continually convince myself to be happy everyday and enjoy the little things feels like such an uphill battle...
You can always find someone who seemingly has more than you/a happeier life/a better life. By the same token you will always be able to find someone who does have what you have.
What helps me when I'm in the throes of the 'poor me's is a gratitude list.
I start:
I am grateful for...
and list everything that I am gratful to have in my life. It helps me shift my perspective from what I don't have to what I do and brings a measure of contentment when I focus on that.
ps. Don't fret over being an only child. Just means your parents realised that it wouldn't be fair to have another child after theperfection that is their first!!

I could have written this post! I think its also part of codependency...
Its great others have more stable backgrounds...
In these cases I try to remember my "spritual family" and all the people that have helped me.
One time not so long ago I was walking alone and got really sad.. then I imagined I was not walking alone.. I imagined the SR pals that get me... my sister... my cats... my best friends back in my city... the cab driver that saw me crying when I left XABF's house and told me no guy worth a cent would make me so sad... the men in AA that reassured me I was bound to worse things with XABF and that it was brave to leave... the fellows in group therapy that have told me they see improvements... my gym trainers..... the long list of therapists, gurus, healers that have shared wisdom and helped me move on......well, once you start, you'll feel less lonely, I ended up in tears of gratitude thinking how many people have touched my life in a positive direction. THAT is my family and I can't be in better company. I don't think my or your spiritual family would fit in one picture.
It would have to be a panoramic shot.

Well honey, let's look at your expectations. Are you suffering from having too many of them? I always wanted a nice Christmas, a dad who did homework with me, a mom who was fair, brothers who treated me with care and love.
I didn't get any of that. I got the exact opposite: bad Christmases, a drunk dad, a drunk mom, brothers who tortured me....blahblah.

Then I became a drunk myself and repeated all that behavior. Then I got sober and realized that a great deal of my unhappiness was related to my un-met expectations. How I wanted things to be and they were never how I wanted them to be.

Then, oh, here comes another couple of years, I realized how life's precious moments are thrown into my lap all the time but I was blind to them. I am learning how to love for the first time in my life now, and it is not about me expecting the world to be how I want it to be. Rather scary...it is how I am learning how to accept life as it comes to me. I didn't like that for a long time, it was hard.
Member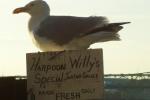 Join Date: Nov 2009
Location: carolina girl
Posts: 578

I was in a similar pity bag, quite recently actually. Last friday I posted on here about feelings of inadequacy and low self worth, because i was comparing myself to my sister. I understand that things look great in that picture, everyone laughing and all, but I have to tell you, sibling relationships are tough. It was very hard for me to grow up with my sister. I love her very much, don't get me wrong, she didn't abuse me or anything and we have a pretty good relationship now, but she was the overachiever when we were younger. It was very hard to live in her shadow growing up, I always wanted to be smarter, faster, more popular at school, prettier, and especially more recognized by my folks. But I just couldn't compete. I see know that we were meant for different things, but I still get those days of comparing myself to her and being miserable.
My SR friends rallied and did an amazing job of reminding me that I am okay the way I am, and I am the way I am for a reason. They reminded me how dangerous it is to base my happiness and self worth on what i think other's have or don't have. And it turned out, I was envious of things that I didn't even want. We got dealt the hand we got for a reason, and the sooner we accept that, the sooner God will show us what we are supposed to be doing with it. But at the same time, it is okay to recognize what you wish you had, accept the fact that you don't have it and grieve for it, just don't stay stuck in the grief.
Most important was the gratitude list. Try to think of One thing before you go to bed each night. I've been posting on here, in the Bedtime Gratitude thread, and I always have at least two or three things now. Sometimes I also post in the Morning Gratitude thread as well. It really helps to start and end your day that way.
I hope you feel better soon!
Originally Posted by
kittykitty


Most important was the gratitude list. Try to think of One thing before you go to bed each night. I've been posting on here, in the Bedtime Gratitude thread, and I always have at least two or three things now. Sometimes I also post in the Morning Gratitude thread as well. It really helps to start and end your day that way.
I hope you feel better soon!
Here are the links for the Gratitude threads: (Great idea KittyKitty!)
http://www.soberrecovery.com/forums/...part-21-a.html
http://www.soberrecovery.com/forums/...part-23-a.html
| | |
| --- | --- |
| The Following User Says Thank You to Pelican For This Useful Post: | |
I used to look at other people and wonder how they got the long straw of happiness and I got the short straw.

You know what - I think we all have our hardships. The people I looked at (two in particular) as having the long straw of happiness have their hardships too. They just approach life differently.

In one of the cases above it is a person very close to me. They do not have children and I know they long for them. I know it was one of he hearts greatest desires. I would be devestated had I not been able to fulfill my desire to have children - yet she makes a happy life for herself. The other person I know less well (from work) and she is always having fun with her friends, speaks so joyfully about her children, has a new house on the lake, smiles and laughs. Well I know that 15 years ago she lost a baby and recently she announced her divorce was final. These woman have real hardships too and are finding a way to be happy. I realize now that very few people live a charmed life. They create a charming life. I need to figure that out.
A photo is a photo, after its taken those people go back to their lives, being real people with real problems. Anyone can put on a happy face and look like they have it all and have everything together. Maybe they genuinely are happy. But I assure you their life isn't perfect, no ones is :-)

I wish I had a close family too, im always craving that 'belonging' to something I never had and feel ill never get. I need to work on that, feel like ive been working on it forever and never get anywhere lol...(it's not about you liz!)

Anyway sometimes it's good just to write it all down and get it out. Hope you get to smile today :-)
I've found that happiness is not a continual state of being. I comes in bits and pieces, ebbs and tides. Sometimes it's just a very small moment, sometimes it lasts for weeks. But here's the thing...only we have the power to be happy or not. It's a decision. Some of the most simple things get the ball rolling...like noticing how incredibly blue the sky is, or actually listening to the birds singing their various songs. Or a smile from a little kid in the grocery store. It then snowballs once you start actually noticing the moments when you are happy.
Envying something you don't even desire, that's so true...
That is why its so important to
know yourself
Also tending to the senses helps me realize how wonderful it is to just be alive.
I am lighting my favorite candle scent.
I eat what I LOVE.
I do sports I really enjoy. I am not competitive and deep down I dislike comparisons. Yoga, tai chi, pilates, all those practices that are about me and my body are the best for me.
I love acid jazz, chill out, lounge music and I tune to my favorite iTunes radio station all day.
I recently rediscovered my PASSION which is painting. Joy for ME, Tc999, is getting all dirty with acryllics all around me and blank canvases and the cats wandering around me. IF I became a renowned famous artist, if no one else sees my art but me, I don't care, I am still set to continue my art tonight while watching Fox life reality shows

Find out your natural talents and pursue them. The creative process is very healing, and is a good reminder that you are unique.
Sometimes we are stuck in black or gray, or green envy but as a therapist told me, there are other colors in life and we can experiment them, too...
| | |
| --- | --- |
| The Following 2 Users Say Thank You to TakingCharge999 For This Useful Post: | |
Member
Join Date: Jan 2011
Posts: 152
Thanks for being so supportive again guys! And sorry I wasn't able to reply sooner, I was actually out of town for the past few days for a wedding.

I think what it was is that going to my first wedding after breakup with xabf was really starting to weigh on me and factor into my whole "my life is not matching up to this picture of a happily ever after family" pity party. It was a little hard to see I admit. Because it is so much about the couple AND the family. Actually funny enough, exabf is a mutual friend of the couple and was supposed to come as well, but didn't show surprise surprise.

The first night of ceremonies I had a bit of a meltdown with mom and broke down to her. She helped me through it and I'm hoping that with time at least that particular relationship might get better.

I'm usually a big fat sap and just kept trying to tell myself that happiness is a moving target, and you can't just happily live ever after. Even those people in the picture and the people getting married still have their own day to day issues. I agree with the advice that everyone has given with me and I think I need to stop worrying about living up to expectations or a vision because then I ignore if I am actually happy right now, at the end of each day.

Thanks for listening.
| | |
| --- | --- |
| The Following 3 Users Say Thank You to bruingirl For This Useful Post: | |
Currently Active Users Viewing this Thread: 1
(0 members and 1 guests)

Posting Rules
You may not post new threads
You may not post replies
You may not post attachments
You may not edit your posts
---
HTML code is Off
---