Martyr..for anyone...share yours...
I AM CANADIAN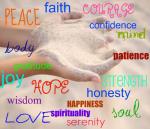 Martyr..for anyone...share yours...
---
martyr/ˈmɑːtə(r)/
▶noun-- 1: a person who is killed because of their religious or other beliefs.
2: facetious , derogatory--a person who displays or exaggerates their suffering or discomfort in order to obtain sympathy or admiration.

▶verb--kill as a martyr; make a martyr of

we never really talk about the Martyr in our families or friends....do you have somthing to share about yours?
Well, before I found al-anon... I used the play the role of martyr in my marriage. My AH has taken that role on now... "oh,poor me, my mean nasty wife is divorcing me!!". I'm sure theres a bar wh0re someplace that's falling for it too.
| | |
| --- | --- |
| The Following User Says Thank You to GettingBy For This Useful Post: | |
Member
Join Date: Mar 2011
Location: New York, NY
Posts: 137
Yup, I did this, recently too. I've been looking for apt. for the past couple of weeks. I just got a new job but it doesn't start for a few more weeks, so I'm having problems convincing people I am actually employed. Anyway, I am in the brokers office and I almost cry as he's looking over my bank statement!

I'm like: "Oh, please sir! It's just a really bad time for me..."

Plhebbbbb!
| | |
| --- | --- |
| The Following User Says Thank You to RECF For This Useful Post: | |
I used to do this, until people started relying on me and saying crap like 'you're so strong; you're such a survivor.' Now I look them straight in the face and say, yes, that's true, because I need real friends around me who help me. Can you please do xyz for me, because really, I'm totally overwhelmed...Not whining, not a pity party. Just honest delegation because I CAN'T do all this alone.

- Sylvie
| | |
| --- | --- |
| The Following 3 Users Say Thank You to Sylvie66 For This Useful Post: | |
Growing up, my mother did it all the time. She'd come whine to my sisters and I about how everything was horrible. She resented the fact that we went to college, treated us horribly whenever we visited, and her "apology" was along the lines of "I'm just upset because you have so many more opportunities than me."
Whenever we tried to talk about something that was bothering us, of course, we'd be snapped at. "Just offer it up! Stop complaining!"

I have a tendency to play the martyr sometimes, when I feel backed into a corner with things. It's something I've been working on, and I'm getting better at, but still lots of work to go.

XABF was really good at this too, always complaining about everything and everyone, but never doing anything about it. Also, he was very good at taking everything personally - I mean, I thought I was bad at this, but with him if it was raining outside it was somehow an affront against him.
| | |
| --- | --- |
| The Following User Says Thank You to StarCat For This Useful Post: | |
| | |
| --- | --- |
| The Following 2 Users Say Thank You to Tuffgirl For This Useful Post: | |
My mother still, me for quite a while-- now I'm finding that life is a lot more pleasant when I see all that's good around me instead of the bad...
I can gripe as needed about AH's quacking without it disrupting my whole day... Hopefully someday I won't think about it at all...
Caring more for me and less for the rest of the world (that sounds kind of obnoxious but I think you all know what I mean?) makes life way more enjoyable...
My mother certainly taught my sister and I well though. We both chose H's who needed saving.

Currently Active Users Viewing this Thread: 1
(0 members and 1 guests)

Posting Rules
You may not post new threads
You may not post replies
You may not post attachments
You may not edit your posts
---
HTML code is Off
---