he is drinking again.
Member
Join Date: Feb 2010
Location: Minnesota
Posts: 174
he is drinking again.
---
Found out he is for sure drinking again...

my gut feeling was right. Thank the lord I didn't let him take the kids for the day last weekend.

I went to the bank to withdrawl some money out of my own account and when the lady asked which account I was shocked. He had told me prior to the OFP that if I spent anything out of the account I would get in trouble because he is taking me off the account. Ok so the past month and half I haven't touched it. He changed the online banking password so I asked them to print out the records...

total craziness...bars bars bars, liquor stores..then the big punch in the stomach the hotel room for a weekend.

I called the cops and waiting for them to get back at me. I'm not trying to rat him out for drinking, I am trying to protect myself because the truck he drives is in MY name and he has driving restrictions (like he can't drive at night, only to work, AA) His last DWI in 08 the cop came and I got questioned for this because he was driving drunk w/o a license. I do not want to be any part of it if he gets in trouble! So hopefully I am doing the right thing...? I am nervous I guess.

I'm going through so many emotions...aaaack.

I cried after dropping my kids off at preschool because my daughter drew a picture this morning of mommy. and it was a sad face and she said this is because mommy is not happy with DS3 and DD4...ahhh I feel horrible like I am trying to keep it together and the other night I just snapped at them for being naughty. It's so hard..and to know their father is as selfish as they get.

I am waaaay more hurt for the kids and that he is not a good father to them. Than of myself probably because I wanted it to be over between us a long time ago. I knew I didn't love him.

Thanks for letting me share...I'm just waiting...we only have one cop and it's friday and he is probably busy. He always tries to come after the kids are in bed so they don't have to hear anything.
Member
Join Date: Sep 2007
Location: Managua, Nicaragua
Posts: 135
I am so sorry you are going through this, but happy that you are getting out of it.

Keep those sweet faces in mind, they will motivate you to do great things.

Stay Strong! Take care of yourself.
Member
Join Date: May 2011
Location: Minnesota
Posts: 9
You're definitely doing the right thing. Maybe him losing his wife and kids will finally make him realize what he's lost and change his ways, if not for your sake, at least for his children's sakes.

I'm sorry you had to go through this. As a child of an alcoholic father I saw what it did (and still does) to my mother. She's not happy and hasn't been for years. She's wanted to leave so many times but never could get the courage to. As much as I love my father, he's still really hurt me and my mother so much.

I really commend you for your bravery, you are a very strong woman.

Keep strong.
Member
Join Date: Jul 2010
Posts: 12,935
Keep your eyes on the prize, as they say. The peace and serenity that you want, for you and the children. I raised mine on my own, and believe me, it was so much better than living in turmoil, even if money was not abundant, the laughter and happiness was worth it.
hang in there. hugs
Member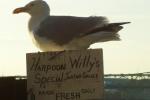 Join Date: Nov 2009
Location: carolina girl
Posts: 578
As an ACOA, I can tell you that you are doing the right thing. He needs to experience the consequences for his own actions.

In Alanon we learn:
~Not to allow ourselves to be used or abused by others;
~Not to cover up for anyone's mistakes or misdeeds;
~Not to create a crisis;
~Not to prevent a crisis if it is in the natural course of events.

You calling the police was not to get him in trouble, but to protect yourself for when he does get in trouble. If it directly affects you, you have a right to protect yourself, and your children. Do what you have to to separate yourself from his train wreck.

One day, one hour, one minute at a time, you will get through this! I have faith in you.
Member
Join Date: Jul 2007
Posts: 1,175
Knowledge is power tn this case, because you could be adversely affected.

Get the truck back, or make him buy it out.

I m sorry for you, but at least now you know, and you also know your gut was right...

Hmmm, its got me thinking about my instincts of late, hmmm
| | |
| --- | --- |
| The Following User Says Thank You to Buffalo66 For This Useful Post: | |
Lindsey, girl, here's my 05 cents:

For today, forget about him. Take the girls and do something fun and crazy. Like have a picnic (in the living room if the weather's not cooperating) and eat cake. Have a campout in the living room overnight. Build a fort. Go outside and see how many live animals you can find (worms count!).

Do something that reminds yourself what and who you're fighting for.

Big hugs.
Lindsey- You are being so brave and strong and I know that probably doesn't make it any less awful feeling, but you're doing the right thing for you, your kids and your AH.
I am sure you do/did this but just reassure your kids it's not them and you're happy with them and maybe do something fun with them this weekend and lots of hugs/kisses etc... I did all of this this week after D5 was so upset by her Dad's disappearing act and I've been extra cautious of their feelings and extra reassuring and it seems to be going okay... I know so well the feeling of hurting for the kids bc you want them to have a Daddy who doesn't suck and they don't and there's nothing at all you can do to change that... I am struggling a lot with that right now too.
Thinking of you... go easy on yourself. Mom's all around the world snap at their kids-- it's not just you -- don't beat yourself up for it-- you recognize it and are doing the best you can under really tough circumstances... But again, I know how you feel. I was short with D5 and D3 this morning bc of an unnecessary interaction with H early this morning (he supposedly "needed" clothing and came by just long enough to upset D5 who thought he was going to stay and then he took off and left D5 crying at the door). I tried to comfort them and we had an okay morning but I snapped at them at one point and felt instantly awful. But, we do the best we can. And you are doing that and then some...
You're a great mom and an incredibly strong woman...

| | |
| --- | --- |
| The Following User Says Thank You to wanttobehealthy For This Useful Post: | |
| | |
| --- | --- |
| The Following User Says Thank You to sandrawg For This Useful Post: | |
Currently Active Users Viewing this Thread: 1
(0 members and 1 guests)

Posting Rules
You may not post new threads
You may not post replies
You may not post attachments
You may not edit your posts
---
HTML code is Off
---