Learning Spirituality
Member
Join Date: Sep 2007
Location: Managua, Nicaragua
Posts: 135
Learning Spirituality
---
I grew up in a family that did not have much of a spiritual base. We did not go to any church or practice any type of religion/spirituality.

As I work on my recovery, I can see the importance of developing my own spirituality. I am not sure how to go about it exactly. I can feel myself letting go and trusting in a HP at times, but I want to create a stronger relationship for myself and to give my daughter a foundation.

Has anyone else developed a spiritual foundation for themselves while in recovery?
How or what did you do to get started?
same planet...different world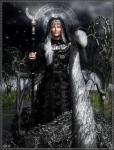 Join Date: Sep 2006
Location: Butte, America
Posts: 10,946
Hi M&M-

I don't know about starting spirituality
I was raised OTT spiritual.

BUT -

I've had a lot of people ask me stuff like this!

There's TONS of stuff to do
you can pick and choose.

The biggest one I tell people
is play around with meditation.
Drawing is a meditation.
Cleaning is a meditation.
Writing. Music.
(just ask any guru LOL)
A real one, I mean - not a yuppie teaching yoga.

There's entire book stores dedicated to spiritual pursuit
maybe a romp through amazon might turn up something
that you feel connected to?

Another fellow
that I've seen have a powerful effect on
people who swore they weren't spiritual
is that 'mindful' guy...
um.
can't remember his name right now
he looks kinda like a garden gnome.

ah!
Ekhart Tolle'.

He seems to be able to connect in a way
that people who never have thought spiritually
can relate to.
I've know several people to begin spiritual awareness
after listening to him.
Member
Join Date: Feb 2011
Posts: 338
This has been one of the greatest gifts of the past year for me- a chance to reconnect with my HP and develop myself spiritually.

I think for me it started with gratitude. Being thankful for the things in my life that were blessings. I know I am very fortunate.
This made it possible for me to see more and more things that were blessings-signs that I felt meant I was being well cared for.
Then it was like I was able to see more things that gave me little moments of intense joy, just when I needed them most.
It was like my heart was opening up to feel more of the good things in life. It felt like I had been closed off for so long. Hardened to protect myself.

For me this was just a start. I also spent a great deal of time outside.
The meditation also helps although to me I don't call it meditation-maybe day dreaming
is more like it.


BTW Barb Dwyer- what is your quote from? I can relate!
| | |
| --- | --- |
| The Following 2 Users Say Thank You to jamaicamecrazy For This Useful Post: | |
Currently Active Users Viewing this Thread: 1
(0 members and 1 guests)

Posting Rules
You may not post new threads
You may not post replies
You may not post attachments
You may not edit your posts
---
HTML code is Off
---