HP message in: HORTON HEARS A WHO movie
I AM CANADIAN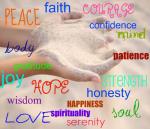 HP message in: HORTON HEARS A WHO movie
---
my son...has gone through alot after his dad died...he may have been only 10mths old but very close to daddy...
my son and i where having an ALONE NITE and it was his turn to pick out a movie...he picks Horton hears a WHO from DR.SEUSUS(misspelled I think)Dvd.
so where watching and this it how it went:
watching the movie as the speck is on the clover and Horton is holding onto the clover and talking to the Mayor on the speck (Who ville)
Mayor: "where are you Horton?"
Horton: "well, i guess from where your looking, up in the sky"
Horton precedes to talk to himself, "gee well if i am up in the sky for the Mayor, there must be something greater then myself, way up in the sky..way beyond."
my son turns to me .."you know mom, i never looked at it like that before"
"Yep", i said, " I believe there is something greater than ourselves"
WOW from my 9 year old kid!! I say, its never to young to teach these PRINCIPLEs to my kids and doing it in all our affairs....
just wanted to share
| | |
| --- | --- |
| The Following 2 Users Say Thank You to GettingBy For This Useful Post: | |
Member
Join Date: Apr 2011
Posts: 15

Thanks Maggie
---
It is a rainy day here in Iowa, so tonight I'm going to watch Horton..WHO.
I don't have kids but love kids movies. Thank you for your comments on my blog. and I love your profile pic. This recovery thing is so amazing to me. I now look forward to meetings, volunteering, and meeting new people. Who would have thunk that there is an amazing gift of alcoholism. Happy Spring to you! Colleen
| | |
| --- | --- |
| The Following 2 Users Say Thank You to Irishcolleen24 For This Useful Post: | |
(((Maggie))) - smart boy you have, there!!
I remember, when I was going to meetings, a bunch of us went to this one guys house who had a really nice TV, surround sound, etc., and we watched.....Finding Nemo

Can't remember all of the movie, but I remember that we all found something in it that pertained to recovery, acknowledging powerlessness, etc. BTW, we ranged from ages 19 - 40's, but it was really fun

May have to watch Horton soon!
Hugs and prayers,
Amy
| | |
| --- | --- |
| The Following User Says Thank You to Impurrfect For This Useful Post: | |
| | |
| --- | --- |
| The Following User Says Thank You to Babyblue For This Useful Post: | |
Currently Active Users Viewing this Thread: 1
(0 members and 1 guests)

Posting Rules
You may not post new threads
You may not post replies
You may not post attachments
You may not edit your posts
---
HTML code is Off
---