My health
same planet...different world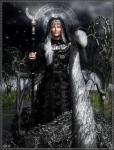 Join Date: Sep 2006
Location: Butte, America
Posts: 10,946
Hope you're feeling better soon...

usually they get worse when something like this happens.

get him back out of there and keep him out.
you got the monitor - that's what it's for.
the roof won't cave in with stuff not cleaned up.
well.
not right away anyhow.
the school won't blow up cuz your kids are late.

take care of YOU.
| | |
| --- | --- |
| The Following 3 Users Say Thank You to barb dwyer For This Useful Post: | |
Member
Join Date: Mar 2011
Location: Southern Illinois
Posts: 174
I'm so sorry that you are having these health issues and I will keep you in my prayers. I'm sorry that your H is being such a self centered butt head. Please take care of yourself!!
(((((((Hugs)))))))))
| | |
| --- | --- |
| The Following 2 Users Say Thank You to japabp2000 For This Useful Post: | |
Member
Join Date: Apr 2011
Location: Canada
Posts: 76
Originally Posted by
sillysquirrel

Isn't it strange....how they want us to need them, want them, rely on them....and on the rare occasion we really need them....they can't be there? This is a huge problem for my "R"AH and I. He hates how independent I am....but he made me this way. When I occasionally do need him for something or dare to ask for help, he is never able to give me what I need. And then I get mad at myself for even thinking that he could possibly help me out in any way, shape or form.
Yes! This inconsistency has been driving me nutso lately. When I do detach and go about my business, he gets all freaky and says "you're mad" or acts defensively, but if I get sick or need something from him, he gets mad and freaks out because I won't be doing the things he wants.
| | |
| --- | --- |
| The Following User Says Thank You to returntonormal For This Useful Post: | |
Currently Active Users Viewing this Thread: 1
(0 members and 1 guests)

Posting Rules
You may not post new threads
You may not post replies
You may not post attachments
You may not edit your posts
---
HTML code is Off
---