For those of you further along in recovery ...
Member
Join Date: Mar 2011
Posts: 103
For those of you further along in recovery ...
---
I am obviously trying to move along in mine, but there are still some things I'm struggling with. I'm trying to figure out how "normal" or "more recovered" people healthily react to things as opposed to the codie inside. Responses to this statement?

"I know you feel it is unfair that I'm only doing my recovery for you, but it's starting to shift."

I want to respond to this statement fairly and not in a total codie way. What would you do with it? It's been said multiple times.
| | |
| --- | --- |
| The Following User Says Thank You to putmeontheair For This Useful Post: | |
| | |
| --- | --- |
| The Following User Says Thank You to nodaybut2day For This Useful Post: | |
Member
Join Date: Mar 2011
Posts: 103
Thanks guys ... I guess I meant more what should I turn it into. I know there's something off about the statement ... "I'm starting to turn over to more doing it for me." Riiiiiight. Wasn't sure how to reframe it.

Thanks for your words. LTD -- quacking it is.
I agree with Rolltide.

I takes practice to see those questions and statements when they come (from any source) that are only meant to entangle you in a conversation net.

They are a form of control and manipulation. Even seemingly benign conversation gets twisted and leaves you frustrated, but it's intended that way. It gratifies the manipulator even if they don't even know they've done it, just habit.

Ask somebody a question they can't even decipher then press for an answer, which will certainly be the wrong one anyway because the whole conversation is just a snake eating it's own tail.

AHHH the magic of it!

The only response is no response. Disengage.

Alice
| | |
| --- | --- |
| The Following 2 Users Say Thank You to ItsmeAlice For This Useful Post: | |
I AM CANADIAN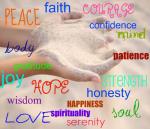 Join Date: Jun 2010
Location: Niagara Region, Canada
Posts: 2,578
you pick your battles...i just walk away...
Is it that important?
one day ,you will get that "practise" as an every day LIFESTYLE...trust me...this is called in March 23rd in THE LANGUAGE OF LETTING GO by Melody Beattie...."Flack of setting boundaries"..that is a good read that date...
Member
Join Date: Jul 2007
Posts: 1,175
I agree.
Having read some of your other posts, a simple "OK"

Or a "thats really great".

Do not seethe sarcasm, and do not invest any important words from your heart, because like all these wise people here are reminding us, its the actions that really matter, and that comes when we see sustained change.
The change must be sustainable. Thats real change.

My friend, who is a 15 year recovered heroin addict keeps telling me that I will know when he means what he says.

She says its a clear tone. She says she can hear it in people in the rooms.
There are the ones who are still faking it, like maybe there by court order, or to please a family, then there are the ones making breakthroughs, but still reverting back to old thinkin'...
Then there are the ones who have made a real shift.

She knows my RAH, says that as far as she can tell he is making some connections, but isnt consistent enough to be sustainable. He still reverts back.

I figure 65-75% of the time my RAH is telling me what he thinks he is supposed to say, and every once in a while he breaks through, and then craves more breakthrough.
NOTHING I SAY will affect that to come about more, or faster than his own life and recovery running its own course will.

So, I have been saying,
"Wow. Thats great for you."

"Hey, thanks for telling me that. "

Every once and awhile I cheat and mention the word sustainable. maybe it sinks in. Probably not.
| | |
| --- | --- |
| The Following 2 Users Say Thank You to Buffalo66 For This Useful Post: | |
Currently Active Users Viewing this Thread: 1
(0 members and 1 guests)

Posting Rules
You may not post new threads
You may not post replies
You may not post attachments
You may not edit your posts
---
HTML code is Off
---