Understanding my mother a little better
Understanding my mother a little better
---
This was a hard message to write, but I wanted to share it here.

As you may know, my father was the alcoholic in my life and my mother was "the victim". Even after their divorce, our family was still extremely dysfunctional because of my mother's behavior. I remember being shamed by her frequently as a child. She gave us way too much freedom when we were teenagers and then would blame me when I acted like a normal teenager would. It took me most of my adult life to realize that BOTH my father AND my mother were not very good parents.

Prior to their divorce, I can remember my mother being emotionally unavailable. She would lose herself in books and puzzles. I can remember her locking herself in her bedroom and crying. As a young child (< 10) I often blamed myself when she got like this. Dad was never home, mom was either quiet/distant or yelling over something minor. There were so many opportunities to feel not good enough.

Recovery has helped me in so many areas of my life, but I still have work ahead of me. I'm starting to realize that recovery will be a lifetime task. For the past couple of weekends I have gotten into a funk. I've blamed it on so many things, lack of sleep, PMS, the stress of a new job, etc. This past weekend, my husband made two remarks that I found hurtful and I spiraled into one of my "moods".

When I'm triggered like this, my brain starts to function differently. It's hard for me to be grateful. I feel like the entire world is against me. I sometimes can fight it, but this weekend I let the mood take over and I basically walked around miserable all day yesterday.

Yesterday morning, my son (age 8 ) was fooling around in the sink and accidently sprayed water over the morning paper. I did get anger because this was the second time this week he caused a water related accident in the kitchen. I raised my voice and asked him to be more careful.

Fast-forward to this morning. I woke up still feeling blue, but made coffee and wrote in my journal and got some perspective on why my husband's comments affected me so strongly. When my son and I were having breakfast I told him I felt better today and he was happy. He then said that he was sorry that the spraying water made me sad for the whole day :-(

While I was allowing myself to pout and blame my husband for MAKING ME feel bad, my poor son was blaming himself for making his mommy angry. I feel just awful!

What did I learn? I still need to work on expressing and handling my emotions. I think I still hold things in and then explode when it gets too much for me. As a child, we weren't allowed to express emotions so the stuffing comes naturally to me.

I also have to realize that my behavior affects the people that I care about most in my life. It's okay for me to acknowledge a trigger/mood, but as an adult I need to learn that it's not okay to make everyone else around me suffer.

Lastly, I actually gained some needed empathy for my mother. Lately, I've been blaming her more for my past then my alcoholic dad. I always knew that she had a reason to be mad, sad, anxious, etc. but I've been feeling like she didn't have to take it out on us. I still think she shouldn't have taken it out on her children, however, as I learned this morning, sometimes you don't even realize the affect you're having on your children.

I want so badly for this disease to stop with me, but I'm not sure if I'm going to get "better" quickly enough to save my children.

This realization makes me extremely sad.

Thank you for letting me share.

db
| | |
| --- | --- |
| The Following User Says Thank You to putmeontheair For This Useful Post: | |
Thank you DBH. Your description of you childhood is exactly some of the chaos I see in my own home.... and reason number 1 why I want a better life for me and my children.

I grew up in that same chaos and I want so badly to break the cycle with my children.
This is what I'm struggling with too. I'm finding the family of origin stuff really hard going right now - not helped by stuffing things down. Thanks for your post. It has really help me.

Member
Join Date: Aug 2010
Posts: 344
Sometimes, I was your mother.
My exah was extremely controlling, passive-agressive, and manipulative. He also made enough money, was the machismo alpha-male type A personality, which led to me letting him get away with it.
The daily rage I had within me was why I sometimes was your mother.
She was in a lot of pain if she was anything like me.
I have had a few good lengthy conversations with my daughter. Things have much improved. She's a young adult now.
One question that she asked jumped out at me: Why did you put up with someone who made you feel so bad about yourself?
I never realized that she even knew he was the cause of that. Heck, I never even placed the blame of why I felt that way about myself on him.
I answered: I loved him deeply!
She apparently didn't realize that!
We both were silent, quite a moment of pause, staring at each other.
By seeing each other's point of view, both our eyes were opened.

Thank you so much for sharing.
I worry about this every single day. I have such a long way to go to be the mother my kids need. I disengage. I have bad moods. There are to many days that I do not handle it appropriately. Just like my own mother.
Where is the middle? That place where people remain engaged and on an even keel. Why can't I keep a hold of it?
Great insightful self-examination. I also can see myself in it--especially allowing one little comment by AH to control and overwhelm me so much! Why do we let that happen? I remember watching AH saying similarly hurtful things to my MIL, and she'd confront him, yell a little and then pouf! It was gone! Not that I want to confront by yelling, but why can't I get to the pouf! stage faster?

I think the awareness, and the pain of this experience with your son will open up your ability to respond, not react, to your AH. If you can step back and watch your emotions, watch the spiral as it occurs, pay attention to those feelings, know what's happening, and identify a better way to move forward you'll start changing that legacy for your son.

Thanks for the post.
| | |
| --- | --- |
| The Following User Says Thank You to SoloMio For This Useful Post: | |
Member
Join Date: Apr 2011
Location: North of Boston
Posts: 26
The only comment I want to make is about children. My AW had 2 from her previous marriage to an AH. They had their struggles, and very nasty incidents with their father. From a base personality the oldest (girl) was always the perfect child. Her brother, from birth was a handful. When I entered the picture they were 12+9, and have had limited contact (occasional phone calls which stopped 10 years ago) with their biological father.

The oldest was fortunate and never had alcoholic tendencies. She has a wonderful marriage, great job, and 2 beautiful children.

The oldest boy, struggled, had enormous anger in him. Unfortunately he turned to drink then drugs. There were many years of pain, which we helped him through. He's almost 3 years sober and clean, has a new girlfriend, happy and the anger seems to be finally gone. Had the most open conversation with him ever the other day. Our relationship has been great for 10 years now.

Finally the 3rd of our children, my biological son, was brought up in a good home, other than my wifes drinking. It was stable, loving, and he had every opportunity, but he still fell victim to addiction. He is currently in a halfway house and doing great.

I guess my point is, do the best with your children, but there is no Ossie and Harriet homes. When it comes to substance abuse I firmly believe it's in the genes and nothing you can do will prevent addiction.

Always do what you believe is right, your children will adjust. There are bad kids from good homes, good kids from bad homes, one never knows..
Member
Join Date: Dec 2010
Location: Chicago, IL
Posts: 204
[QUOTE=brokenheartfool;2923592]
My exah was extremely controlling, passive-agressive, and manipulative. He also made enough money, was the machismo alpha-male type A personality, which led to me letting him get away with it.

Wow, that is so true. I have my AH out of the house (we are separated) and I think the only reason I finally got the "courage" to kick him out is because he lost his high paying job due to his alcoholism. Scary that so many of us women let ourselves be controlled by money. I am in some ways looking forward to being on my own and feeling like a strong, independent woman again, though I know it will not be easy!
| | |
| --- | --- |
| The Following User Says Thank You to Ladybug0130 For This Useful Post: | |
Member
Join Date: Dec 2010
Location: Chicago, IL
Posts: 204
Member
Join Date: Apr 2011
Location: North of Boston
Posts: 26
Originally Posted by
Ladybug0130

Ooh, I believe this too and it makes me a little crazy because any time my sweet 7 year old boy acts up I freak out a little and wonder "is he going to be a alcoholic like his Dad?!" I have to let these feelings go and just give him lots of love because what will be will be.
This is so true. Just be steady, honest, and caring. There may be times they hate you (could last years) just do the right things.
It would have been easy to succumb to all the anger my step son threw my way. I kept things in perspective, and was always there to help when he reached out. We have a very good relationship, and like I said he is doing well. May take decades but what else can you do but your best. :-)
| | |
| --- | --- |
| The Following 2 Users Say Thank You to fixer For This Useful Post: | |
Member
Join Date: Oct 2009
Location: rural west
Posts: 1,375
I don't have kids, but I have worried about getting better "fast enough".
My two cents is there isn't a destination, just a direction.
If you are moving toward health = toward good choices and self care and boundaries (from WHEREVER you start) you're golden.

Hugs,
peace
Thank you for the replies.

I don't think my son was permanently scared by my mood that day. Our home is relatively stable and he really didn't seem affected, other than mentioning it the next morning. It has made me realize that I need to be more accountable for my behavior though.

What I was really sad/shocked about was how easily he could assume it was about him. It was a good teaching moment though, I got to tell him that he can always ask me if he thinks I'm upset about something he said or did and I will tell him the truth.

That's another thing that drove me crazy in my family of origin, we were rarely directly told things, you always had to read between the lines.

This moment truly helped me put my own childhood in perspective. I'm in my late forties and can still remember hurtful things that my mother said to me when I was around 8 years old. Intellectually I have always told myself that it wasn't about me and I'm actually starting to believe it now.

One day at a time ....

db
Member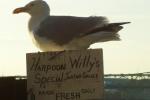 Join Date: Nov 2009
Location: carolina girl
Posts: 578
dbh,
I think the most important thing here, the main difference between you and your mother, is that you realize you are doing it. Once we admit we are doing something we don't want to do, we can take a positive action to correct it. I think it was great that you sat down with your little boy and explained to him what happened.

Awareness
Acceptance
Action

As all of us in recovery have proven, if we want to change a behavior, even if it ingrained in us from childhood, we can. And there's always Alateen for the youngsters.

Even in a "not dysfunctional" home, children are given dysfunctional guidance. From an early age, even children from non alcoholic homes are taught that the guy always gets the girl, if you apologize all will be forgiven, if you were a size 2 you'd be happier, and money solves all the world's problems. It's all over the place... television, movies, geez every single disney fairy tale has these messages of "happily ever after". By the time kids are 5 years old they've learned that it's not okay to cry in front of other people, to show emotion. What society drills into our youth's heads is poison. It's up to the parents to teach their kids that reality is very different. Things don't always work out. Disappointments will happen. It's okay to feel emotion. It's okay to not be perfect.

I'm so glad I don't have children yet, I don't know how you guys do it. Thank God you are in recovery, just by taking care of yourselves, and wanting to be healthier people, you have already given so much to your children.
Dbh, thanks for being an awesome mom!!
Currently Active Users Viewing this Thread: 1
(0 members and 1 guests)

Posting Rules
You may not post new threads
You may not post replies
You may not post attachments
You may not edit your posts
---
HTML code is Off
---