Clean slate? Let's see if it helps?
Member
Join Date: Mar 2011
Posts: 103
Clean slate? Let's see if it helps?
---
Yesterday, on the ride home, he asked how I was feeling about us.

I told him the truth. That I didn't have the foggiest idea. I felt like I was trying a new relationship with a new person and trying to figure out if it would work or not. That I could give him today, but I couldn't promise tomorrow.

He was quiet. I started to cry and he asked why,

"It isn't fair. This is just not fair."

I felt like a baby. Like an idiot. He had spent all of Thursday out of the house and running errands. I hadn't seen him. Now, essentially the first time we are having a conversation about the elephant in the room in a few days, I feel blindsided. I said that to him.

"I feel like maybe you want to spend some time with me?" he said,

"I think so," I replied. I think so is the correct answer there. I want to spend time with my husband, but who is to say if he will be my husband or the other ******* who sometimes shows his face.

"What were you doing on Sunday instead?"

"I told the people at the place I am volunteering that I would come help out."

The selfish side of me is screaming. Great, you are going to volunteer. What about a job? What about making more than $8/hour working 8 hours a week? We really are fine financially, but I want him to contribute. I want this to be an equal relationship.

He shared his recovery plan. "I am being honest in it," he said.

Me me me ... it was all about me. If he is not going to meetings, his expectation is to be called out on it. His biggest relapse triggers? Me leaving him, me being out of town, and me saying he can drink (yeah right, that will be a cold day in hell).

So much pressure. "I don't want you to see it that way?" The real question ... how can I not?

"I want you to recover for you."

"I am about 30/70 right now. I wouldn't have gone in if it weren't for you. I am hoping that it turns to 100% for me, but right now I am at 30/70."

I go back to work, frustrated. Thinking the whole time. I just want things to be normal. I am so tired of thinking of all this and wasting energy on it and crying about it. What can I possibly do?

Ah, my Higher Power. Have I forgotten about that?

"Take it, take it PLEASE?" I beg. And I feel slightly lighter. What can I do to make this normal?

Clean slate. We talked in Al-Anon this week about dismissing the past, ignoring the potential for future worries that haven't shown themselves yet, and concentrating on right now. So many times I have thought about how angry I was, which was so stupid because everything I the moment was OK. Clean slate. I can give him that.

I came home. "Today, April 1st, at 4:56 pm, you have a clean slate. Everything in the past is forgiven and it is over. Today you get to start making this relationship whatever it is you can make it."

He was thankful. I was thankful.

He still has a lot of work to do. I am still not putting up a fence in the backyard or having a baby with him, but I feel slightly more hopeful. The old worries still creep in though. But that is OK. It is up to him to make his part of relationship work, just as it is my responsibility with my own. I need to give up my demons and allow him to gain back my trust by starting to take care of his half, by getting a job, by going to meetings, by working his recovery plan, and by taking care of his duties at home. All the things I am currently doing.

I am not saying I have both feet firmly planted in this marriage, but I am hoping that, in the next few months, I figure it out one way or the other. We know each other and love each other, and we also have a clean slate. I hope that my forgiveness can get us where we need to go or show us what we need to do.

Please Higher Power?
Member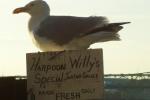 Join Date: Nov 2009
Location: carolina girl
Posts: 578
I don't like hearing this from someone in recovery... don't like this at all. He's still blaming you for his drinking. But I'm assured that since you are in Al Anon, you know it's not true.

Member
Join Date: Mar 2011
Posts: 103
Yeah, I definitely tend to agree with you there, kittykitty. I don't know if "blames me" is the right word, but the holding me accountable for his NOT drinking ... it's stressful. I kind of want to say "fine, then you need to do what you want to do" because I know a huge red flag is not doing rehab for yourself. But you're right ... thanks to Al-Anon and you awesome folks, I know I can only take care of myself.
| | |
| --- | --- |
| The Following User Says Thank You to putmeontheair For This Useful Post: | |
Member

Join Date: Jan 2011
Location: Anchorage, Alaska
Posts: 4,719
Good luck to you - you are making a courageous decision and its admirable. I hope, for you, the situation improves. Hope you seek care for yourself and continue Al-Anon. It is possible to weather this...I have seen others do it successfully. Only you can decide that.

This forum is always here when you need it. Keep us posted! We're rooting for you!
~T
| | |
| --- | --- |
| The Following User Says Thank You to Tuffgirl For This Useful Post: | |
Currently Active Users Viewing this Thread: 1
(0 members and 1 guests)

Posting Rules
You may not post new threads
You may not post replies
You may not post attachments
You may not edit your posts
---
HTML code is Off
---