Question about prayer
Originally Posted by
LexieCat

Someone posted on the AA forum recently about a prayer I only heard about for the first time about a year ago. It's called the "Set-Aside" Prayer, and it can be customized for whatever use you want to make of it:

"Dear God, please set aside everything I think I know (about myself, my disease, the Big Book, the 12 Steps, the Program, the Fellowship, the people in the fellowship, all spiritual terms, and especially about you God) so I may have an open mind and a new experience (with all these things). Please help me see the Truth. Amen."

It's often used when beginning a session of Step work or a BB study or working with someone else (a sponsor or sponsee).
ouuuuuuuuuuuu I like that one thanks!
same planet...different world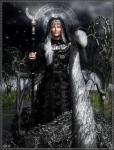 Join Date: Sep 2006
Posts: 10,944
Prayer (for me)
comes from the inside - out.

It's connecting with that deep down inside part of me
that's connected to All That Is.
That part that thinks I'm going to live forever
is exactly that part ... that will.

So I had the thought as well
that if there's something you really get into
like playing music,
drawing painting,wreiting....

that 'thing' that maybe you do
and all time disappears
and all things just ... fade into the background....

that, too is prayer.

It's the same 'place' in your energy, anyhow.

Glad to see you're sticking with it.
Lots just give up after a couple of tries.

When whatever they pray about
doesn't 'poof' appear in front of them
they just hang it up.

Some people make a big differentiation
between meditation and prayer
and for me
it's the exact same place in my 'self'
it's just different functions.

I am an OTT 'majickal thinker'.
But I know that there's those
who do not function at that place
and magical thinking is a 'bad' thing to them.

Just like 'logic' is a 'bad' thing to me.

SO it takes a bit of searching to find the way
that your'e going to connect with.

But there's nothing that will make that flip flop
of consciousness from
linearity to magical thinking over night.

It's an aquired taste. LOL
| | |
| --- | --- |
| The Following 2 Users Say Thank You to barb dwyer For This Useful Post: | |
Currently Active Users Viewing this Thread: 1
(0 members and 1 guests)

Posting Rules
You may not post new threads
You may not post replies
You may not post attachments
You may not edit your posts
---
HTML code is Off
---