Do I say something or wait
I am not minimizing the need to allow the husband the space to do his personal recovery work but y'all are really being hard on Alone22.

As untidy and uncomfortable as it makes those in AA/Al-anon feel that she did read his work, recovery is hard and messy. He is a big boy and it was on him to treat his work/journal with some more importance, not her.

To me it is more reflective of how he is handling his recovery: disorganized and still not seeing how fallout from his actions (whether on paper or in person) affect others.

It isn't her job to protect him from consequences, no matter how they come up.

Some of what I'm reading is like 'blame the victim' stuff or 'that's what you get for looking' type of responses and to me that misses the point of why she posted this in the first place. She is hurt and confused and has every right to be.
| | |
| --- | --- |
| The Following User Says Thank You to Babyblue For This Useful Post: | |
Member
Join Date: Mar 2011
Location: CA
Posts: 428
I think BabyBlue's comment was directed at Terry not me. While I support/understand why she looked I too understand why she shouldn't have. That is a hard one. I agree that he should have protected his own privacy more and in fact he should have protected Terry more by making sure she couldn't read it.

Terry, like I said before, I am new to understanding all of this stuff, but I think in time you will be able to determine what you need to do for you. As hard as it is to wait and see I think only time will be able to help you.
| | |
| --- | --- |
| The Following User Says Thank You to Alone22 For This Useful Post: | |
Member
Join Date: Jul 2007
Posts: 1,175
I kind of like thumpers idea of bringing it up.

Not neccessarily that incident, but asking him if anything happened while drinking that he feels you should know, in the arena of other women...

I do understand the part of it that talks about "if it would harm another" to disclose information.

You can give him the chance, but you would have to truly detach from the outcome.
Really let it be.

I will reiterate here, that his actions and what he does to himself over it are his own hell.

There is a quote, and forgive me, if I get it a little wrong, but the idea is this,

"The liars greatest fear is not that he will be revealed to be a liar, the liars greatest fear is that he will never be able to believe another..."

My RAH is a cad, and still entitled, etc...but one thing he is committed to is trying not to lie, and mine was way worse than yours, it sounds to me.

He is so disgusted with what he did for alcohol, because of alcohol...but I did not just let him off the hook. There was a sober person on the other end of those lies, and he has to live with that. I knew about a lot of the stuff that he did...but I am quite sure that I dont know all of it.

When we were together, at times, when he was still drinking, trying to make it work, after he got sober, trying to make it work, there were always trust issues.
Every person he had a lingering eye contact with came under suspicion for me, and when he did get sober, and his fears, insecurities and sometimes paranoia got him, he was led to feel and understand what it felt like for me, TO SOME DEGREE...having to think about the fact that his insecurities were based on nothing, but mine were usually the outcome of ACTUAL betrayals, and lies.

this is an example of his life, and his sobriety doing its own work.

He has had to come to terms with a lot of things, and he does less and less of blaming alcohol, and more of accepting responsibility, but, really, if he had to take it all on and own it all at once, while struggling to stay sober, it might well crush him, or drive him back to hiding in a bottle...

Maybe if you ask about the subject, and let it open up some you might allow some movement, as long as you can be detached, and come from love.

easier said than done, i know...
Terry...

Now, that you know, only you can decide what to do. His secret has now become your secret too.

As for his recovery work..I am an alcoholic, and can only speak to the way my sponsor and program has worked. It has taken alot of time for me to rework the steps. My sponsor has guided me, and given me suggestions on how, when, and why.

Step 4 is gut wrenching. The only way to have it work is to be completely honest. Sometimes we are ready to do this quickly, sometimes slowly, each of us is different.

That being said, you need to decide if you want to share with him that you know this secret, or if you want to wait until he is at step 9 and shares it in his amends.

Some people don't make it to step 9, some get there within 9 months, some more quickly...there is no definitive timeline for recovery.

I am sorry for your pain...only you can decide how you want to react to it.

Are you in Al-Anon? From my experience, your situation is not unique, and alot of others may be able to share with you their experience with the situation.

Peace..
| | |
| --- | --- |
| The Following User Says Thank You to ANEWAUGUST For This Useful Post: | |
I AM CANADIAN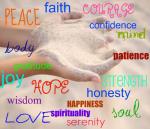 Join Date: Jun 2010
Location: Niagara Region, Canada
Posts: 2,578
al anon and aa and na states : at your own pace....that is not our job to say, you are working it slow or to fast....for anyone....
I am here to point out she does need al anon to understand it more on her part and her input in the relationship...and he does his own in his own recovery...
ya sure she found out....its still up to her...but i do believe by moving to fast and at a fast pace.(point fingers "she said he said)..it may blow up...thats why al anon says "do not make any hasty moves until on year...."
I know terry is hurt by all this...i am, however, sad to say, no one pointed the way for her to her recovery....when in the merry go around of alcoholism, WE think we are doing right...and move fast....
stop, think
| | |
| --- | --- |
| The Following User Says Thank You to fourmaggie For This Useful Post: | |
Member
Join Date: Mar 2011
Location: sarasota
Posts: 13
Thank you to all who have responded. I have decided to wait and not say anything. I do believe it was one stupid time, who knows maybe that was what finally made him finally get help. He may never tell me what happened. I hope he does though, in time. That is what I will need, to know he is finally being totally honest with me and that he does love me and our marriage enough to finally be sober and truthful. I will need that for my own recovery. I do appreciate all the support everyone threw my way. I'm sure I will have my down days, I will look to sober recovery to help me get through and I will look into al anon.
| | |
| --- | --- |
| The Following 4 Users Say Thank You to terry2768 For This Useful Post: | |
Good for you.

Just remember, if he doesn't tell you eventually, it may be out of a desire to spare you pain. There is actually a lot of discussion about that in the part about Step 9 in the Big Book--that sometimes "fessing up" is clearing your conscience at the expense of putting a burden on someone else.

Hugs, I think you are on the right track.
| | |
| --- | --- |
| The Following 3 Users Say Thank You to LexieCat For This Useful Post: | |
Member
Join Date: Mar 2011
Location: sarasota
Posts: 13
I need some insight from all of you who are not NEW to this. Is it me or is it my husband. He, like I have said earlier, went through a rehab program about 6 months ago. Since being home, he is going to his meetings everyday. I know his recovery is his recovery and he does not tell me anything about any of it. I only know what I have been reading in the forums on how a lot of this works. I have not started ala non yet. I know I am not supposed to obsess about him and wonder if he is being honest with me. But there are a lot of signs showing me that he is not really working the program. First, I found out he is smoking "fake pot", second, he has still not tried to go out and find a job, he has not punched a clock in 3 years, he makes a few phone calls here and there but thats about it. Third, he blows his stack when he tries to tell me his ideas on things, and I just give my opinion, why it is not a good idea or that is not obtainable, logically. He gets very upset and says I can never support him and that's why he doesn't talk to me about things. Excuse me, but am I not supposed to be able to give my opinion? I am a very independant person, but at the same time I only think of others and never put myself first, I am always sacrificing for others, I lead a very simple life and have no regrets about it. So I will not back down from simply replying to a statement or comment, it is never in a negative matter, but he makes it sound like I am attacking him and his thoughts. I know this is his recovery and he will work it at his own pace, but if I feel he is really just trying to appease, can I say something?
| | |
| --- | --- |
| The Following User Says Thank You to terry2768 For This Useful Post: | |
Well, you can say something, but if it just turns into an argument about you not supporting him or whatever, is it really worth it? Sometimes, people just need to vent or to talk about what they are thinking. Sometimes, we need to just listen.

I have learned that lesson from my daughter. Sometimes she is not looking for advice, sometimes she just needs to vent. I used to interject what I thought were words of wisdom, but she quickly let me know that she just needs to vent to someone. I have learned to allow her to do that and keep my opinions to myself unless I am asked for them.
Currently Active Users Viewing this Thread: 1
(0 members and 1 guests)

Posting Rules
You may not post new threads
You may not post replies
You may not post attachments
You may not edit your posts
---
HTML code is Off
---