Advice needed urgently! VERY lost...
Member
Join Date: Mar 2011
Posts: 2
Advice needed urgently! VERY lost...
---
Hello all, I don't want to write a novel here but I'm just extremely confused and scared for my sister: (you can skip ahead to the bottom of the post, the story is really more for myself.)
My sister is one of those people (I've heard it said) who has always had the "ism," she just completed the circle with the "alcohol" when she started drinking at 14. She's always had issues connecting to her peers, as well as fitting into the cycle of the public schooling system, and as a result was diagnosed with a moderate ADHD at 13. (I now believe that it was a misdiagnosis, and that it was always the "ism" that hindered her, not ADHD.) So when she started drinking, it became a relatively fast and hard downward spiral. In her later years of HS she was skipping school CONSTANTLY to go drinking, and binged heavily on the weekends, most of the time driving herself home, in many cases blacked out. She somehow managed to cram herself silly in the last two months of school and graduated in quite a good rank, but went on to a smaller state college notorious for being the biggest party school. Her drinking surprisingly slowed down there, however, because she hated the school. I also think it had a lot to do with her controlling boyfriend of 2 years.
I just recently found out (from her in a drunken state) that this boyfriend whom my family thought was a total creep was abusing her pretty severely for about the last 10 months to a year of their relationship. Apparently he enforced the amount she would drink, and whenever she would get drunk he would beat her to sleep. I feel incredibly guilty for not noticing the signs, but I honestly thought they were drinking bruises. I feel terrible for that. She thought that he was all she deserved, and it's a big part of why she stayed behind in school when she has so much potential to go elsewhere. So when they finally broke up for about the 100th and final time, I now see that the look in her eyes was relief. But the relief turned into alcoholic freedom.
She's amazingly talented, and because her abusive boyfriend kept her from drinking she was able to get into one of the best acting programs in the country. I happen to be pursuing my acting degree in the same program, so I was thrilled to have her transfer in and join me. She loves it here so much, but her disease has progressed so rapidly I can't even wrap my mind around it. I think the freedom from her ex propelled her into HEAVY binges, and she has expressed to me that in her first semester she experienced somewhere between 30-50 blackouts. It's one of the scariest things I'd ever heard. And believe me, watching the amount of alcohol her tiny 5'10" body consumes in such a short amount of time is something that scares the hell out of me.
After returning from winter break, she went on another Sunday binge to go see a play at a nightclub venue. She blacked out and ended up getting kicked out, and to my complete relief she called me at 7AM and said, "I'm done feeling like a complete ******* joke, take me to AA." I set her up with my roommate, who has 1 year sobriety, and she went that night. I've never seen a more clear sister of mine, and she was so happy to be sober for those first 2 weeks. In her 3rd week she relapsed in anticipation of her upcoming 20th birthday, and went on a 3 week near-fatal binge. I didn't know she had relapsed until the day after her 20th birthday she called me saying she was going to die, and that she had never felt so lost in her entire life. (Apparently she drank a liter of rum, 10 beers, and a 16 oz vodka drink in about 2-3 hours. Enough to kill her.)
So she has been back in AA since that day, but with much less enthusiasm than before. She detoxed ectremely hard from that binge, but she has started to accept her fate and is very clear and coherent again. She has a wonderful sponsor who she should call more often, though.
*************AND NOW YOU CAN SKIP HERE**************

I feel very alone now though, because I am fearful that while she hasn't had a drink in almost 30 days, she has not stopped taking her 35 mg Adderall that she has been taking daily since she was 15. It's also my understanding that she so frequently abused her medication when partying (snorting/injecting, i assume), that she could no longer drink without the aid of Adderall. Without it, she would pass out after a couple drinks. As I said before, I don't believe that she ever had ADHD, I think it was the alcoholic and addict gene in her. She doesn't know how to get through classes without her pills, even though I tell her she doesn't need them because it's and ACTING CONSERVATORY!! there aren't any tests she needs to be alert for!
I'm most concerned that she is going to relapse very quickly again if she doesn't stop taking the adderall. It is without a DOUBT her most powerful addiction, but unlike alcohol it won't kill her as fast. She only thinks that street drugs are what she needs to be sober from, and if she has a prescription for it then she can't be addicted to it. (She's also prescribed Xanax and Ativan for anxiety....which is a direct result of Adderall abuse.)
What brings me to this forum is an exchange we had yesterday, in which I jokingly pretended I was going to take her Adderall, and she snapped so quickly back at me and so violently I got scared. She said it wasn't funny and she needed it to be the best person and actor she can be.
I'm asking advice from anyone who is willing to offer it, as I am still just as fearful for her life now that she is in AA as I was when she was waking up puking blood. The disease of addiction still has a scary strong hold on my sister, and I think she needs to go to treatment to learn how to live a life of coping without a pill or a drink to fix every feeling.
She doesn't have health insurance though, do any of you know any recovery centers for those without insurance?
Any advice is greatly appreciated, as it might put me to sleep finally!
| | |
| --- | --- |
| The Following 2 Users Say Thank You to peacelove For This Useful Post: | |
Are you an addiction specialist? It sounds like you are diagnosing your sister--something we are warned against in AA.

How do you KNOW the medications aren't appropriate for her mental conditions?

You might encourage her to have a doctor who does specialize in alcoholism/addiction and mental health issues review her meds to be sure they are appropriate, but that's about all you have the right to do. Lots of people in AA take psychiatric medications, and that is considered a matter between the individual and their doctors.

It doesn't sound like she is interested in your managing her medications, either.

My suggestion is that you back off and disengage from your sister's recovery process.
Member
Join Date: Mar 2011
Posts: 2
No, I am obviously not an addiction specialist, but I have been by her for the past 20 years of her life, so I was simply stating that I believe her ADHD to be a misdiagnosis, but I would never bring a thought like that to her attention. It's just what I believe.


And my question is how effective can her recovery be if she is still addicted to certain meds and taking them daily? I don't want to control her recovery in the slightest, I am just worried about her that's all.
Being worried about her is something you probably can't help, but beyond that, there's *nothing* you can say or do that'll change a thing. Get informed if that makes you feel better, however it is rather dangerous for you to get so tied up with her recovery. Have you considered Al-Anon for yourself?
Needing them and being addicted to them are not the same thing.

I understand you are concerned for her, but you can't micromanage her recovery. You can express your concern, but nagging and repeating yourself (or trying to take away her meds--unmanaged withdrawal can be very dangerous) is not effective.
| | |
| --- | --- |
| The Following User Says Thank You to LexieCat For This Useful Post: | |
Hi Peace, Sorry you are having a tough time with sis.
She is very young and has a ways to go probably. You may be absolutely correct about her meds etc, but it doesn't matter a whit!
You might benefit from AlAnon/NarAnon. It would be F to F support for you.
Tell her, you love her, she is fabulous and that you support her.
Now, take a step back, stop analyzing her and mind yourself.
I am assuming that you are also young. Try thinking about how much time you spend thinking/talking about your sister. You might be caught up in the drama (pardon the pun) a bit. She might spend her whole long life being like this. Are you going to spend your life playing backup?
By the way, people here might be tough on you. It is the written equivalent of shaking you and saying, "leave it go! You cannot control it, didn't cause it, and cannot cure her!"
Off topic, just wondering. What are you studying for? Are you going to be an actor or are you interested in some other area?
same planet...different world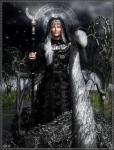 Join Date: Sep 2006
Location: Butte, America
Posts: 10,946
hi peacelove and welcome to SR.

I am also the 'good' sister of an alcoholic
as well as an alcoholic myself.

I think the pressure to 'help' the 'bad' sister
becomes too great a burden for us
because we learned it in the 'nest'
and have no other frame of reference
when dealing with life and the sibling.

On a bumper sticker-

she's an adult and her choices are her own.

What we do here at SR in tHE f&f forum
is help each other
become independent personalities
and recognize the nonexistent border
between ourselves and the addict/alcoholic.

SOme of us are what is known as 'twice blessed'
meaning that we're not only codependents
but we're also alcoholics in recovery.

SPeaking as an alcoholic
I can tell you that it's common
for a newly sober alcoholic
to overreact to ... well, everything.

Because alcohol is a sedative
remove it
and you've got a person
who's been actively self-sedating
for YEARS
and no longer knows
how to cope with daily occurrences.

Not only that
but the body itself
is no longer able
to regulate it's response.

Simple little 'gland reactions'
happy, sad, anxious, sleepy, etc.
are wacked out of all proportion
and some never return to 'normal' reaction.

They're fried and refried.

Besides the obvious reasons
this is why we stress so strongly at SR
the need for a physician supervised recovery
because the physical body can no longer regulate it's responses.

I agree with the others who say that
it's time to re establish the 'me' 'you' boundary
in your relationship
and encourage your sister
to try and stay sober
and go to as many meetings as possible.

There's a group near you as well
for sisters, brothers, mothers and fathers
wives, and children of alcoholics.

I hope you'll take the time to learn about them
and find a support group near you
they can help you establish
(or re-establish)
the separations needed to recover
as the family member of an alcoholic.
Sunny Side Up
Join Date: Mar 2007
Location: Sth Australia
Posts: 3,802
I understand how you feel peacelove -
I went through similar with my sister as I watched her self destruct. We are human after all and yep, all those years being sisters of course you will care deeply about her well being. It took me many years to discover that I was just making myself ill, worrying about her all the time and thinking I was helping her.
My sister spend many years in rehabs, seeing professionals etc etc and I did support her.
PL - unfortunately, even with all the love and care we want to give them, in the end, your sister needs to want to have her own good life. My only advice would be, is to try and get some resources in your area about this addiction, so that you can understand it better and then possibly somewhere your sister can go where she feels safe to get help.
Best wishes JJ
peacelove,

i wish i could wave a magic wand and take away your anxiety. it is very real, and can be extremely debilitating.

welcome back to s/r; i hope you find the encouragement and support you need.

the thing about worrying: it is not productive. it only keeps you spinning, and doesn't help the addict.

she will, or she will not, get it. if you can get yourself to believe that her path is hers to tread, perhaps that would help?

peace to you
| | |
| --- | --- |
| The Following User Says Thank You to coffeedrinker For This Useful Post: | |
Member
Join Date: Nov 2010
Posts: 2,052
This is hard...
---
...but I'll show you where to start. Keep an open mind, try it at least six times, and see where it takes you. It's easy to be addicted to the drama of ism's, maybe even more-so if you are an actress, and I think you'll find peace, love, and understanding here:
How to find a meeting in the US/Canada/Puerto Rico
Good luck.
Cyranoak
| | |
| --- | --- |
| The Following User Says Thank You to Cyranoak For This Useful Post: | |
Forum Leader

Join Date: Dec 2008
Posts: 10,614
Hi Peacelove, Welcome to SR!!!

I'm glad your sister is seeking recovery! That's wonderful news!

About the adderal, only she and her doctor know for sure. I, too, am on the low-end spectrum of Adult ADD. I do not use medication. It is my current understanding that some folks are on medication for this condition their entire lives. Sadly, it is an easily abused drug and in college, kids can and do abuse them to get ahead.

But for some, Adderal and other ADD meds are literally life savers allowing the person to function normally in society.

If you are concerned, you might encourage your sister to discuss this with her doctor.

HG
| | |
| --- | --- |
| The Following User Says Thank You to Seren For This Useful Post: | |
Currently Active Users Viewing this Thread: 1
(0 members and 1 guests)

Posting Rules
You may not post new threads
You may not post replies
You may not post attachments
You may not edit your posts
---
HTML code is Off
---