The Compliment Thread
Member
Join Date: Nov 2010
Posts: 2,047
Thanks!
---
Same to you. You are constantly cracking me up and making me laugh out loud! You, like many people here, are on my list of people with whom I want to have coffee or a beer (if appropriate, of course).

Plus, I love the name Tallulah. Seriously. It's a Bugsy Malone thing.


| | |
| --- | --- |
| The Following User Says Thank You to Cyranoak For This Useful Post: | |
Member

Join Date: Nov 2009
Location: Waterford MI
Posts: 4,202
P.s. Has anybody else noticed that it's weird that weird has the e before the i even thought there's no c involved? It's always bugged me.
Yes, this is one of the things I am always on the lookout for!
Cyranoak,
I certainly appreciate your honest and straightforward approach.
Your ability to take responsiblity for
your
part in your relationships is astounding.
The positive energy, simple message and links to AlAnon are given straight up.
Beth
Wicked, I love your 'wicked' sense of humour, your compassion and your honesty.
I've been around the forum for a few years and I am always amazed at the strength, compassion, intelligence and honesty I find here, day after day. You are all amazing people.

Thank you for this thread. You all make my heart smile. I appreciate each and every one of you, even when I don't agree with you I still appreciate your willingness to share and interact here.
Our forum is the BEST. (don't tell the other forums, they'll just get jealous

)
Cats I like your honesty and when I first joined, you were very very patient and compassionate with me. You and GiveLove made me cry often! good tears though, I felt SO ALONE and your words went a long way.... I will always be grateful as you were with me in the darkest of times! And I agree we are the best forum ever!!

TakingCharge999, you are an inspiration. I see you going out and doing things - vacations, working from home, this whole house deal with your mother - and I feel like I can see where I'll end up if I keep doing my next right things. You always seem to have so much energy about things. And when you do start asking the self-doubt questions, you always snap out of it - so I feel okay not being perfect, but just being me, whatever that entails.
| | |
| --- | --- |
| The Following 3 Users Say Thank You to StarCat For This Useful Post: | |
| | |
| --- | --- |
| The Following 3 Users Say Thank You to Lilly1 For This Useful Post: | |
I AM CANADIAN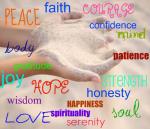 Join Date: Jun 2010
Location: Niagara Region, Canada
Posts: 2,578
@ LILLY1...1st of all, my daughters name is LILY...awesome name and flower, second, i also see that you are working mother just like i, to me MOMs rule!

I so enjoy this place, have not been around in a while, busy painting, my diving into my recovery is very important to me....
| | |
| --- | --- |
| The Following 3 Users Say Thank You to fourmaggie For This Useful Post: | |
Member
Join Date: Jul 2009
Location: PA
Posts: 985
(((fourmaggie)))

Your threads are great reminders of the words, the poems, the steps of recovery that help us get through it all to a better place! Thanks! You seem compassionate, understanding, and always learning.
Currently Active Users Viewing this Thread: 1
(0 members and 1 guests)

Posting Rules
You may not post new threads
You may not post replies
You may not post attachments
You may not edit your posts
---
HTML code is Off
---