I am looking for advice and guidance...
Member
Join Date: Mar 2011
Location: Ft Collins, CO
Posts: 3

I am looking for advice and guidance...
---
I started dating someone who is a recovering alcoholic for a little over two months. Needless to say it didn't work out

I am very sad about this because I care for him very much, and I am worried about him. He's been sober for 22 months. In the beginning he wanted to be with me just as much as I wanted to be with him and then one weekend he flipped and pushed me away. We have talked here and there about it and I can accept and somewhat understand that he doesn't feel stable enough to be in a relationship. We are in a non communication mode right now, mostly because he is having what I feel are severe mood swings and over reactions to situations (not just related to me). I cant stand there and be his punching bag friend although we agreed we wanted to still be friend at first.
Again I am worried about him and here is why. First the extreme mood swings. I felt like I had to walk on egg shells around him all the time towards the end. His harsh judgments of others and constant discontent with life in general. All the time he is "under pressure", "struggling" or "stressing out". He lives with his parents and his father is an alcoholic, even the few times I met him I could smell the alcohol on him. Every time he has to go to the fridge to get some food there is beer or liquor staring him right in the face. He never verbalizes the desire to drink however. He went through a year long treatment program and during that program he forged some close friendships with his fellow programees. He told me recently that since their graduation five of them have died and the rest have relapsed. He is the youngest and only one of his class left. Also he does not actively attend any sort of program since his release from the program. He also has expressed that he feels alone in everything he does.
I was never a huge drinker, only socially and once a month at most. I committed to quit drinking while we were dating to support him in his efforts. My mother and step father are both alcoholics, my step dad went to several short high intensity rehabs and relapsed every single time. During his recovery my mom never quit and I associate that with his failure. I do not want to be that person. Even though my ex and I are not together I still intend to stay abstinent and will be trying al anon classes. I have also done a lot of reading on alcoholism and recovery.
If he feels alone in everything he does, then why would he push away someone who wants to be there for him and has made active movements to adequately support him in his efforts?
Is there anything I can do? Even though my ex and I are no longer together or speaking I still love him very much and I fear for his relapse. Am I off base in my risk assessment? Should I just remain disassociated because he doesn't want my support or involvement? Should I really just walk away and cut my losses? I am so lost and my heart compels me to act, but my mind tells me otherwise.
Welcome to the SR family!

Please make yourself at home by reading and posting as much as needed. There is lots of wisdom in the permanent (sticky) posts at the top of the forum pages. Some of our stories are included in those posts.

I'm sorry that you are hurting as a result of a recent break-up. All losses leave us grieving and emotionally wounded. Please be gentle with yourself and give yourself the care you need to heal.

In your post, you ask about what you should do next.

Allow me to ask that you look at this relationship without the alcoholism:

Your boyfriend has asked you to step back. He wants time and space to work on himself without a relationship partner.

Can you give him that?

During this time apart, can you do something to take care of YOU?

Alanon would be a great source of support for you as you have a history of alcoholism in your own family.

I found the meetings and literature to be very helpful in my own recovery.
| | |
| --- | --- |
| The Following User Says Thank You to LexieCat For This Useful Post: | |
Member
Join Date: Mar 2011
Location: Ft Collins, CO
Posts: 3
It will definitely take some discipline, but yes I can walk away if that is truly whats best. I hate to feel like a quitter. One of the last conversations we had was about the agreement not be in each others' lives any more. It was hard and said I in my mind I questioned if I was just being weak because I couldn't handle a friendship with him. I really wanted to, but everything I did was a reason for him to be angry. It hurts to feel like I am an idiot because everything I do is wrong. Maybe I don't know how to be a friend to him, maybe we got too close to ever be able to return to a normal friendship, maybe I'm just bad news for him because I have codependent tendencies. Maybe I am just emotionally retarded and I can't be a proper partner right now. I don't know about all of that but what I do know is that I said a prayer and everything is pointing to me learning more about codependency and al anon.

Its just so hard to let go. I hate feeling like I am failing because I cant be a proper friend to him like he says he needs. Has anyone felt this way? What does it mean?

PS. Part of what worries me is that he has no sponsor and does not go to AA or any recovery program.
---
Last edited by Olivetree; 03-02-2011 at

08:54 AM

. Reason: Forgot something
5. Helplessness and Neediness of Relationship Partners

Maybe you get hooked by the neediness and helplessness of your relationship partners. You find yourself hooked when your partners get into self-pity, "poor me" and "how tough life has been." You find yourself weak when your relationship partners demonstrates an inability to solve personal problems. You find yourself wanting to teach and instruct, when your relationship partners demonstrate or admit ignorance of how to solve problems. You find yourself hooked by verbal and non-verbal cues which cry out to you to "help" your relationship partners even though your partners have the competence to solve the problem on their own. You find yourself feeling warmth, caring and nurturing feelings which help you tear down any shred of boundaries you once had. These sad, weak, distraught, lost, confused and befuddled waifs are so needy that you lose all concept of space and time as you begin to give and give and give. It feels so good. The rational message needed to establish healthy boundaries from this hook is: "No one is helpless without first learning the advantages of being helpless. Helplessness is a learned behavior which is used to manipulate me to give of my resources, energy, time, effort and money to fix. I am a good person if I do not try to fix and take care of my relationship partners when my partners are acting helpless. I cannot establish healthy intimate relationships with my relationship partners if I am trying to fix or take care of them all of the time. I need to put more energy into fixing and taking care of myself if I find myself being hooked by my relationship partners' helplessness."
__________________
That comes from one of the sticky (permanent) posts at the top of this forum.
Here is the direct link:
http://www.soberrecovery.com/forums/...tionships.html
Member
Join Date: May 2010
Posts: 629
Welcome,
You have nothing to lose and everything to gain if you DO attend Al-Anon, read and post here, and focus on yourself and what you need.

It's what I have done, and when I finally understood that it was the ONLY thing to do, I was free.

I believe with all my heart that people come into our lives for a reason. Maybe he came into yours so you would begin to work on your own recovery from the effects that your loved ones' alcoholism has had on you.

Sending positive thoughts and encouragement your way.
| | |
| --- | --- |
| The Following User Says Thank You to seekingcalm For This Useful Post: | |
same planet...different world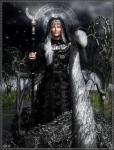 Join Date: Sep 2006
Location: Butte, America
Posts: 10,946
Olivetree wrote:
Is there anything I can do?
Hi Olivetree and welcome to SR!
yes, there's many things that are positive
that you can do st this time.
The most pertinent thing that I see
is use this as an opportunity
to examine why
a relationship with an alcoholic
is what you are pursuing.
As a fellow ACOA
(adult child of an alcoholic)
I've learned that
invisible things led me
to relationship after relationship
with recovering, abstaining,
and even active alcoholics.
This would be a time
to take a look at where the idea of love
comes from
and test its accuracy.
When I figured that out -
everything - EVERYTHING changed for me.
Glad you're here!
and you're not alone!
There's a wealth of experience strength and hope here
that has helped change my life for good -
and for THE good.
I hope the same for you!
| | |
| --- | --- |
| The Following 3 Users Say Thank You to barb dwyer For This Useful Post: | |
Member
Join Date: Mar 2011
Location: Ft Collins, CO
Posts: 3
Thank you guys for your encouragement. I really appreciate it.

Pelican what you posted is definitely helpful. I could see myself getting to wrapped up in his issues and the issues I was dealing with were always being put on the back burner, when what I really needed was some reciprocation. You know, Ill be there for you to lean on and he is there for me. Everytime I tried to talk to him about something in my life that was bothering me somehow the conversation was redirected on to him. I knew it was happening I just disregarded it thinking my struggles were manageable on my own, he's the one truly in need.

I went to my first alanon meeting last night. Although I was a newcomer I immediately felt a sense of compassion from everyone. I listened to the other members share their thoughts and I was blown away by how much of their experiences I could relate to.
Member
Join Date: Nov 2009
Location: Southwest
Posts: 1,207
olivetree, I was always willing to put my issues second to my XAH's much more important ones. I expect I will always have that independent, I can handle my own problems tendency, but I'm not in a relationship, and I know that I won't ever be with someone who has big issues that take precedence over mine again. No matter how well I can manage my life, I won't make it second to "his" (whoever "he" might turn out to be).
Member

Join Date: Nov 2009
Location: Waterford MI
Posts: 4,202
This would be a time
to take a look at where the idea of love
comes from
and test its accuracy.

When I figured that out -
everything - EVERYTHING changed for me.
How do I test its accuracy?
How did you do it?
I am an ACOA too, and so far all I have is what I dont want for sure.
No addiction, or other major medical/emotional issues.
After that, I draw a blank.
Beth
Sorry for the highjack olivetree.
I am so glad you like the meeting.
Good.
| | |
| --- | --- |
| The Following User Says Thank You to wicked For This Useful Post: | |
Currently Active Users Viewing this Thread: 1
(0 members and 1 guests)

Posting Rules
You may not post new threads
You may not post replies
You may not post attachments
You may not edit your posts
---
HTML code is Off
---