Confused....is there hope?
Member
Join Date: Jan 2011
Location: Alabama
Posts: 58
Confused....is there hope?
---
I've been married for 18 yrs with 2 teenage daughters. I have the usual story, AH who really never participated in the family. He was never abusive, functioned well at work and provided well for us. Over the last 2 yrs I've seen a progressive downside: Bouts of anger at me after drinking that became progessively more often. They used to occur once every couple months, now they happen once every couple weeks. His negativity has increased, he doesn't eat as much, is angry with everyone he knows, and now his partner at work seems to be "walking on eggshells"around him too.

In Oct he told me he was miserable and if it weren't for the kids he wouldn't be with me, that he'd probably leave after they were out of the house because we didn't have anything in common. At this point he had no interests besides drinking. All hobbies had fallen by the wayside a couple yrs ago. He wasn't sure he wanted a divorce. He wasn't sure what he wanted. He never did figure that out but has seen a therapist over the past month.

I started counseling in Oct and realized I didn't want to live this way. I wanted a real relationship where people actually interacted and did things as a family. We don't do anything as a family unless drinking is involved (like a concert or sporting event).

2 weeks ago my daughter witnessed him verbally abusing me one night (he had 18 beers to drink). I talked to my girls and realized they were more aware of the fighting and drinking than I was aware of (I had tried to hide it). They encouraged me to do what was best for me, even if that meant leaving and that they would be fine. I told him I thought he needed help for his drinking and if he didn't get help I thought it would be better to divorce. He chose the beer immediately, saying he would not take an ultimatum even if that meant losing his family of 20 yrs.

He had no emotional response to the request for a divorce. No sadness, no anger. He did cry one night for 20 minutes but other than that-nothing except difficulty sleeping that he had before. He's trying to be the good guy-cheery, acting responsible, taking care of his stuff and cutting way back on drinking.

Something inside me tells me he really cares but that he's locked himself inside a box emotionally and refuses to let anyone in due to his dad's emotional abuse when he was younger. I think he drinks to make his box even more comforting. He agrees that this is a correct assessment. He will ask his therapist about the possibilty of forming new coping mechanism instead of withdrawing but doesn't think he can change. He is not interested in stopping drinking.

I know inside is a dynamic, kind and intelligent man. I feel like maybe I should stick it out to see if his therapist can help him get "out of the box." To see if he is actually capable of a relationship.

The other side of me says run like hell, this is the alcohol. He's refusing treatment, he's basically letting me go without a fight and he's not interested in a relationship-that's all in my head. I think my hope is so strong that I refuse to see reality (a guy who just doesn't care. He says he cares, but not I love you, just I care).

Are all alcoholics like this? Unemotional, unresponsive, unable to come to a solution for themselves? Would staying to see if he gets better from therapy without stopping drinking evenbe reasonable?

Can an alcoholic resolve their issues without giving up alchohol and once the issues are resolved, the need for alcohol fades?

Thanks for reading this far,
Chelle
I AM CANADIAN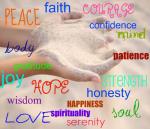 Join Date: Jun 2010
Location: Niagara Region, Canada
Posts: 2,578
Are all alcoholics like this? Unemotional, unresponsive, unable to come to a solution for themselves?


yes some As are like that...and alot are different. My A was a liar, manipulator and well, saw so many RED FLAGs that something more was not rite...TRUST..and sneekie was also included...these are HIS traits that need to be worked on...he also and a BIG EGO or I.S.Ms( I, Self and Me attitude)THIS was the worst kind in my life..and he did think he was GOD himself..<<< but again, he is in DENIAL...*shakes head and looks at four empty RUM bottles*

it gets worse, i am afraid BUT the good news is:

the 3 C's
I did not cause this
I can not control this
and I diffently can not cure this..
HE needs to do his recovery on his own...
My A was more like fourmaggie's, but again, not everyone is the same.
From what I understand talking to a few people I know who go to AA, there's a large percentage who feel guilty and responsible for everything going wrong all around them. Instead of doing what the average person would do, and try to take responsibility for their actions and make amends to fix them, they feel SO guilty and SO overwhelmed that they sink deeper into the bottle to escape it, and try to shift the blame onto others. (Not all of them believe the blame shifting themselves, but at least most of them hope the person/people they're shifting blame onto believe them.)
You already gave your ultimatum, if you don't continue to follow through on that he will start taking you less and less seriously.
His recovery is his. Your recovery is yours. You need to do what is best for you and your daughters.
This doesn't have to be the "ending" either... Some people have gotten divorced, then remarried later after both sides had time to work through their problems and work on their recovery. Others have gone their separate, opposite ways.
Just move forward with what feels like the right thing to do
this very moment
, and recognize that you have no idea what the future may hold. Everything has its own time, and you won't know what happens until you get there.

| | |
| --- | --- |
| The Following User Says Thank You to StarCat For This Useful Post: | |
Currently Active Users Viewing this Thread: 1
(0 members and 1 guests)

Posting Rules
You may not post new threads
You may not post replies
You may not post attachments
You may not edit your posts
---
HTML code is Off
---